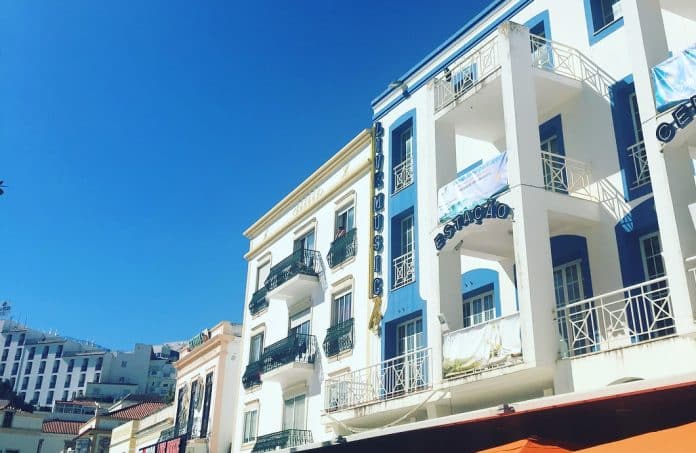 Many travelers who are planning a trip to Portugal may wonder what's the best region to visit. If you base it on the most visited region, and where superstars frequently visit, that would be the Algarve Portugal one of the most popular tourist destinations, located in the far southwestern portion of the country, close to the large city of Lisbon, but just far enough away to provide a peaceful destination where the rich and famous can relax.
If you're planning your trip to Portugal, you may be interested in learning about what this region has to offer the traveler.
Hideaway for the Rich & Famous
In the past the rich and famous loved to hang out in Cannes, St. Tropez, or Monaco. Today, you'll often find them in Algarve. Spain's Coasts used to be the destination for celebrities, but Algarve has captured the notice of people over the years.
Sir Cliff Richard has often said how wonderful this region is for decades, but now others have been taking notice. It's this notice that has elevated Algarve to being a really cool destination.
If you want to catch site of a celebrity, sports star, actor, musician or two, hanging out at one of the pools here may be to your liking.
Algarve is home to many luxury resorts. These offer privacy to celebrities, with their own large suites, private pools, and spa facilities. But if you can afford these amenities, you can also book here.
There are also many excellent restaurants with local fare, and then your usual brand offerings, such as Starbucks and Subway to remind you of home. More five and six star hotels are being built. There are even exclusive hangouts where you must obtain membership—perhaps you'll meet someone and they'll ask you to join them!
If you're interested in visiting this big celebrity playground then read on.
All About the Algarve Region in Portugal
The name is derived from the Arabic words of "al Gharb", which means "the West". It comprises nearly 5000 square kilometers of land, and flows over sixteen different municipalities. The Tagus valley is to the north, and along the southern coast is the Iberian Peninsula. The highest mountain is Fola, at 902 meters in the Monchique mountain range.
The south-facing part of the coastline is on over 155 kilometers of lands. Cape St. Vincent is farthest to the west.
Faro is the main city here. It's also where the airport is (FAO), and the University of Algarve.
Tourism is one of the main economies in this region, particularly in the summer. Algarve is one of the most popular tourist destinations in Portugal, and one of the most popular in Europe. Farming and seafood is the other one.
Not including the visitors each year, there are 450,000 permanent residents living here. Each year over ten million people visit the region. During the summer, the population triples to over 1.5 million people.
The Algarve is the third richest territory in Portugal. The other two richest regions are Lisbon and Madeira.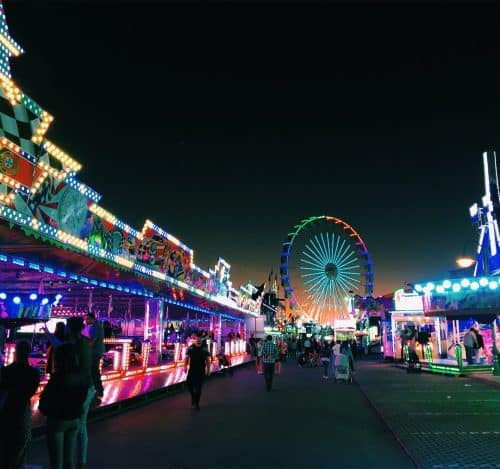 The Exciting History of Algarve Portugal
There were ancient peoples living in Algarve as far back as the Paleolithic and Neolithic times. This has been proven by stone block structures dating back to these times.
Around 1000 BC, the Phoenicians established trading routes. In 550 BC, the Carthaginians founded Portus Hanibalis, which is called Protimao today.
During the second century, this region came under Roman control. This is where you can see many Roman ruins, including a bathhouse.
In the 5th century, the Visigoths took control of the region. During the 6th century BC, various indo-European, Celtic, and pre-Celtic tribes settled in the region. The city of Lagos was founded. Back then, it was called "Lacobriga". The Moors gained control of Algarve in 716.
During the 13th century there were wars against the Moors. Al-Gharb changed its name to Kingdom of the Algarve. The Moors were expelled. By the 14th century, Portugal had finally secured the region against further attempts at invasion.
Prince Henry the Navigator was a popular explorer in the 15th century. He brought notice to Lagos. Soon Lagos flourished in trade and became the capital of the historical province of Algarve in 1577. This remained until the big 1755 earthquake in Lagos. Besides the quake, a big tsunami destroyed much of the city.
In 1910, Algarve was declared the "First Portuguese Republic". Today it merely remains as a region.
Outdoor Sights of Algarve
There are many outdoor destinations where you can see the natural beauty of Algarve. The Ria Formosa lagoon is a nature preserve that covers over 170 square kilometers in Algarve. This is where you can see hundreds of different species of birds.
If you rent a powerboat tour, you'll get to see one of the many limestone caves and grottoes. The best spot for this is near Lagos.
There are also many beaches that are popular with locals and tourists alike. Some of the favorite ones include the Armacao de Pera and Marinha Beaches. This is where you'll see many breathtaking cliffs, golden beaches, sandy islands, and blue bays.
And even if you're on the beach and you tire of swimming or sunbathing, there are many other activities to enjoy. You can shop at some of the booths, enjoy a refreshment at a beach bar, dance at a beach disco, look at the sandcastles, take in a concert, go diving, and more.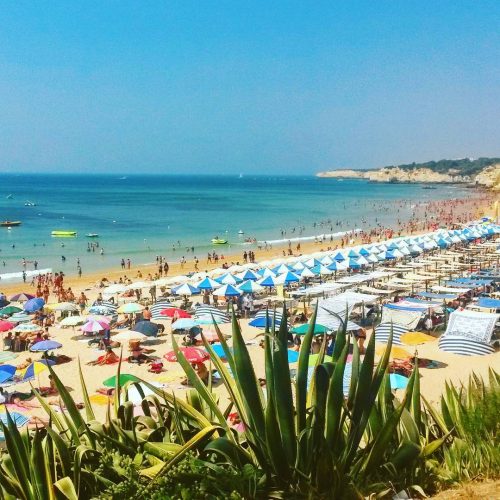 If golf is your thing, there are over 25 golf courses that you can enjoy here.
Indoor Sights of Algarve
The Algarve is a popular stop for religious pilgrimages. One popular destination is the Sanctuary of Our Lady of Piety. Located here is a Catholic Marian shrine dedicated to the saint of Loule. Another popular site is Our Lady Mother of Goodness that is located near Sao Marcos da Serra.
There are dozens of museums to visit in Algarve. Since there is so much to see, you can base your choices on your preferences. A few notable choices may include the Algarve Costume Museum. This museum displays old clothing of the past, with separate exhibitions for each era.
The Museum Arqueologico is located in Faro. In the past it used to be a convent, but has been converted into a museum. There are some permanent archaeological collections on display, but if it's your second visit, don't worry as there are also temporary exhibitions that often change around too.
Many tourists love to visit castles, so if that's your thing, you won't be disappointed in Algarve. One of the best to visit is the Castle of Loule, located in Loule city. This castle was declared a national monument in 1924. It's in ruins but there are still three notable towers still standing, in addition to the alcaldaria inside.
Near the castle is a market where you can pick some oranges grown in the region, or some pottery or tiles to take home to friends and family as gifts.
Best Time of Year to Visit Algarve Portugal
Algarve is most popular to visit during the summer months as that's when most people get vacation time off, but almost any month is going to be mild, and warm to hot weather. It does rain here though, so if you want to avoid that, it narrows down your travel time choices to about May to September.
Finding Hotels & Resorts in Algarve
There are many options when selecting where to stay in Algarve. You have the choice of staying in a resort of high-rise buildings in Albufeira. There are also traditional guesthouses in any small town or village along the coastline. Then there are the usual hotel options, such as the Hilton.
Shopping in Algarve
Many tourists love to purchase goods that actually have been made in the region they are visiting. This is much better than buying something made overseas that is simply marked "Algarve" and not actually made there.
To help you out with your shopping, there are a few items you should be on the lookout for. Pottery and ceramics are some of the most notable items to purchase. These are hand-painted and glazed. You can also find tin-glazed ceramic tiles.
If you're interested in shopping for these items, the best known pottery centres are located in Almancil, Loule, and Porches.
********************
Plan Your Trip to Algarve Now! There is plenty to interest the traveler in Algarve, whether you simply prefer to rest and relax by beach or pool, visit one of the interesting museums, or enjoy an exciting outdoor activity such as diving.
But don't be daunted by Algarve's nickname about being the third richest territory in Portugal. You can still find plenty of affordable hotels or guesthouses to stay at. And with the Algarve being one of the best destinations for celebrities, you never know who you'll meet there!