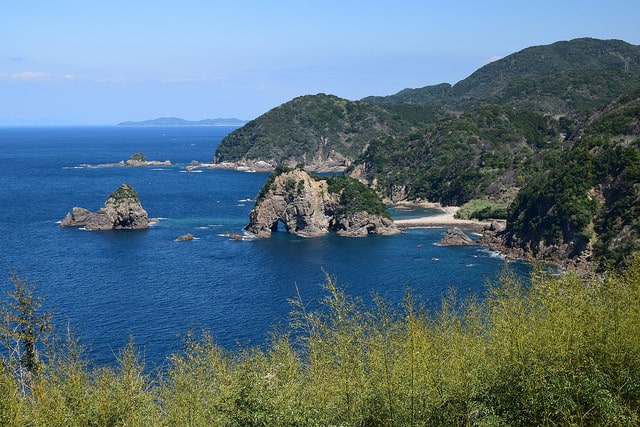 Kyushu, Japan's southern island, is a wonderful place for tourism. Famous for cities like Nagasaki and Fukuoka, if you travel down to the south there is paradise to be found. The best part is that most foreigners have never even heard of it! Amakusa is a great location, even if you visit in off-season. You can get there by car if you drive down to Nagashima and take the car ferry, or if you don't want to drive, take a lovely little train ride down to Misumi Port (the West port is well worth visiting!) and then a wonderful ferry ride from there to Hondo Port. Unless you are close by, Amakusa is a bit much for just a day trip. If you do want to spend more time there, check out our top recommendations for places to stay.
What to do in Amakusa
Amakusa is best known as a beach destination. During the summer months, local tourists flock down to the seaside for swimming, sunbathing and sandcastle building. While there are a load of gorgeous beaches and bays to enjoy around Amakusa, this isn't the be-all-and-end-all of Amakusa tourism. Take a look at our top recommendations for things to do in and around Amakusa.
Dolphin Cruise
The waters around the Amakusa islands are populated by a multitude of dolphins. Going on a dolphin-watching cruise is one of the most popular pass-times in the area, and most tour operators are open for business all year round. You can join a large boat which goes out several times a day, or there are smaller operators which will take you out in small groups or even just one family at a time. If you can, I recommend taking a private boat – the big ones look nice enough, but if they're over crowded you may struggle to get a good view when the dolphins pass by. Whatever type of boat you're on, wearing the life jacket is not optional – the Japanese take health and safety very seriously!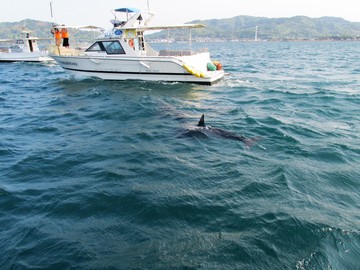 Price depends on what kind of tour you book and how long for. A one-hour tour generally costs about ¥2,500 for adults, whereas a two-hour tour is more like ¥4,500. Some companies have discounts if you book online, and others offer extra bonuses like a free bottled drink when you arrive and some souvenir postcards. The Dolphin Cruise company and the Sea Cruise company are both good options.
Beaches
If you're visiting when the weather is fine, you pretty much have to visit the beach. There are loads to choose from, so do some research to find out what's near to up. Up in the north near Tomioka Castle, where you can spot some beautiful read torii, is a lovely sandy beach with a sheltered swimming area. The Pearl Sun Beach is a bit of a drive away from the main Amakusa island, but well worth it if you're looking for a slice of paradise. Kurosaki Beach and Hondo Beach are a bit more central, and along the Western coast are lots of beaches famous for their amazing sunset views.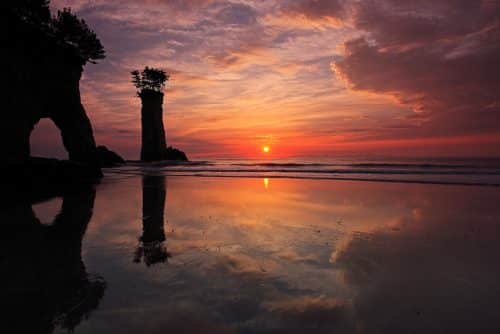 Christian Tourism
Amakusa was at the heart of the Shimabara Rebellion, and was the birth place of Amakusa Shiro, a charismatic young Christian martyr. As such, you can find countless museums, churches and other places of interest to visit around Amakusa if you'd like to find out more about the history of Christianity in Japan. Check out Amakusa Collegio Museum (this place is fantastic, very cheap to visit, and has a great exhibition upstairs too), the Amakusa Rosario Museum (more great artefacts, plus an exhibition about the World Santa Congress..) and the Amakusa Christian Museum. For churches, check out Oe Cathedral and Sakitsu Cathedral.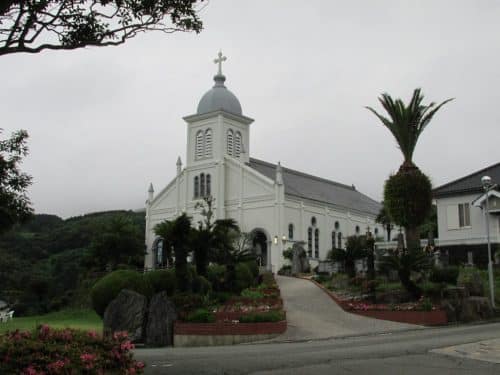 Wakuwaku Aquarium Sea Doughnut
Perhaps you've seen photos of truly awesome aquariums in Japan, with tanks the size of buildings and sharks idling by. Well, the Wakuwaku Aquarium Sea Doughnut in Kami-Amakusa is nothing like that. Perhaps it seems like a strange attraction to include, but the place was so bonkers I just have to tell you about it.
For starters, visiting the aquarium is never cheap in Japan, so when you walk through the doors you expect the be impressed. The structure itself is quite interesting – a doughnut shaped structure out in the water of the bay, it looks quite promising on approaching it. However, once inside you'll see what I mean! On the top floor, the first thing that you notice is how dark the room is. After that, you'll see that the few tanks are small and dirty, and the accompanying signs are hand-drawn, and clearly not the work of artists! It's one of those places where it's so bad it's actually funny.
Downstairs is better, with larger tanks and a few more things to see. But throughout the aquarium is a sort of tacky, run-down feel which you can't quite shake off. Well, if you'd planned to hit the beach and it starts pouring with rain, this indoors option might be worth considering, for giggle-factor if nothing else!
Where to Stay in Amakusa
If you're hoping to spend a bit longer in Amakusa (and you certainly should!) there are a number of options for places to stay. In the summer, when Amakusa is a hive of activity, these places can quickly fill up so I recommend booking in advance. However, during off-season (and even mid-seasons like around April) it is pretty quiet and so you can usually have your pick. I have two awesome accommodation recommendations for you in different locations around Amakusa – they are quite different in style but both well worth considering!
The Amakusa Shimoda Onsen Garasha
The Shimoda area of Amakusa is basically one road stretching from the sea along to the foot of the mountains, lined with ryokans. A ryokan is a typical Japanese inn, characterized by tatami mats on the floor (no shoes or slippers on these please!), futons beds and a hot spring facility. So even if this particular location is full up, there are plenty more to choose from in that same area.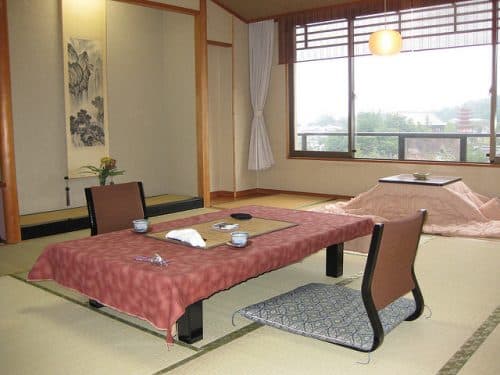 The Amakusa Shimoda Onsen Garasha is a sort of clash between a traditional Japanese ryokan and a Western hotel – there is a lot of stained glass about, as well as Western decorations including prints by Gustav Klimt. The bedrooms are different depending on the size of your budget, but the room we stayed in was another combination as it had neither a bed nor a futon but something sort of in between! However, don't get the feeling that this place is badly put together – it's completely charming, and the room had a lovely view over the stream with the misty mountains as a perfect backdrop behind.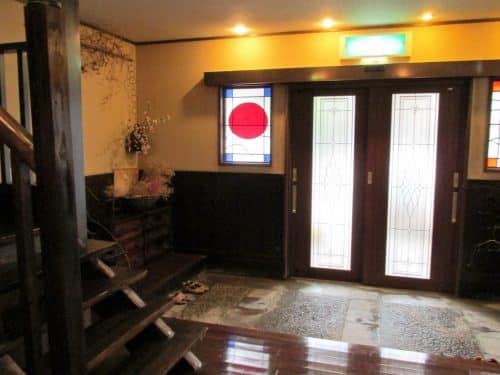 Use of the onsen (hot spring) is free for guests and well worth trying, particularly if you've just indulged in one of the spectacular dinner courses available at the hotel. Dining in a private room, with enough food to keep you going for a week, what better way to relax afterwards than to go for a dip in the natural waters? This certainly is the more luxury option of our two featured accommodations, with prices ranging from ¥16,000 to ¥24,000 per night (double room) depending on whether your package includes breakfast and the amazing dinner course. A little pricey perhaps, but well worth it if you're in need of a treat!
Hotel Kawacho
If you're looking for something a bit more down-to-earth, consider staying at the Hotel Kawacho. Located on Kami-Amakusa, it's just a five minute drive from the Hondo Port and so very convenient if you're travelling by ferry. Aside from that, it means you're super close to the main town but are away from the hustle and bustle of it. At the Kawacho you'll be treated to one of the best views you could hope for. All rooms face the bay, with the sea (two or three floors below) right there outside your window! Wake up to the sound of the waves lapping against the rocks and enjoy amazing views across the water, particularly at sunset.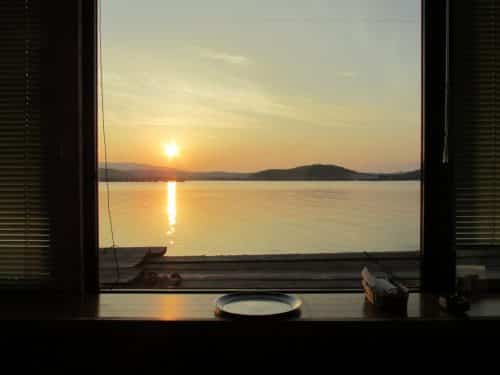 The rooms at Hotel Kawacho aren't anything fancy, but they're huge. Seriously, for a country famous for teeny-tiny apartments, this is one of the most roomy places you're likely to stay at in Japan. Done up like a traditional ryokan (but much bigger and brighter) the rooms have tatami mats on the floor and traditional futons – they're not everyone's cup of tea, but I'd personally say it's one of the most comfortable places I've stayed.
The onsen facility at the Kawacho is pretty special too, as it uses natural salt water in the pubic bath. The hot spring itself isn't the most beautiful place you'll ever bathe, but again with the view of the sea right there out the window, who's complaining? Also, if you can work it into your itinerary to eat dinner at the Kawacho, absolutely go for it! Our evening meals at the Kawacho have been some of the best things we've eaten in Amakusa. We particularly recommend the sea urchin, as well as their home-made alcohols.
Rooms at the Kawacho cost around ¥5,000 per person per night, with double rooms being a better deal than singles. They also have another property just across the road that has cheap dorm rooms if you're trying to really keep down costs. I can't recommend this place highly enough – it's utterly charming.