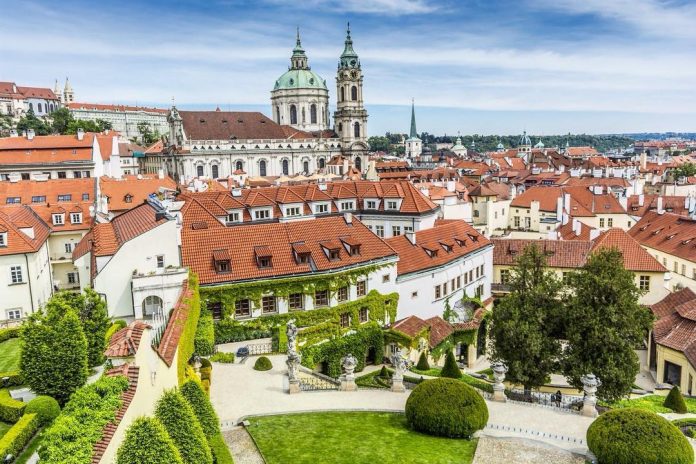 The Czech Republic has been gaining notice as the perfect vacation destination over the past decade due to being an active filming destination for movie companies. This small country is located within the central-eastern portion of Europe. Prague is one of the most highly visited cities within the country, and is full of plenty of exciting history. During your stay in Prague, enjoy a stay at the Aria Hotel. This hotel also has an interesting history, and you'll be tempted to take many photos while you're here.
Prague, Capital City of Czech Republic
Prague is the capital city of the Czech Republic. It's located on the Vltava River. During your stay here you'll find plenty to see and do. The city is nicknamed, "The City of a Hundred Spires". This is evident when you view the skyline, particularly at night.
It's also known as the old Town Square. If you head to city center, you'll find its historic core. Here you can visit many Gothic churches, and see the Astronomical Clock which was built during medieval times. At the clock is also an animated hourly show that you need to see.
There is also the Charles Bridge, which was finished in 1402. This bridge is lined with the statues of many Catholic saints. Besides these core sights, there are many other sights and museums to visit.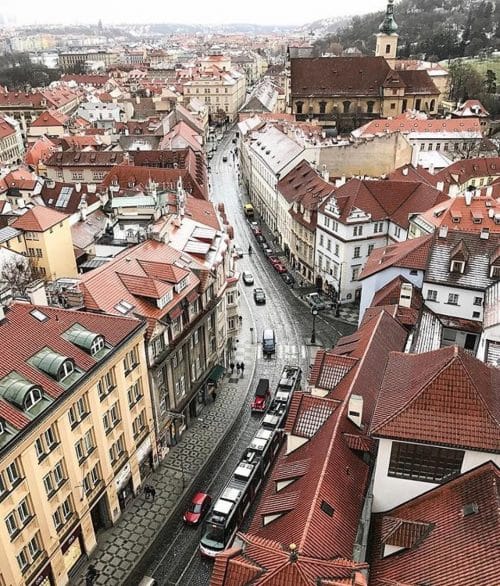 All About the Aria Hotel
The Aria Hotel is situated near the left bank of the Vltrava River, and is located in a historic building. You'll be perfectly situated to see the major landscapes of the city. There are many spectacular views to enjoy, such as baroque palaces, gardens, and churches, no matter which side of the hotel you are located on.
The hotel is located in a spot called the Lesser Town. It's close to Charles Bridge and Prague Castle. If you enjoy walking, the hotel is close to some of the best sights in the city.
The address is at Aria Hotel Prague,Tržiště 9, Prague 1, 118 00 Czech Republic, and their website is ariahotel.net.
Amenities of the hotel
The Aria Hotel has nine different rooms and levels of suites to choose from. The rooms are all modern and up-to-date. You can simply book one of the deluxe rooms to save money, or book one of the larger luxury rooms, such as the Elvis room with a funky setting, or the Mozart luxury suite with French doors and a patio.
The hotel has two fine dining rooms, the Coda, and the outdoor Terasa U Zlate Studne. World-class chefs offer the finest meals made from local and organic ingredients.
If you're planning a convention, conference, wedding, or meeting, the hotel has facilities to accommodate all sizes of meetings.
There are many amenities that are included with your stay. You can enjoy private access to the Vrtba Garden which has many beautiful sculptures. This garden is on the UNESCO World Heritage List and is one of the best examples of a Palace Garden in the city.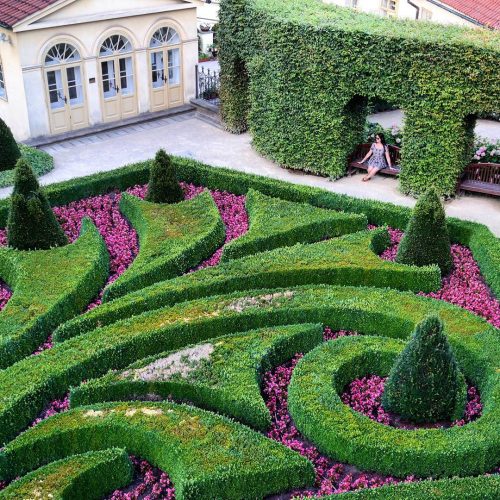 You'll also gain access to the Fitness Center. In the afternoon is a complimentary afternoon tea from 4 to 5:30 pm. Staff are on hand to advise you with your future sightseeing plans.
Like most hotels, free WiFi is offered. There is also a complimentary newspaper, coffee and fruit available in the mornings, bottled water, a complimentary music library, and turndown service with fine chocolates. In the mornings, enjoy a buffet breakfast in the Winter Garden Atrium.
You can also borrow the room's iPad and take it around on your sightseeing trip.
If you expect to be pampered during your stay at Aria Hotel, Prague, you will be!
On-Site Facilities
 Besides the elegant and modern guest rooms, and the fitness center, there are also many other facilities that may just nudge you closer to making a reservation at the Aria Hotel Prague. You'll never be able to say that you had nothing to do at this hotel!
There is a separate room for the Music Libary and Concierge. Inside this room is a vast selection of DVDs, CDs, videos and music for you to enjoy during your stay here. You can check items out, just like a real library. There is also a private cinema where you can gather with other guests to enjoy a fun night of films and music.
The Winter Garden Atrium is an indoor location at the heart of the hotel. Inside, you'll find many comfortable couches and seating, all elegantly flood-lit. You can meet up with friends or family.
You can also head to the Rooftop Terrace where you can sit and enjoy the scenery of Prague. You can can enjoy a beverage or eat a delicious meal. The terrace does have large umbrellas, so you can stay out of the rain or sun, but still enjoy the outdoors in all types of weather.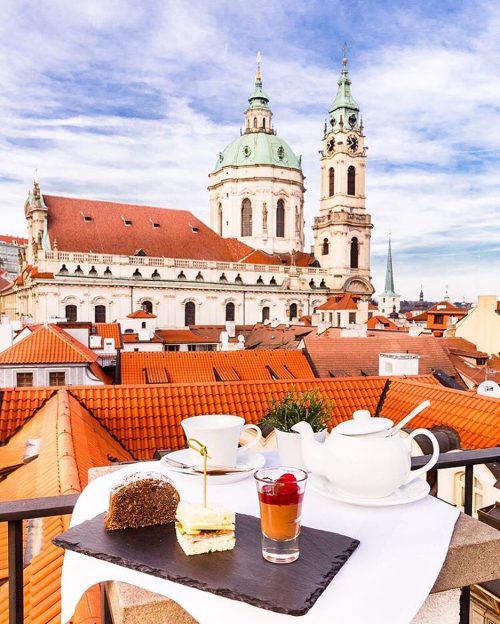 The Fireplace Lounge feels like an elegant private room tucked away in a spectacular mansion. Here you'll found comfortable seating, a large fireplace, and some great artwork and statues. The main colour scheme here is red and gold.
Sights Within Distance of the Hotel
You can save a lot of money on transportation by simply walking around the Lesser Town to see the sights. Here are a few that shouldn't be missed!
St. Nicholas Church
This is a baroque-style church located in Lesser Town. It was built from 1704 to 1755 on site where there used to be an old Gothic church from the 13th century. Both churches were dedicated to Saint Nicholas.
Strahov Monastery Library
This library was founded in the Strahov Monastery in 1143. The library contains over 200,000 volumes of books, and 3000 manuscripts. There are also 1500 first editions that are locked up in a special depository.
Church of Our Lady Victorious
 This church is looked after by the Discalced Carmelites. It contains a famous child Jesus statue called the "Infant Jesus of Prague". The church has an extraordinary significance for its artistic designs and architecture.
Nerudova Street
On your walk up to Prague Castle you'll walk along the Nerudova Street. This is a picturesque street that you'll enjoy walking along, but note, it can get steep at times. Do check out the signs that people have placed on their houses. This is an old tradition that dates back to 1770.
Lennon Wall
The Lennon Wall has actually been named after John Lennon, one of the Beattles. Since the 1980s it has been covered in graffiti and lyrics inspired by Beatles' songs. The wall is constantly changing and evolving over time as new graphics and sayings are added.
Charles Bridge
The Charles Bridge is an old historic bridge that spans the Vltava River. Construction first began in 1357 by King Charles IV's command, and was completed by the early 15th century.
Prague Castle
This is an ancient symbol of the city of Prague. It's a significant monument that was built during the 9th century. Today, it's the official residence of the President of the Czech Republic. The building features dual spires that can be seen for miles away.
Old Town Square
The best square to see a bit of history in Prague is at the Old Town Square. It can be found between Charles Bridge and Wenceslas Square. It'll be like stepping back in time for 600 or 700 years earlier.
Jewish Quarter
The Jewish Quarter, or Josefov is where you can see an old Jewish ghetto. Here you can find the old tombstones at the Old Jewish Cemetery, and the Pinkas Synagogue which has been turned into a Holocaust memorial. Currently, there is an exhibit on children. The museum also has a large collection of historical and cultural artifacts.
Reservation Advice
This is a popular hotel that has five-star reviews. It's important to book early if you wish to stay here. Note that while this hotel is very expensive, they do offer specials at certain times of the year. And keep in mind that many amenities and meals are included in your stay, so you're paying for all of that too.
This hotel has been called the best hotel in Prague for a reason. Remember that you get what you pay for!
********************
Book Your Stay at Aria Hotel Soon!
If you desire to stay in Prague and experience a luxury lifestyle where you don't have to do a thing, stay at the Aria Hotel Prague. Here you'll be spoiled with plenty of amenities. After your rest, you can head out on the town for one of the many spectacular restaurants that serve local fare, or dine in at one of Aria's world-class restaurants.
If you already have your flights booked to Prague, don't delay, as the Aria Hotel is a popular choice year-round. You'll be staying at one of the best hotels in the city, and you're sure to have the experience of a lifetime!