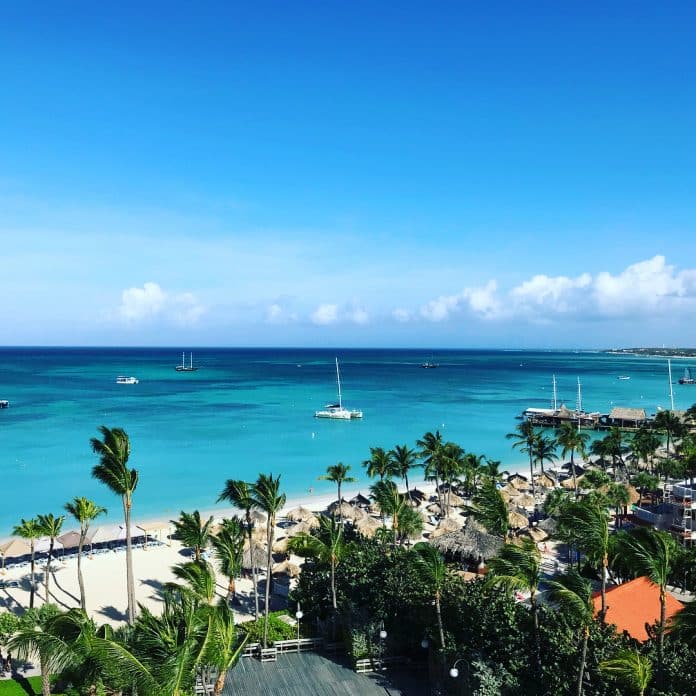 It seems like there are endless vacation destinations but you only have one or two weeks to spend your time. If you can narrow it down to a beach destination, the Caribbean is one popular destination where beaches are beautiful. Temperatures are dry and arid when compared to the usual humidity in the Caribbean. Generally, travelers can rely on the wonderfully warm and sunny weather here. The Aruba Hyatt Regency is popular with travelers, and it also ranks high on most travel lists.
If you've been considering some other destination, why not read about what the Aruba Hyatt in the Caribbean has to offer first, before making your decision?
Where is Aruba Hyatt Regency?
The Hyatt Regency is a resort located in Palm Beach, Aruba, on the island of Aruba. It's located on J.E. Irausquin Blvd #85 and officially called the Aruba Resort Spa and Casino.
Aruba is one of four countries that comprise the Kingdom of the Netherlands, located in the southern Caribbean Sea, off the coastline of South America. It's closest to the coast of Venezuela, and the Lesser Antilles. The main capital is Oranjestad.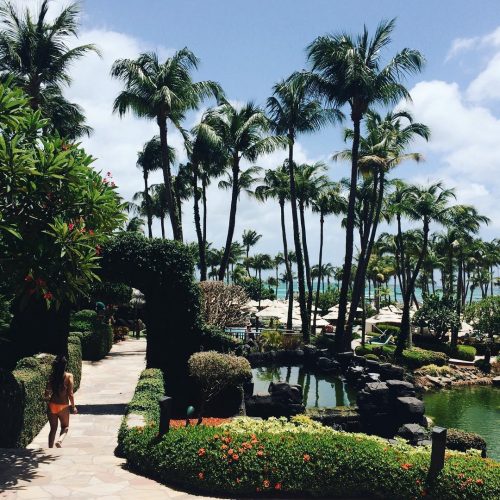 Major Tourist Destination in Aruba
While you can base your hotel in Aruba, there are three main cities on the island. These include Noord, Savaneta, and San Nicolas that you can all visit during your stay.
Aruba comprises about 179 square kilometers of land. It's densely populated, with about 103,000 permanent residents here, not including travelers.
One of the benefits of visiting Aruba is its great weather, and being outside of Hurricane Alley in the north.
While English and Spanish are spoken in Aruba, the major languages are Dutch and Papiamento, a creole language.
About three quarters of the economy in Aruba is dedicated to tourism or other related activities. Most of the tourists visiting this destination are from the USA, particularly the northeastern side. There are also travelers from the Netherlands (they can travel there freely as they don't need a visa), South America, Venezuela, and Colombia.
While the currency in Aruba is unique, you can easily exchange money at any currency exchange for Aruban Florins.
Each year, over 1.7 million travelers came in through the airport, with about 61% of them being American residents.
Transportation to Aruba Hyatt Regency
The island has the Queen Beatrix International Airport, near Oranjestad, to fly into. If you're from the USA, you can benefit from a full pre-clearance facility for the trip home, so it doesn't have to be done in the USA. This was established in 2008, and is the only island to have this service for flights from Aruba to the USA.
If you choose to take a cruise, one of destinations may land you in Oranjestad or Barcadera. From here, you can take hired transportation, or a bus to the Aruba Hyatt Regency. Note that a taxi can be quite expensive, so a shuttle bus is your best option.
There is also a street car service that gets you around the port.
What Amenities to Expect at the Aruba Hyatt
This resort is considered luxury, so expect only the best. The beachfront is private to the resort, so you won't get the public wandering along the beach. The resort is right on the ocean beachfront, and is surrounded by nice sugary white sand. The seas are a lovely blue color.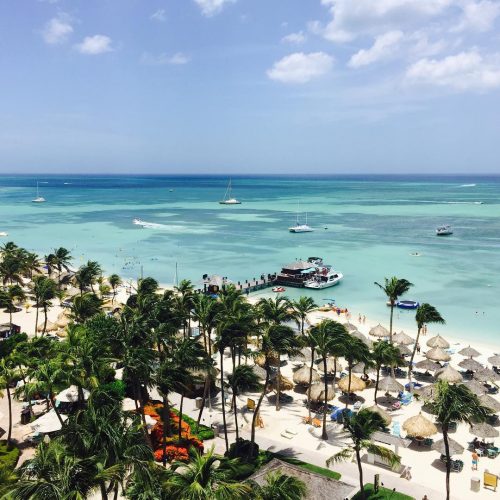 You can expect hotel rooms that have Caribbean elegance, with excellent island-themed food, and plenty of indoor and outdoor recreational activities.
Outside, simply take a break on the beach, or enjoy some of the many water sports. You can also head to the casino for some gaming.
Some of the hotel rooms have ocean views, and you can choose from modern guest rooms, or modern suites that have private balconies. Besides the beach, you can enjoy the pool and garden views.
If you're planning on booking a wedding or other event, there are many meeting rooms and wedding spaces to choose from. Almost 10,000 square feet of space is dedicated to meetings or events. There are also 3000 square feet of pre-function space for registration or socializing, and over 10,000 square feet of outdoor event space that you can book too.
Choosing Your Hyatt Aruba Room
There are many different rooms to choose from, from garden view to ocean view. The Regency Club offers some of the best rooms on the property. This is where you can enjoy ocean or island views from your French balcony. These guest rooms start at 380 square feet and up, so you'll have plenty of room.
The rooms have nice plush queen or king sized beds. They also have large 42" flat screen TVs, and individually controlled air conditioning that you can adjust to your preference. There are also hairdryers, coffeemakers, mini fridges, irons with board, and a morning newspaper.
You'll also have access to a special lounge that is only for Regency Club members.
Dining Opportunities
There are many bars and restaurants to enjoy at Aruba Hyatt Regency . You have the choice of three fine dining restaurants, or two casual restaurants. There are also many outlets that offer a quick and delicious hot or cold drink.
The Ruinas del Mar, a restaurant for those special occasions, decorated with floating swans. Here you'll enjoy exceptional cuisine. The Mexicado isn't so formal, but you'll get to enjoy some authentic dishes from the region. Cafe Piccol is also less formal, with stone oven pizzas and a cozy atmosphere. If you enjoy seafood, head to the Palms Restaurant.
For a romantic outdoor dining, you can head to Pampered in Paradise where you can have the beach all to yourselves. Food will be brought out to you, while you have dinner under the stars and enjoy a glass of wine. Another outdoor dining opportunity is at the pool at Balashi Bar and Grill. This is open until 6 pm for lunch or snacks.
You can also go on a dine and sail tour at the Dinner Sail. They'll take you out just as sun is setting, while you enjoy a fie Caribbean buffet.
The Alfresco Bar offers drinks by the pool, with some of the best wines. If you're in the Casino, you can enjoy a drink at the Casino Bar. This is also where they host many nightly parties with live music. Smoking of cigars is allowed, and where they serve exotic drinks.
The Palms Beach Bar gives you an opportunity to relax at the end of a long day, while you sip a drink and watch your favorite game. If you're out on the Pier, you can enjoy Piet's Pier Park to refresh in the sun.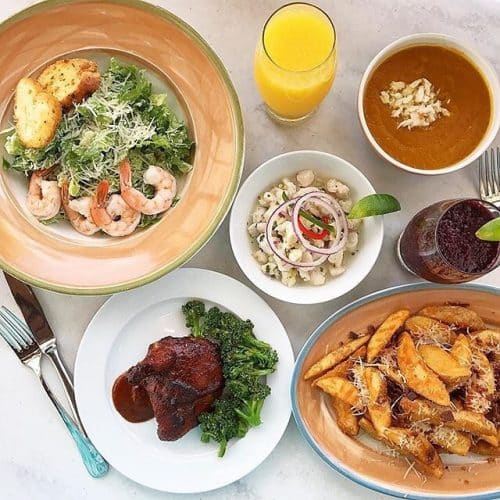 Recreational Opportunities at Aruba Hyatt Regency
If you need even more ideas of what to do on your vacation, there is plenty to do. You don't even need to leave the resort, though you can certainly head out to experience one of the many other activities on Aruba itself.
You can book a sailing or banana boating tour, or go on a scuba diving adventure. There are catamarans that will take you out onto the water.
There is also a full-service spa to work out the tension of sore and tired muscles. You can also head to an 8000 square foot water complex where you can swim, or simply relax on one of the lounge chairs.
Golfing is also a popular activity in Aruba, so you can head to one of the many golf courses here. There are also many sporting events held in Aruba, including triathlons, runs, tennis, competitions, and more.
If you want to drive, you can hop into an ATV, land rover, or jeep tour.
Fishing is another popular sport. You can take a boat out for deep sea fishing. Horseback riding can combine the outdoors with sport and a tour.
Shopping and Museums in Aruba
If you're tired of all that great sun, you can head indoors and enjoy some great activities. There are plenty of stores and shopping malls in Aruba where you can find everything you have forgotten to bring from home, or pick up a few gifts for friends and family back home. The stores are nicely stocked, and have a good selection of imported merchandise.
There are also museums in Aruba that explain the history, with artifacts and demonstrations. Two of the best are the Archaeological Museum of Aruba, and the Aruba Numismatic Museum.
********************
Plan Your Trip to the Aruba Hyatt Regency in the Caribbean Island Now! One great thing about staying at an island resort is that you can simply show up, and everything is done for you. You won't have to worry about cleaning your room, or planning a meal. And you can choose to book one of the amazing outdoor recreational activities, or simply do nothing at all. The Aruba Hyatt Regency in Aruba, Caribbean, is truly a once-in-a-lifetime adventure! Book your stay here!