Home
Authors
Posts by Fiona G Mokry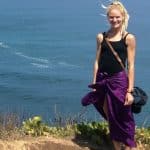 Fiona is an island-life loving Dive master, traveling the globe and exploring as much of the world as possible. When she's not scuba diving, she's writing about her ventures and sharing with others. An animal lover and family gal, Fiona enjoys spending time with her adorable cat and loving husband. A firm believer in pursuing happiness as opposed to financial stability, she hopes to continue the adventure for many years to come!
The best part about the Perhentian Islands is the simple style and lack of development. As other nearby islands in Thailand and Malaysia blow up into tourist hot-spots, these two gems have somehow managed to retain their rugged beauty and deserted island charm. The Perhentians...
Borneo is not your typical backpacker destination. It's not as popular as its other more developed South East Asian neighbors. Borneo is an obscure jungle, literally and physically. It's not frequently talked about, not as easy to travel through, and not as catered to...
It's not uncommon to hear of people quitting their jobs, selling everything they own, and buying a one-way ticket to a different country. If this is a story you've never heard before, then you've never been to South East Asia. This region is overflowing...
Cambodia is a country that has been shrouded in turmoil and unrest for decades. The country and the Cambodian people have suffered immensely, especially during the late 20th century. During the 1970s especially, the country and population suffered from the deadly and devastating Khmer Rouge...
When compared to its neighbors, Laos is the lesser known and lesser traveled South East Asian country. Many backpackers have a "set" route that includes Thailand, Cambodia, and Vietnam, but for some reason Laos gets overlooked. Maybe it's because Thailand is so famous for its...
Turkey is a fascinating and beautiful country overflowing with history. The west of Turkey is an especially exceptional destination for travelers who are interested in ancient history, impressive architecture, and genuine culture. Unfortunately, political scandals and general unrest often overshadow this fact. As an ex-pat living...
Greece is known for its spattering of islands throughout the Mediterranean, Ionian, and Aegean Sea. There are over 6,000 islands, several hundred of which are inhabited. With azure blue waters, iconic white-wash houses clinging to the side of ocean front cliffs, and delicious cuisine,...
As a hectic city of roughly 20 million, your first thought may be that it's impossible to see Istanbul in a weekend. While two days doesn't give the city even half a chance to expose all its secrets, it's also true that one weekend...
Thai foods have made a name for itself everywhere. Even if you have never been to Thailand, it's likely you've sampled some version of Thai cuisine in a western restaurant. If you're lucky enough to have the chance to visit Thailand and sample some...
My greatest South East Asian adventure was easily the motorcycle tour through Vietnam. Backpacking through the SEA region, you will occasionally run into a few brave souls making their way around the region by motorcycle. However, I never knew that such a community of...