Home
Authors
Posts by Ray Quintas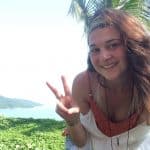 Ray Quintas passion for writing and traveling have always split over the edges of her small hometown upbringing. Her ecstatic enthusiasm to travel finally brought her overseas, at 18 years old, to travel Europe for half a year; the following year, Ray traveled to Southeast Asia for her first solo backpacking excursion. Ray dreams to continue to follow a nomadic-like lifestyle and to inspire the world with her love for traveling and writing.
Disneyland, also known as Disneyland Park, is located in Anaheim, California and was introduced to the public on July 17, 1955 as the world's first ever Disney park. During its more than 60 years long life, Disneyland Park has seen more than 515 million...
Universal Studios Japan, having opened in March 2001, was the first theme park within Universal Studios to be built in Asia. Besides for being the second most visited theme park in Japan, Universal Studios Japan entertains its many visitors with eight remarkable world's: Hollywood,...
Located in central Manhattan, a borough of New York City, lies the famous symbol of New York City, Times Square. Times Square, or sometimes called, "The Crosswalks of the World", is a historical intersection located at the junction of Broadway and Seventh Avenue. The...
The Houses of Parliament and the Elizabeth Tower, or more commonly known as the Big Ben Tower, have held an iconic reputation in London since it was completed in 1858. The name Big Ben actually refers to the clock's massive bell, of 13 tons,...
Waiting to be treasured like golden gems hidden out at sea, the Bahamas Islands stretch all 700 of themselves out across the top of the Caribbean Sea. They are spread across a span of 13,939 square kilometers and are home to about 300,000 people....