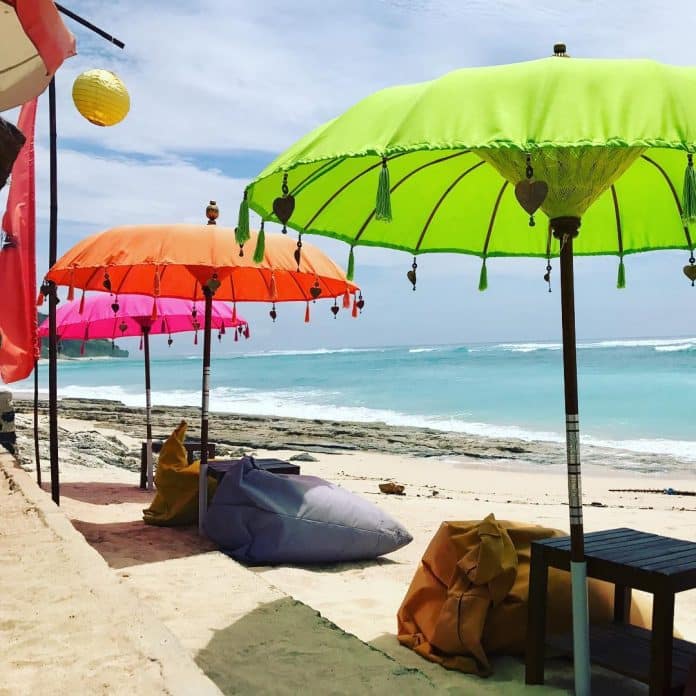 The tropical paradise of Bali is an oasis within the diverse country of Indonesia, filled with tourist hotspots and breathtaking views- life is better in Bali.
Differing from the majority of Indonesians who identify as Muslims, Balinese culture supports the polytheistic religion of Hinduism. Much of the culture within the Indonesian island is unique due to its traditions, art, and religion.
This is a traveler's paradise, as a popular destination Bali can accommodate budgets and interests of all travelers. Here is a list of some of the best places to discover within the island that allow tourists to take on a tropical state of mind.
Things to Keep in Mind about Bali
The first being that the traffic is absolutely awful. Always schedule extra time to travel to places, what you think is a 15 or 20 minute drive is more realistically an hour, especially if you are travelling during rush hour.
The second thing to know is that Bali is home to some of the worlds most unique coffee, Luwak coffee. As on the of most expensive coffees in the world it is worth visiting a plantation and seeing first hand what the fuss is about. Using partly digested coffee cherries that come from the feces of the animal the toddy cat, the coffee is surprisingly delicious.
The third thing to know about Bali, is that this island is so beautiful almost everywhere you go there will be an incredible beach, waterfall, mountain, or volcano. So go and explore the island, because each town and city will have a different vibe to it, making this an amazing tourist destination.
Ubud
This is the perfect place to visit for tourists that are looking for an easygoing area that has a mix between small town and big city. Differing from the craziness of the capital of Indonesia called Jakarta, Ubud is surrounded by nature and rice paddies.
Within the town there are many local markets, local craft shops, restaurants, and coffee shops, in contrast directly outside of Ubud are rice paddies and jungle.  This combination allows tourists to visit a place with a good mix between tranquility and city life.
There are a variety of things to do in the areas surrounding Ubud such as the Monkey Forest, Puri Saraswati Temple, Mount Batur, Batur Natural Hot Springs, and the Pura Tanah Lot Temple. The Monkey Forest is literally crawling with monkeys; it is an exciting experience to get up-close to these animals. However beware that these furry rascals might run off with your belongings.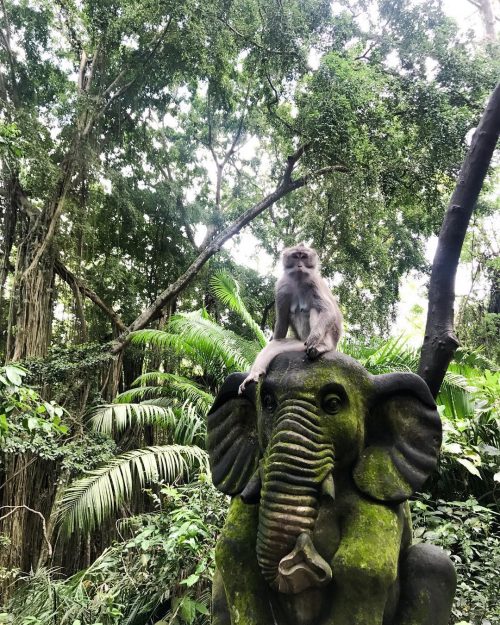 The Puri Saraswati Temple is an absolutely stunning piece of architecture surrounded by a pond filled with lotus flowers and lily pads. The elegant temple is dedicated to the Hindu goddess of the arts and knowledge, named Saraswati.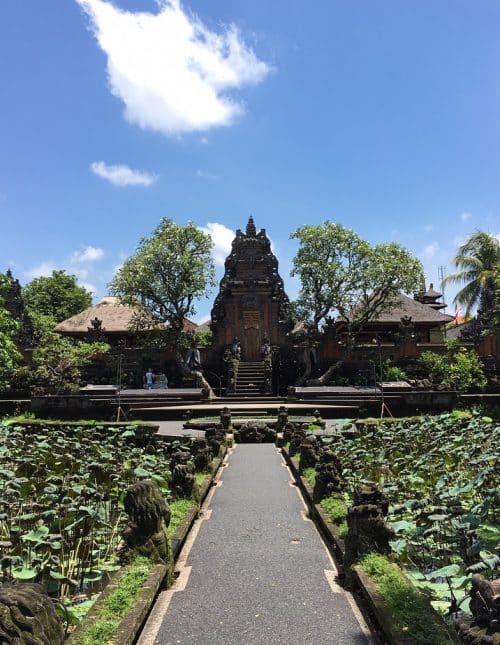 Another beautiful place worth visiting is Mount Batur, this 2 hour trek up the volcano is exhausting but beautiful. To summit Mout Batur, it is recommended to go with a guide, especially to view the sunrise. The views from the top are absolutely incredible yet be sure to bring a sweater because the top of the mountain is freezing because of the wind and the high altitude.
A fun place to visit after an exercised filled morning are the Batur Natural Hot Springs, these are various pools and fountains beside a lake, which offers views of the volcano. There are many different pools with various temperatures; making this a place everyone can enjoy the water.
Near Ubud is another very popular temple called Pura Tanah Lot, it is built on a rock formation directly on the Indian Ocean. Tanah means, "Land in the Sea" in Balinese, and the temple is though to be protected by venomous sea snakes that live in the coral reef below the temple. It has beautiful architecture but is famous for its stunning view over rocky cliffs and with white sand and palm trees. It is unique and can only be visited during low tide; yet the best time to see the Pura Tanah Lot is during sunset.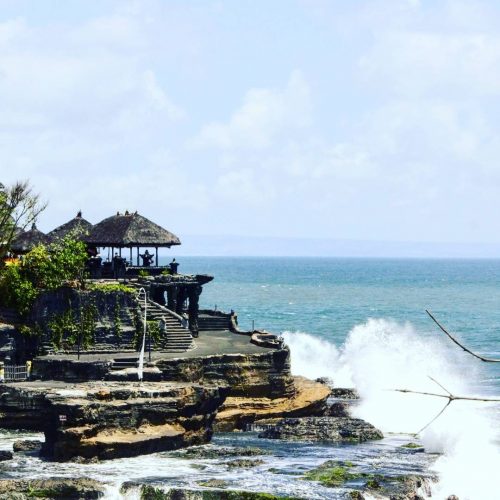 Ubud is a fun place to visit; it has many different things to do within the town and is a great hub that is near by many naturally beautiful spots. Yet expect a lot of insects because of the rice paddies that surround the town.
Kuta
This beach town is a backpackers paradise, as one of the most westernized parts of Bali. It has a carefree and upbeat vibe. This is a place to visit if you are looking for a more Western area that is made for tourists. Some people absolutely adore the vibe of the city and others really dislike it, it really depends on what you are looking for as a traveler.
Kuta once was a small rustic and simple fishing village but has quickly transformed into a tourism hub and is known for its hotels, shopping, and dining options. This town even has a McDonalds, Starbucks, and a variety of western foods and clothing brands such as Zara.
Catering to tourists, there are a diverse spread of restaurants such as Mexican, Italian, and there are many unique cafes that serve vegan and vegetarian food. Along the main beach road of Jalan Pantai there are numerous shops for tourists to visit. Across the street at the beach, a surfboard can be easily rented and the calm waves create an amazing place to learn how to surf.
As the sunsets, the long beach is the best spot to see the beautiful colors from the sky reflect on the ocean. Following sunset some of the best nightlife on the island can be found in the neighbouring areas of Seminyak and Legian, which are notorious for their vibrant parties. Check out the Potato Head beach bar in Seminyak for an incredible nightlife experience.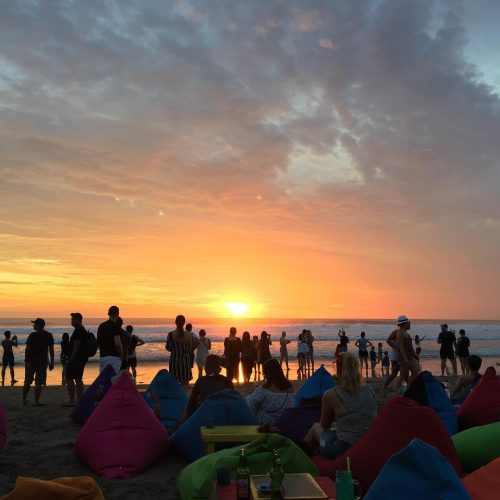 Canggu
Similar to Kuta, Canggu is also a beach town and surfers paradise, however it is less touristic than Kuta. It is smaller and it has a nice combination of allowing travelers to feel like they are outside of the fast paced city life, yet it is big enough to allow for a vibrant social life.
There are many different villas and hotels, which attract expats from around the world to participate in the yoga, trendy, hipster beach vibe of Canggu.
The food scene is one of the best in the island and visitors could eat at a new café every single day on their vacation and not be bored by the diverse selection.
The ocean and rice fields surround this small area, giving visitors the ability to connect with nature while also enjoying the carefree vibe of island life. Come here for the art markets, to learn to surf, the friendly expats, and the ocean however it is more expensive compared to other areas on the island. It's relatively pricier than other spots on the island, yet in general Bali is much cheaper for anyone on a North American or European budget.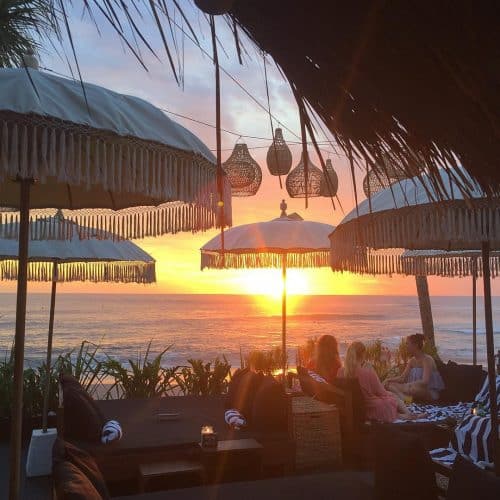 Jimbaran
This little fishing village is another costal hotspot and is known for its amazing seafood restaurants and the tropical forest behind it. This is a lively place to visit with an array of colorful boats along the coast that bounce in the waves.
Here there is Balangan Beach, which is another surfing spot, really there is good surfing at almost every turn in Bali. There are many resorts and five star hotels in this area, and compared to other spots such as Kuta it is a lot quieter and more relaxed.
This is the perfect area to have an intimate seafood dinner on the beach, while watching the sunset.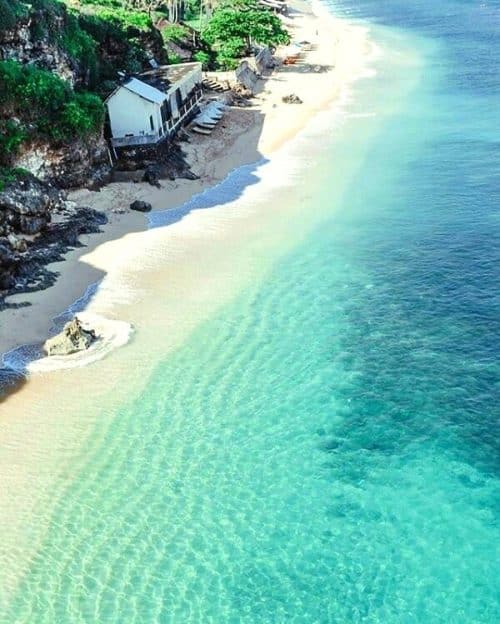 The Gili Islands
Even though these islands are outside of the island of Bali, they are so amazing that anyone who visits Bali should boat over to these three tiny isalnds.
Gili Air, Gili Meno, and Gili Trawangan are stereotypically incredibly; they have white sand shores, tall palm trees swaying in the wind, coral reefs, and swallow, warm, turquoise water.
Each island has a different specialty, on Gili Meno, the smallest island there is Turtle Point, which is a heaven for any animal lover that wants to see sea turtles swimming. There is also a turtle sanctuary that has bathtubs and pools on the beach for baby loggerhead and green turtles. At Gili Trawangan, which is the largest island of the three there is a sunken ship Wreck that can be explored.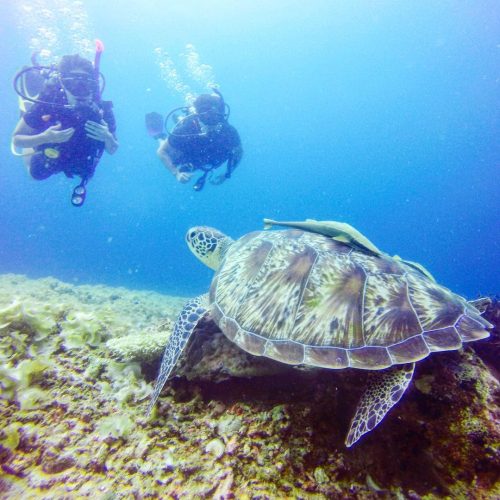 There is snorkeling and horseback riding offered on the beach and it is becoming more developed and has things to do for people of all ages. This is defiantly a great place to go to relax and explore the very slow paced island life.
*********************************
Bali is an incredible place that is truly a mix a culture and natural beauty, the diverse island offers many things for all different types of travelers. Life really is better in Bali, and is the definition of tranquility and relaxation.