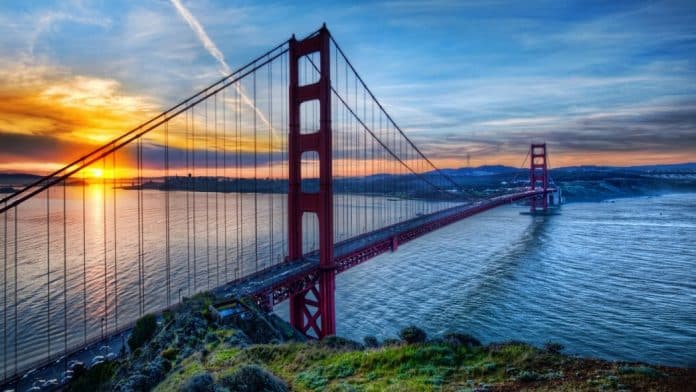 The Golden Grade Bridge is one of the longest suspension bridges which connect Marin County of San Francisco to the Northern point of the San Francisco Peninsula. This suspension bridge connects U.S. Route 101 and California Route 1. The American Society of Civil Engineers has declared Golden gate as one of the Wonders of the Modern World. It is one of best architectural specimen of the United States. Its orange vermilion color with matching lights gives a golden look during the night.
How to Reach at Golden Gate Bridge:
Walking or bicycling the Golden Gate Bridge is considered to be a main tourist attraction for people visiting San Francisco. The eastern side of the bridge has the main walkway for pedestrians and bicyclists. This walkway remains open for pedestrians and bicyclists during the weekdays from morning to mid-afternoon. It remains open only for pedestrians during the evening. During the weekends, only pedestrians can use the bridge during the daytime while it remains open only for bicyclists during the evenings and overnight. The western walkway is restricted to pedestrians and only bicyclists can use it during the time when the eastern walkway remains restricted for bicyclists.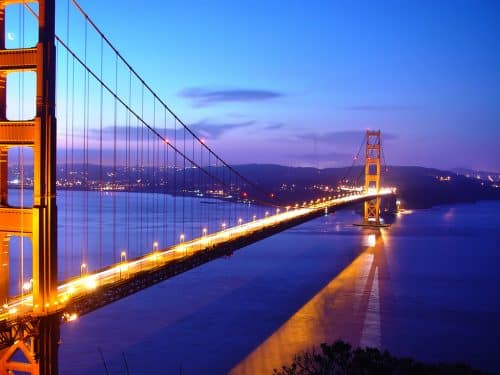 San Francisco Muni and Golden Gate Transit transportation agencies offer bus services across the Golden Gate Bridge. While Golden Gate Transit runs a number of buses on various bus lines throughout the week, San Francisco Muni offers bus services on the 76X Marin Headlands Express during the weekends. One can also use a private vehicle for a tour, however; there is limited parking lot available at the Bridge and hence it is advised to use public transport. There is a Visitor Center and a Gift Shop on the San Francisco side of the Golden Gate Bridge, which is also known as "Bridge Pavilion".
Attractive Parking Area of Golden Gate Bridge:
The Southeast Side visitors' parking lot is picturesque with a lot of garden area, gift center, and a cafe along with many scenic areas. One can visit the Southeast Side parking lot while traveling from Marlin County through US Highway 101 across the Golden Gate. From the north of San Francisco, one can visit the Southeast parking area by taking right from the last San Francisco exit off U.S. Highway 101.