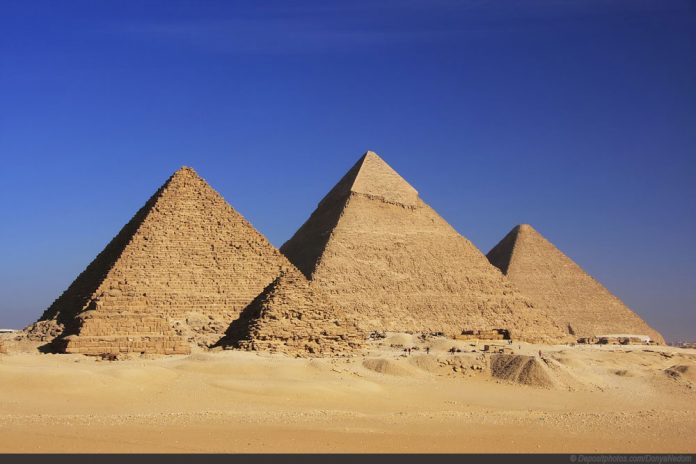 Mysterious and enchanting Egypt, one of the oldest centers of civilization, has always been of great interest among holiday makers. The land of the Pharaohs has everything to attract your attention from beautiful sea resorts to archaeological sites. Culture enthusiasts have many things to admire in Egypt, as no place in the world is so rich in culture. The temple of Hatshepsut, Luxor temple, Great Sphynx, Valley of the Kings, Karnak, Abu Simbel and many other impressive sites are the heritage of Egyptian history.
Most of all Egypt boasts about its world famous pyramids, which are the evidence of its glorious history and became the symbol of Egypt. Situated on the Giza plateau, these pyramids are included in UNESCO World heritage sites. The reason why the historical value of the pyramids is so great is the fact that they are the only site from the Seven Wonders of the ancient world that still stand proudly today.
Besides, they feature Egyptian fantastic culture and religion of ancient times. In ancient Egypt people believed that the spirit of the dead always comes back after it goes to heaven that is the reason they made mummies to preserve the bodies like they were in a lifetime. Pyramids were built to protect these bodies, however, some scientists argue that the pyramids were built for astronomical observations.
There are three pyramids survived up to our days –Khufu, Kafre, Menkaure which were built for the kings with corresponding names. The oldest and the largest one is Khufu, which is known as a Great pyramid. With 230 meters length and 147 meters height this pyramid can still rival any historical site in the world. The pyramid has three burial chambers, one of which is underground. The other two are known as Queen's chamber and King's chamber. King's chamber has two small shafts, which were first considered to be for ventilation, but later Egyptologists came to the conclusion that they were to allow the spirit of Pharaoh to rise to heaven.
Looking at this breathtaking pyramid it is sometimes hard to believe that it was created by humans. Composed of 2.3 million blocks of limestone, the great pyramid is one of the most massive buildings ever built on the Earth. Historians still argue on the issue of how the pyramids were built. According to Greek historian Herodotus, it took twenty years to build the pyramid with the help of 100,000 slaves. This version was believable for a long period until scientists found out that it is possible to build suchlike pyramid in shorter terms and with less workforce.
Though the thieves broke into the pyramid and stole its treasures and the mummy of Khufu, the significance of Great pyramid is still great as it is one of the wonders of the world.