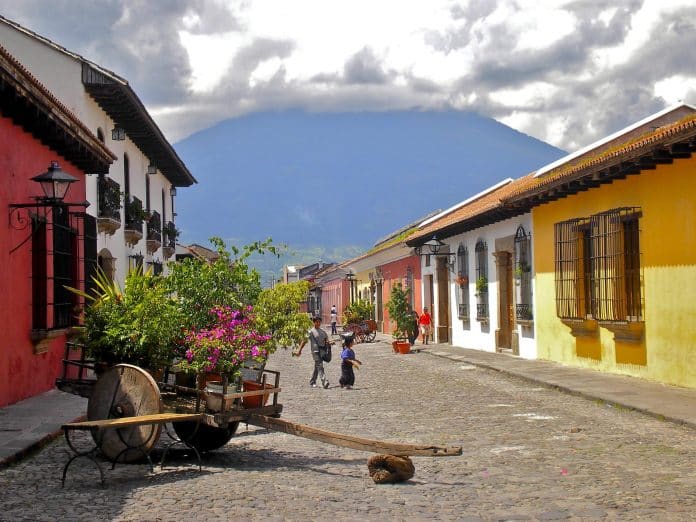 In the middle of Central America, surrounded by Mexico, Honduras, El Salvador and Belize is the ancient country of Guatemala. The environmental biodiversity of the immense rainforest that runs throughout the country, the volcanoes, mountains, natural lakes, and ocean, make for a nature filled adventure. It is one of the most beautiful countries in Central America and it has a deep connection to its Mayan roots. Mayan indigenous people can account for about half of the population and even though Spanish is the official language of the country many people still speak indigenous tongues. Throughout the country there are many different historical areas and ruins that teach visitors more about the mixed culture and past of this diverse country.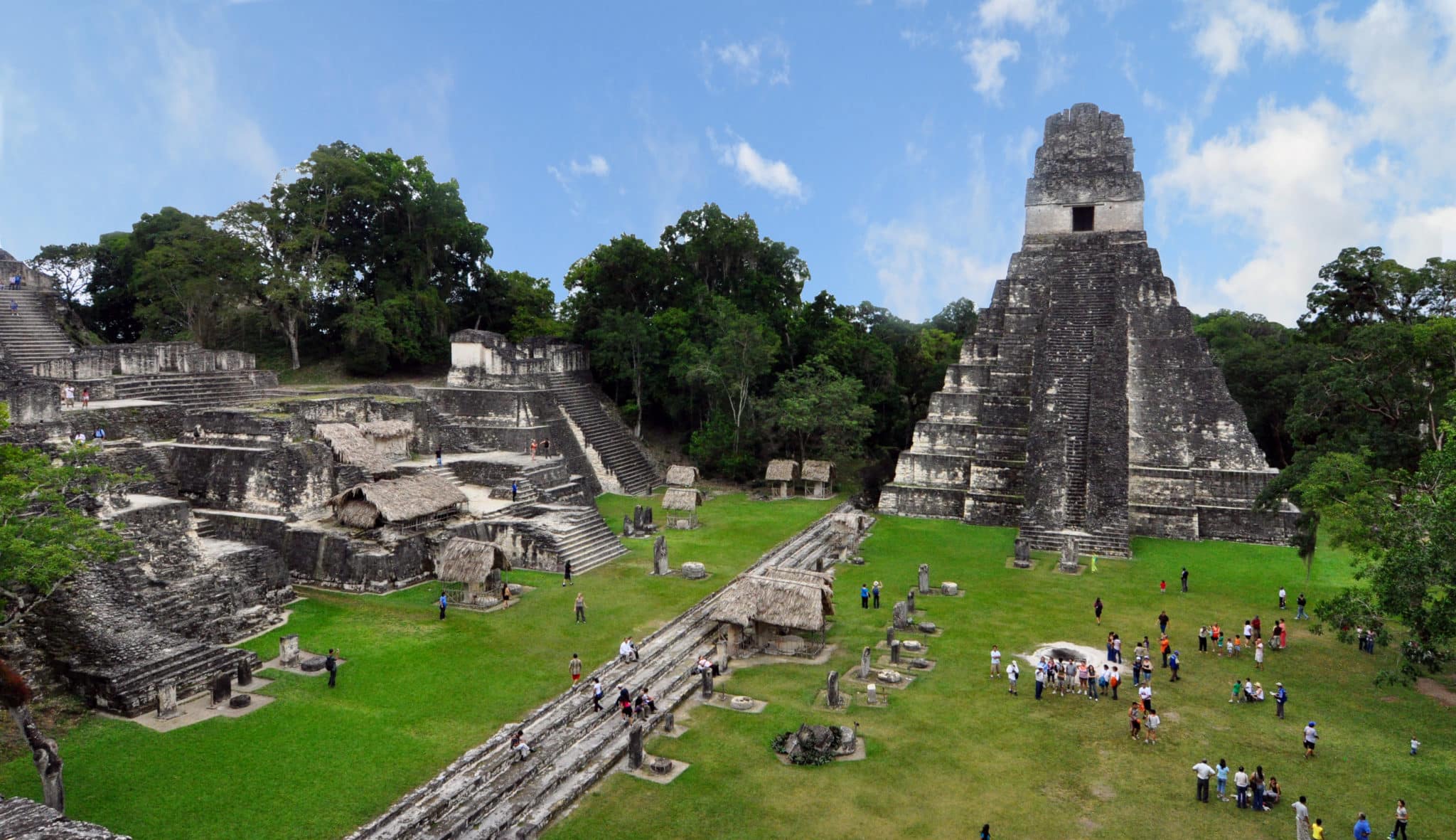 In the previous years, the country has had a bad reputation as a vacationing spot due to its 36-year-long-civil war that ended in 1996. During that time period guerilla war fighting and political unrest created a hostile atmosphere that was very dangerous towards visitors. Since the ending of the political instability in the country, Guatemala has continued to develop in the past two decades into a hospitable destination for travelers. Due to the new surge of tourism, the country is not overcrowded with foreigners and it has not become a tourist trap. Guatemala has transformed into an incredible country that allows visitors to dive into its deep culture and history. It has so many unexplored scenic areas and it has very unique Mayan influence in the culture, this sets Guatemala apart from other countries in Central and South America.
Currently Guatemala is a safe and welcoming country in Central America to visit, however, there are many things that tourist should note before departing on their trip. When it comes to communicating, in areas that have a strong tourist influence, bilingualism is prominent. Due to globalization many younger locals in larger cities are more likely to speak English as well. However, in areas like the highlands where the majority of the population are natives, interacting with locals can be more challenging.  Trying to speak with indigenous people who only know some words in Spanish and no words in English is quite a task. A variety of hand actions and broken Spanish will be your best bet at understanding each other. Before leaving for Guatemala, be sure to learn simple phrases in Spanish, especially numbers. Learning this is essential because almost every item purchased in the country is bartered by using local currency, the Quetzal. American dollars are also accepted, however things are much more expensive in American currency than Quetzal.
When it comes to dinning in Guatemala, the food is similar to typical Mexican dishes, however there are many differences as well. A simple way to think of Guatemalan food is to think of typical 'burrito' food. This includes a lot of rice, beans, corn, cheese and tortillas. For protein chicken, pork, beef and fish are available; seafood is especially common in communities beside the water. A typical Guatemalan lunch will usually include a soup or meat stew, a specialty is Aztec soup. For dessert it is common for different types of fruit to be served such as watermelon, papaya, banana, cantaloupe, pineapple, and mango. Passion fruit is also very common and it is seeds that are both extremely sweet and sour at the same time.  Often the fruits are blended into delicious natural juices but be cautious of where you are buying juice. Another popular drink is Guatemalan coffee because beans are grown locally and has a wonderful fresh aroma. When it comes to beverages, often the stomachs of travelers in Central America are no match against things like tap water. It is a lot safer to only buy drinks that are in a sealed bottle, like water or pop. This level of sickness that a traveler may experience from drinking dirty water will vary, however, it is safer to not take the risk at all. Just to be extra safe, bring medication like tums, that will settle your stomach just incase you eat or drink something that doesn't agree with you. It is hard to be a tourist in the environmentally diverse country, if you are sick for your entire vacation.
Itinerary for a Trip to Guatemala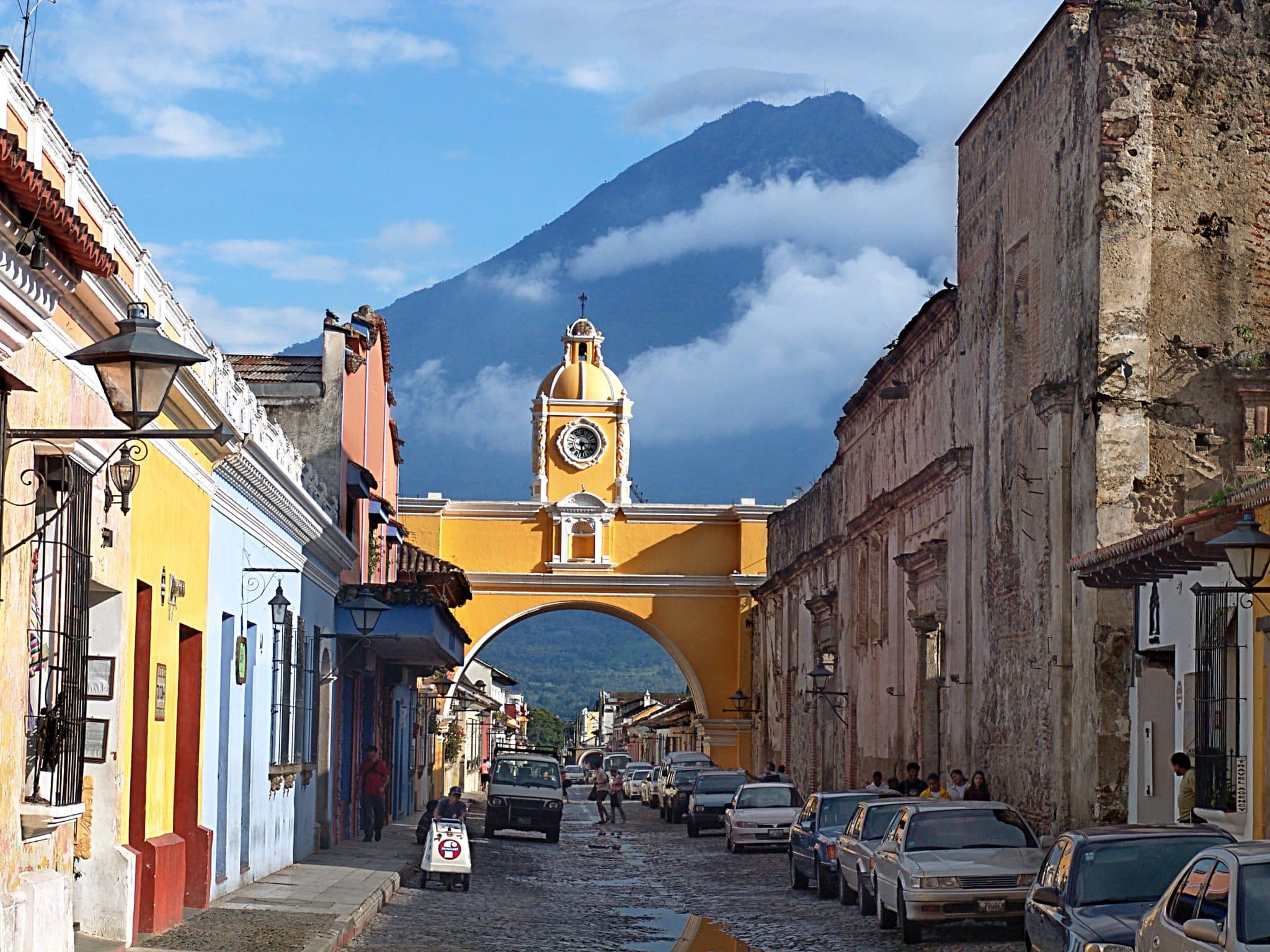 A typical backpackers trip begins in the north of the Country, often visitors travel through Mexico to reach Guatemala instead of beginning in Guatemala city. Tourists do this for a few reason, the first one is usually people do not only visit just Guatemala; usually a trip to Central America includes a few different countries. Another reason for not flying into Guatemala City is because it is known for being dangerous. There are parts of the city that are very safe and beautiful, but as a tourist you will need to know exactly where the different socio-economic zones are. These areas make a big difference in the safety of the neighborhood, walking down the wrong street could result in being robbed. In general do not go walking at night, especially alone and take a cab everywhere. Luckily for travelers, cabs are fairly safe and budget friendly. Another popular option for travelers is to begin in Belize City, it has a completely different vibe than Guatemala and is filled with beautiful coasts. Belize is only a few hours away from the northern famous Tikal National Park, which makes it an idea starting point.
The north part of Guatemala is covered in lush tropical forests and dotted with small towns bursting with culture. Often backpackers begin their trip by staying in small towns beside the refreshing natural lakes in a town like Flores village or surrounding areas. Flores village is situated on an island and hardly explored. The lake surrounding the village is warm water that is a perfect way to cool down after a long day in the sun. The area within the island is filled with narrow cobblestone streets, historic buildings and colonial style homes. The village is charming and the unique character can be found everywhere in the town, which offers visitors a more authentic Guatemalan experience. There is only one hostel on the island but it has a warm and welcoming vibe that attracts visitors from around the world. It has a fantastic nightlife and it provides the right environment to easily meet new people. The island is a retreat within the trip, it is an area to rest and re-energize before embarking on a journey into the jungle. This little island also acts as a home base for travelers that want to explore the surrounding areas without camping.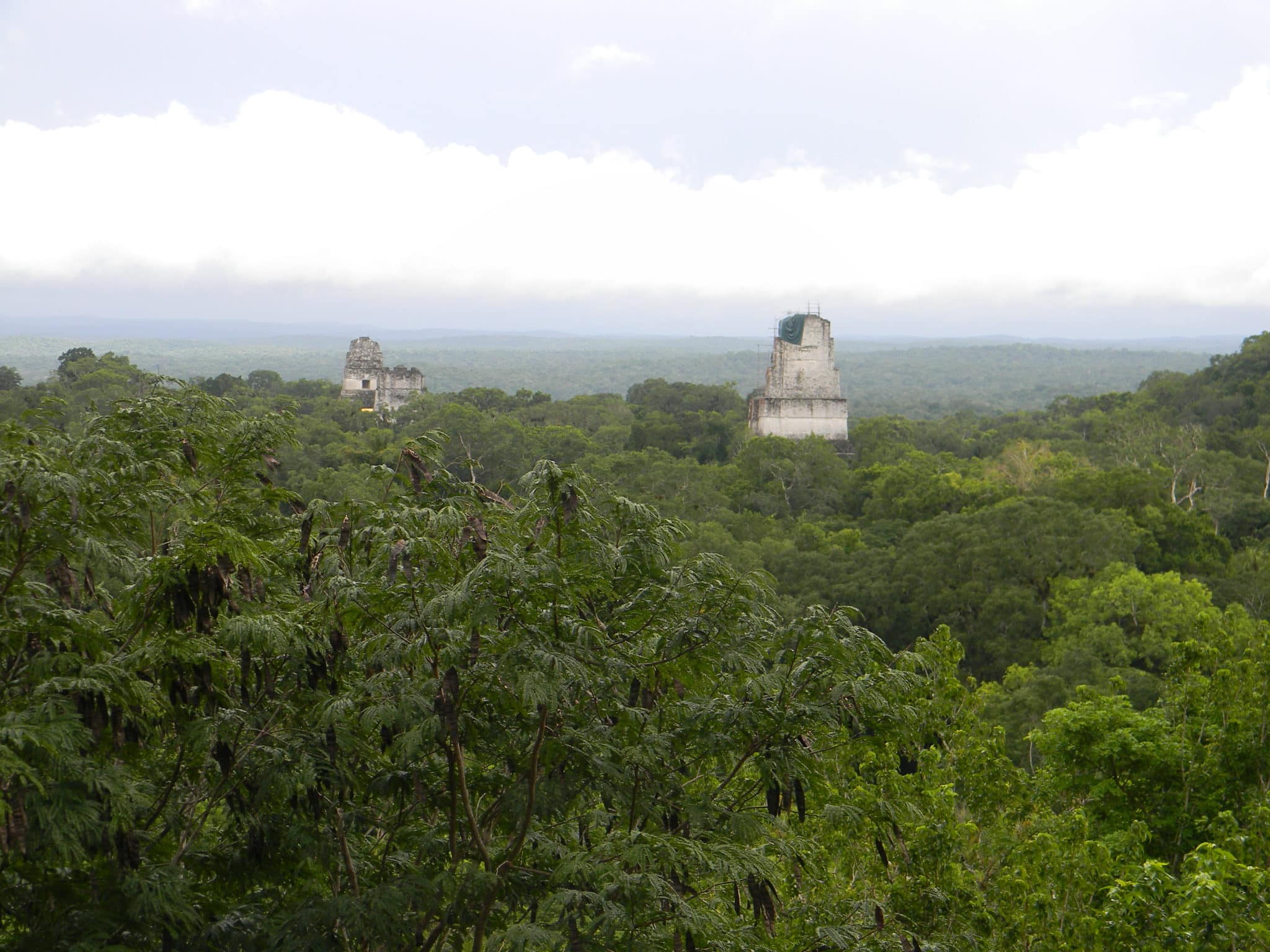 Only an hour away from Flores is an area that all tourists must visit, Tikal National Park. The famous ruins in Tikal consist of ancient buildings that were used as cultural, ceremonial and commercial centers through many different centuries. The area is believed to have been settled by the Maya as early as 900 BC. The very large national park also offers camping options that are fairly inexpensive. This is a unique experience of sleeping in a historic site, surrounded by nature.
After visiting the park, continue on your journey south by stopping at the breathtaking area of Semuc Champey. This area is composed of caves and limestone bridges long the Cabahón River. There are beautiful basins of water that look like natural stairs and are a lot of fun to swim and explore. This hidden gem is a well-kept secret because it is very isolated; the closest village is Lanquín, which is a least a 40-minute drive from the town in either a shuttle or a public bus. For anyone travelling from Flores village to Antigua it is a good place to stop for a few days between travelling.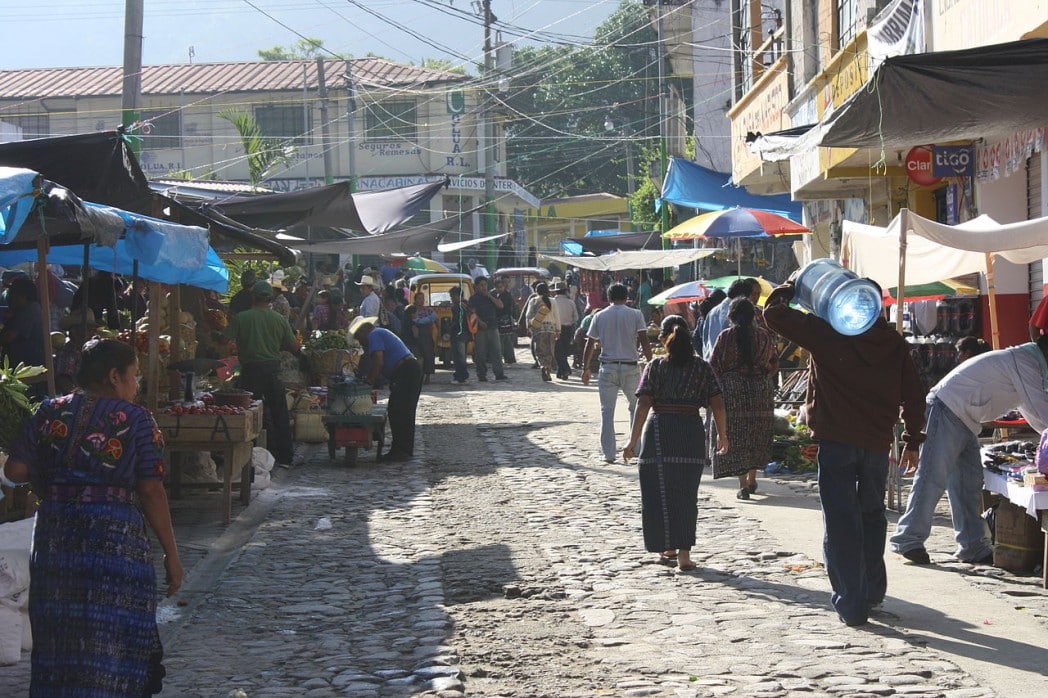 After exploring natural water pools, the next place to stop is in the highlands at Panajachela. This is a very unique part of the country because there are many different towns on the lake of Atitlán, including Panajachela. Each of these areas has a different vibe to them, which makes this area so popular to discover. Backpackers often take a boat from town to town to stay at each village. Surrounding the lake are farms on the steep mountains, which are maintained by indigenous locals. This area of the country has a wide variety of residents and many expats reside here. The natural beauty is incredible and not only is there a lake and mountains, there are active volcanoes encompassing this area. Even though this area is more developed as a destination for tourists, it is worth visiting because of its natural beauty.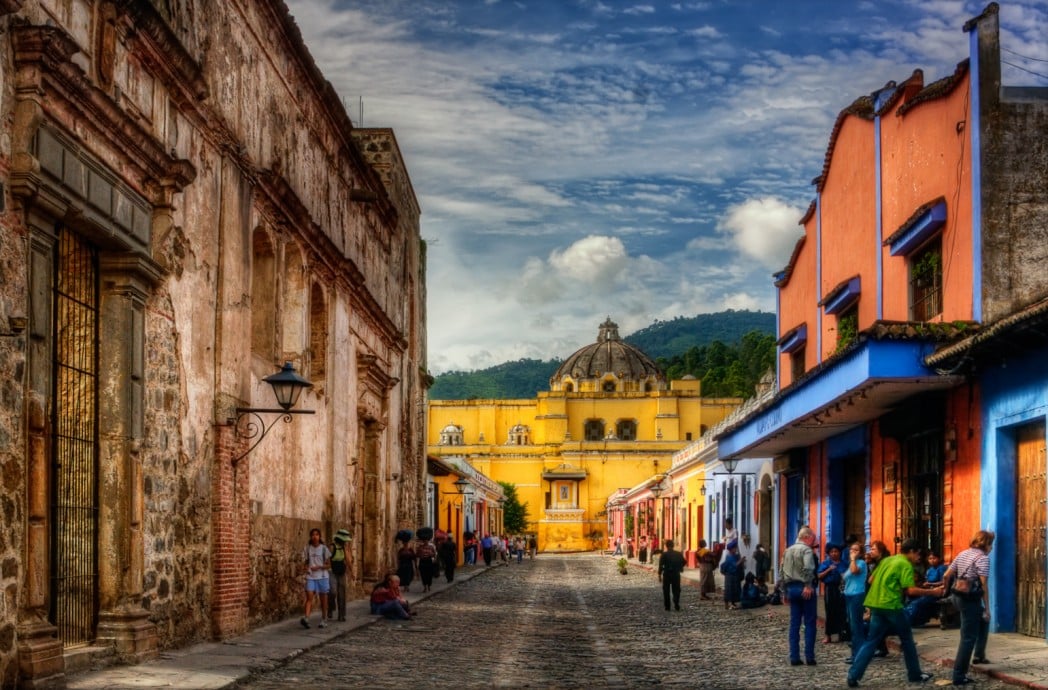 The final place that every backpacker must visit in Guatemala is the incredible old-yet modern city of Antiqua. The city of Antiqua, which literally means ancient, used to be the colonial capital of Guatemala. However, the capital was relocated to Guatemala City due to the frequent earthquakes that destroyed many of the buildings. It has an incredible spread of architectural styles influenced by Spanish Baroque design, yet the most interesting thing about the city is that modern buildings are integrated into old ruins. Even though Antiqua is naturally beautiful because of the volcanoes that surround it, the charm of the city lays within its history.
After learning about Guatemala, it is easy to see why it is an undiscovered gem to the world of backpackers because it is filled with culture, nature and it is hardly explored. For a trip to this country do research on areas before embarking on a journey and pack wisely due to the many different changes in terrain and weather. Go visit the Guatemala, and you will find new undiscovered natural hidden gems all over the country.