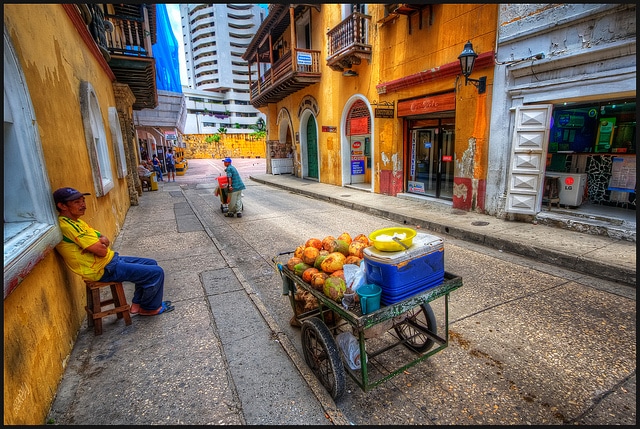 Along the northwest coast of South America is the beautiful country of Colombia, which is has a diverse array of amazing foods. Coming across authentic Mexican, French, Greek or Argentinian restaurants are not difficult to find, however the local foods need to be sampled as well. Food is a pivotal part of Colombian culture, because Colombians are some of the most welcoming and hospitable people in the world. Being invited over to a Colombians house for a meal is such an incredible experience, and guaranteed you will not be hungry when you leave. The rich culture allows tourists to fully immerse themselves in the culinary world of South America by eating all of the food offered in this amazing country.
In capital of Bogotá is known as a huge city that has many people who have different types of socio economic and cultural backgrounds, which makes for a diverse spread of restaurants. There are many street vendors, burger and arepa joints, and high-end restaurants. After spending a week in the city, my friend and I felt like we had tasted food from around the world, yet our favorite meal was always the common lunch special of Bandeja Paisa. This platter is just filled with protein, beans, meat, and a fried egg. It also usually comes with a small salad, plantain, rice, fruit and a drink. This meal is so large that my friend and I would share it everyday and both be comfortably stuffed. Ranging in price form 7000-1500 pesos, which is approximately $2.50-5.00 American dollars, it is the best way to stay on budget for a trip. Arguably eating lunch specials are cheaper than buying groceries and preparing it daily.
In the metropolitan of Bogotá, in the heart of the downtown district La Candelaria there is this tiny restaurant hidden from the road that only sold the daily special. Compared to restaurants down the block this place was incredibly cheap yet had amazing food and a great atmosphere. Often traditional lunch specials are very similar to Bandeja Paisa, with one or two changes, and at this little food truck their lunch special was sancocho with chicken, rice and the worlds largest avocado. Sancocho is a stew that includes meat, vegetables, yucca, plantain and cilantro. I was surprised to see this as a well-known dish in Colombia because I had first learned to cook this in The Dominican Republic; I suppose many foods are shared between South America and the Caribbean. My friend was horrified when she looked at the color of the soup, yet after trying it she joined team sancocho and has actually admitted that she misses eating it. At this food truck we had a two-course meal and were served fruit juice with our soup as we waited for our main course.
After receiving our massive bowl of soup- which was the same size as my face, we were then given a heaping plate of food. My friends and I struggled to finish our main course, the avocado stretched across the entire plate and it completely filled us up. After paying our bill we had to practically roll down the street back to the hostel.
One of the absolute best things about Bogotá and all large cities in Colombia was the fact that there is an endless supply of street food. For someone like myself who is constantly hungry, it made my experience in the city that much better because on every corner someone would be selling fruit, obleas, meat, snacks, or freshly squeezed juice. In the mornings, there would be no need to buy a full breakfast because on the way to walking to different attractions we would stop so many times to eat. First we would start by buying a cup of mangos or watermelon for 2000 pesos ($0.60) after this we would buy fresh juice, followed by having a midmorning snack of tamales or arepas. Then before we knew it, it would be lunchtime and everyday we would eat the special of a day at a local restaurant. After this in the evening we would continue to eat street food and usually would end the evening by sampling an international restaurant.
Two foods that are well known specifically in Colombia are tamales and arepas. Tamales are a traditional dish that includes wrapping dough stuffed with meat or vegetables in a banana leaf or a cornhusk. They are steamed to perfection and do not make the mistake of trying to eat the outside leaf or cornhusk holding the tamale together.  Arepas are popular in both Venezuela and Colombia and are circular flat balls of dough, which are slowly heated on a pan or grill until they fully cooked. For people who have very sensitive stomachs, maybe street food isn't the best idea, but in general it is the most delicious and convenient way of experiencing authentic Colombian culture.
One of the most common desserts in Colombia is the oblea, this consist of two thin wafers with sweet toppings inside of it. One of these options includes cheese, for some reason the idea of chocolate, arequipe, jam and cheese did not sound appealing to me. However, one of my local friends convinced me to try it, and I will say that it is actually pretty good with cheese. Yet, obleas are so much better without cheese, and they are highly addictive. I now understand why they are sold everywhere because if I lived in Colombia I would need to eat at least one everyday. Even in secluded beaches in the north coast of the country people would be selling obleas, which was the perfect thing to eat after playing in the ocean. What makes obleas so amazing is the topping choice of arequipe. This is a thicker version of caramel; it is so sweet and delicious. Before leaving the country I bought a massive container of arequipe from the supermarket because I was so dependent upon this magical caramel like substance.
All across the country the chain restaurant of Crepes y Waffles can be found, it is a combination of the classic European styled crepes and waffles cooked with ingredients from South America. Recommended to my travel partner and I, this quickly became our go to spot during our month abroad. There are crepes styled after local dishes, but there are also many international favors on the menu. It is an amazing restaurant to visit at all times of the day and it serves really good coffee. Many airports around the country also have this restaurant, and it has free wifi, which can be essential during long trips.
In big cities, more specifically in Medellin the international food and café scene is incredible. The neighbourhood of El Poblado is like a mini Europe inside of Colombia. The entire area is filled with botique shops, cafes and restaurants. The cafes were amazing breakfast places that served rich colombian coffee.
Each night we went out for a different style of food, which near the end of our trip I really needed. I craved thai, indian, and greek food even though I loved the Colombian diet of rice, beans and arepas. However, I was in the mood for something different. This neighbourhood was absolutely perfect for this, on our first night in Medellin, it happened to be the day of my graduation from university- which I skipped to travel. In my opinion spending time touring Medellin was a much better way to spend my graduation instead of sitting in a hot robe. To celebrate, my friend took me to an authentic Greek restaurant because she knew how much I was craving hummus. It was honestly some of the best Greek food I have ever had. The owner had come from straight Greece to start a business in Colombia, he even spent time talking to us to make sure we were enjoying everything. After such a lovely experiene with international food, the following night we wanted to explore more food options avaliable in the neighbourhood. After wandering around the charming streets we saw an authentic mexican restaurant.  My friend ordered a burrito and I ate some of the freshest tacos that I have ever tasted. As if the food in Medellin couldn't get better on our last night we went to an extremely fancy Argentinian styled restaurant that served perfectly cooked meats. They had a wide variety of aged wines to choose from that were paired with entrees. In summary, all of the food in the El Poblado area is amazing and I highly recommend for all visitors of Medellin to take time to eat in this district.
Colombia is a fun country to visit, and the food scene is a combination of local, international and modern cuisine styles. Do not go to this country trying to lose weight, it might happen from all of the hiking in the incredible national parks, but enjoy the food and eat a lot. Try a new style of trip that includes planning your days around the meals you eat and discover new places to dine. Even go walking down the street in a big city and discover all of the different fresh juices and street foods avaliable. Eating out, in general is much less expensive in Colombia than it is in North America or Europe. Exploring the country through its unique authentic foods and diverse spread of international restuarants is a different and exciting way of travelling in Colombia.