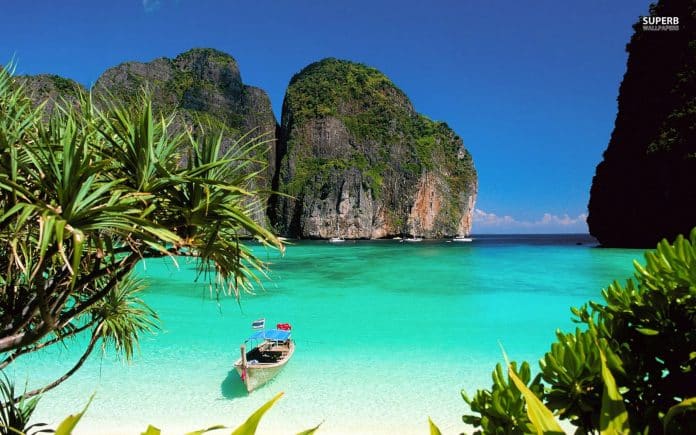 Travelers around the world are seeking exciting and unique vacation destinations that aren't spoiled by millions of travelers each year. Koh Tao, Thailand is an island located on the western shore of the country in the Gulf of Thailand waters, in the province of Surat Thani. The word Koh Tao means "Turtle Island".
This island is a popular breeding spot for green and hawksbill turtles. Sadly, development has affected their population, but there are now programs in place to protect the ecosystem.
This island is surprisingly small, at just eight square miles, or twenty-one square kilometers. It's less developed than the neighboring islands of Thailand, including Ko Samui and Ko Pha Ngan.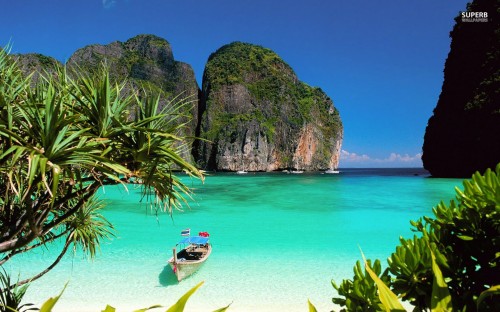 It has a small population of 1382 permanent residents, and 3000 Burmese workers. Most people here speak excellent English, so you should be able to easily get around if you need directions. While tourism is the island's main economy, it's a serene place away from home, surrounded by the aquamarine blue waters of the sea. This island experiences over 300 days of sunshine per year, so you can't go wrong with booking your trip at any time.
Travelling to Koh Tao best suits people aged twenty years, and up to retirement age, though some people their kids. Just be aware that there are no amusement or theme parks here. While the island is popular with the 20s backpacking crowd, there is something here to interest travelers of all ages seeking to get away from hectic Western life.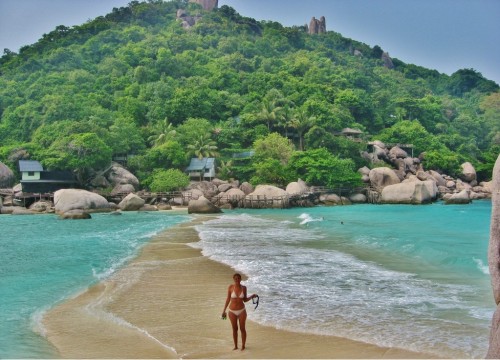 History of Koh Tao
This island was originally unoccupied for centuries. Perhaps the occasional fisherman would drop by to relax from a trip, or to take a break from a bad storm. It was eventually discovered by Europeans. They called the island Pulo Bardia and determined that Malayo-Polynesian settlers had originally lived here. In 1899 King Chulalongkorn, King of Siam, left his monogram on a large boulder at Jor Por Ror Bay in Sairee Beach. Visitors still visit this spot today.
In 1933, the island was used as a prison, until 1947, when Khuang Abhaiwongse pardoned them all. Everyone left the island, and Koh Tao was alone again.
In that same year, a pair of brothers sailed to the island and claimed a large portion of Sairee Beach. They brought their families over and cultivated the soil. This first generation of residents lived on the fish, and grew coconuts and pineapples. Now that the difficulties of getting to the island were solved by better boats and ships, more people came.
In the 1980s, travellers began to visit Koh Tao, and it became a popular travel spot. In the 1990s, the island became a popular spot for diving.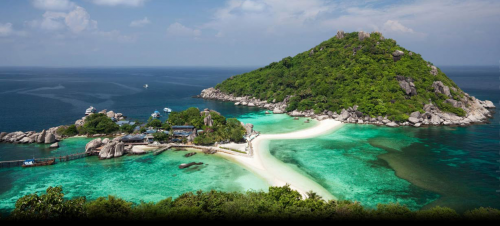 Koh Tao wonderful tourists spot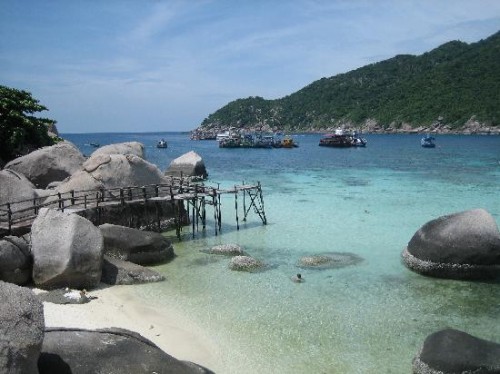 Larger Towns & Cities
The main residential region is Ban Mae Had. It also has a small but stunning beach. You'll find only the most basic services you need in the town. If you need to do currency exchange, make an international call, or use the internet, you'll need to drive to Thong Sala.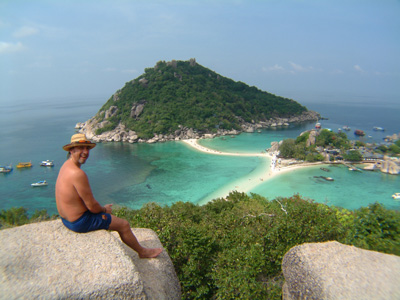 Getting Around the Island
There is no airport located on Koh Tao, so you must land at one of the other airports—Chumphon Airport, Ko Samui Airport, Surat Thani Airport—and then take a ferry to Koh Tao. To get to the airport at one of the other islands, you can take a rail service in.
While the locals get around the island fine, note that the roads are pretty basic here, and not in as good of shape as you may expect. Motorbikes and scooters are popular means of transportation, though there may seem to be no rules on the road. If you don't want to attempt driving these roads yourself, you can hire a service.
To get from island to island, you can take one of four ferries. They all dock at Ban Mae Haad. There's really no set schedule.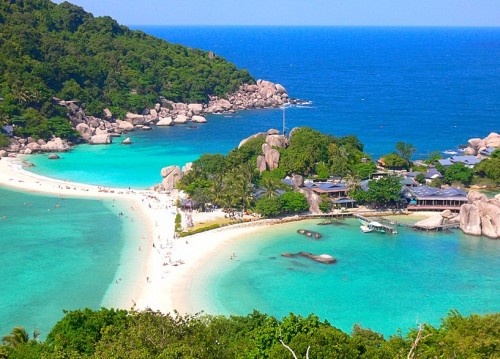 Where to Stay
There are a couple of affordable resorts in Sairee.
Mae Haad Bay Resort is the largest resort in the town. This resort does have some of the better roads on the island. This resort is four-star and affordable. It offers a relaxing atmosphere, complete with amenities.
If you don't want to stay at one of the bigger resorts, there are dozens of hotels around the island. Prices vary from affordable, $16, to luxury, at $200 per night.
Tropical Beaches
The beaches of Koh Tao are popular with tourists and residents alike. Shark Bay is one of the more popular destinations, located on the south side of the island. The beaches are framed by steep hills.
Sairee is located on the west coast and is one of the more popular spots for tourists. It's a long white sandy beach of over 1.7 kilometres. There are a few huge boulders along the way, but still plenty of sandy beaches to enjoy.
If you don't want to see the crowds of Sairee, head to Baan Khao, located to the south of the island. This is also becoming a popular spot for people wishing to get away from the crowds, but won't be as crowded.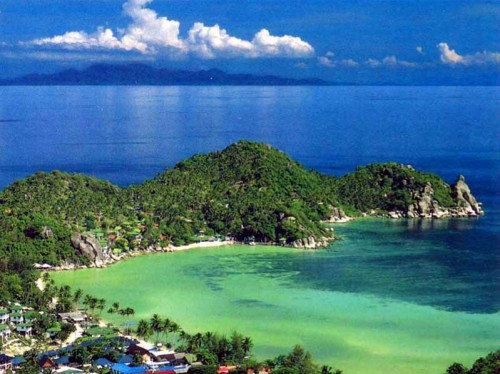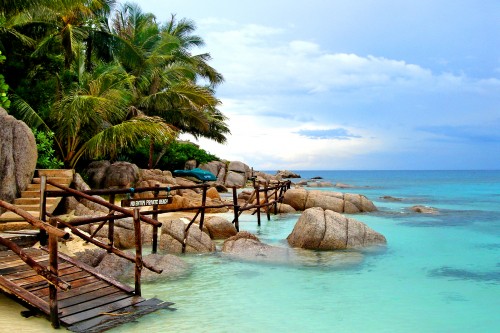 Activities to Enjoy
Koh Tao offers some of the best diving available around the world today. And with environmental protections in place to keep development at bay, travelers will enjoy this location for the generations ahead.
For divers seeking their scuba diving certification, they can earn it on the island for a fair price.
Diving is a popular recreation at Chumpon Pinnacle. Here divers can head into the waters to see bull sharks and whale sharks. Besides the sharks, there are over 130 species of hard corals to see, and 223 species of reef fishes. It's essential for divers to bring an underwater camera to snap photos and take video footage.
The local diving businesses continue to improve on diving conditions for visitors. El Nino weather can impact the waters, which have eroded the coral reefs. With a few protections now in place, the reef is being protected for future generations.
For people who don't want to go too deeply into the water, snorkeling is a simpler water sport.
Outside of the water, tourists can go hiking, rock climbing and bouldering on the island. The boulders are made from granite, and are challenging to climbers.
You can also book a four-wheel drive experience that will take you past the paved roads of the city.
Eating in Koh Tao
While seafood is a big specialty on the island, people with all types of dietary restrictions can satisfy their appetites. Vegeta Bowl offers healthy vegetarian food, while Seafood By Prawn has both seafood and veggie options. Even if you want a romantic Italian date night, you can get Italian food at Thaita Italian Restaurant.
Black Garlic offers Canadian and European food. Pizza can be purchased from La Pizzeria, and German from Taste of Home. Of course, there are many spots to enjoy Asian fare too.
There are also some restaurants in Sairee where you can get a bite to eat.
Staying Safe on Koh Tao
Just like in many parts of the world, crime also happens on the island. Often the main issues come from accidents or trying to engage in illegal activities. Practice the same safety that you would at home. Note that motorbikes can come barreling out of nowhere, so do look both ways, even when crossing at an intersection.
Never give your passport as collateral when renting scooters or motorbikes, as you may be bribed to hand over more cash to get it back.
Ask your hotel or driver where there may be unsafe parts of the town for a traveller. Have a local escort if you plan on being out past dark. Do not take gifts or drinks from anyone not within your immediate group or family. Do not leave your drinks unattended, and do not flash cash around. Women should take care when chatting with strangers. Ensure you enter only licensed transportation services.
Always remain polite and respectful with the locals, even if you encounter difficulties, and don't hesitate to say no thank you if pushed with unwanted goods or services. Shop only from local shops or booths, never from "the back of a truck". Needless to say, if it's illegal in your country, it's illegal here. If you do get into difficulties, report the crime, as you may need it for filing for insurance.
Book Your Trip to Koh Tao Now
If you're seeking a different type of tropical vacation, one that is unspoiled by large major developments, book now for Koh Tao. Here you'll see the island in its original beauty. Besides relaxing and enjoying the warm climate, there are many other activities to enjoy here.
You can choose one of the many outdoor activities, eat at one of the many restaurants, or simply go swimming at one of many beaches. Try one of the many luxury spas to get pampered, or enjoy your air conditioned resort room where you can get to know your spouse or partner better.