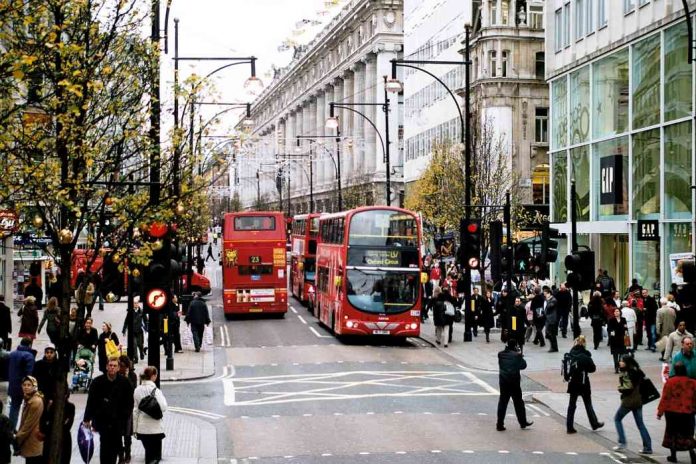 While Paris is universally accepted as the fashion capital of the world, the creative flow and artistic design that is emerging from London has done wonders in solidifying its position as a well respected top pick in the industry. Designers here have a knack for predicting budding trends, and nurturing cutting edge talent, all while listening to what their customers actually want, which is what makes London style stand out just a bit from the crowd. Imagine, fashionable clothing that actually sells. It's a novel idea for sure. London's laid back vibe mixed with a cheeky nod to the traditional, brings a fresh sense of 'anything goes' to its approach to fashion. And, with style perfect icons like Kate Middleton to appeal to the conventional crowd, London style has a style all its own, infusing chic sophistication with a little urban flair. Whether you desire designer, or prefer punk, London has it all, and we will show you where to find it. Shopping in London is easy thanks to this snapshot guide.
For the serious fashionista, a shopping trip in London will not be complete without stopping at Bond Street. With a serious concentration of designer options, Bond Street is the perfect place to see and be seen. Here you will find a wealth of exclusive brands, fine jewelry, and even antiques. This area has always been recognized as a playground for the rich and famous, and today this West End location in the historic Mayfair neighborhood still attracts socialites, celebrities, and the international jet set.
Quintessential English style can be found at retailers like Burberry and Mulberry, but Bond Street is also home to some of the world's most prestigious including Bvlgari, Chanel, Jimmy Choo, Cartier, Dolce and Gabbana, Hermes, and more. This can't miss shopping destination is a great blend of charming history, traditional luxury, and modern elegance.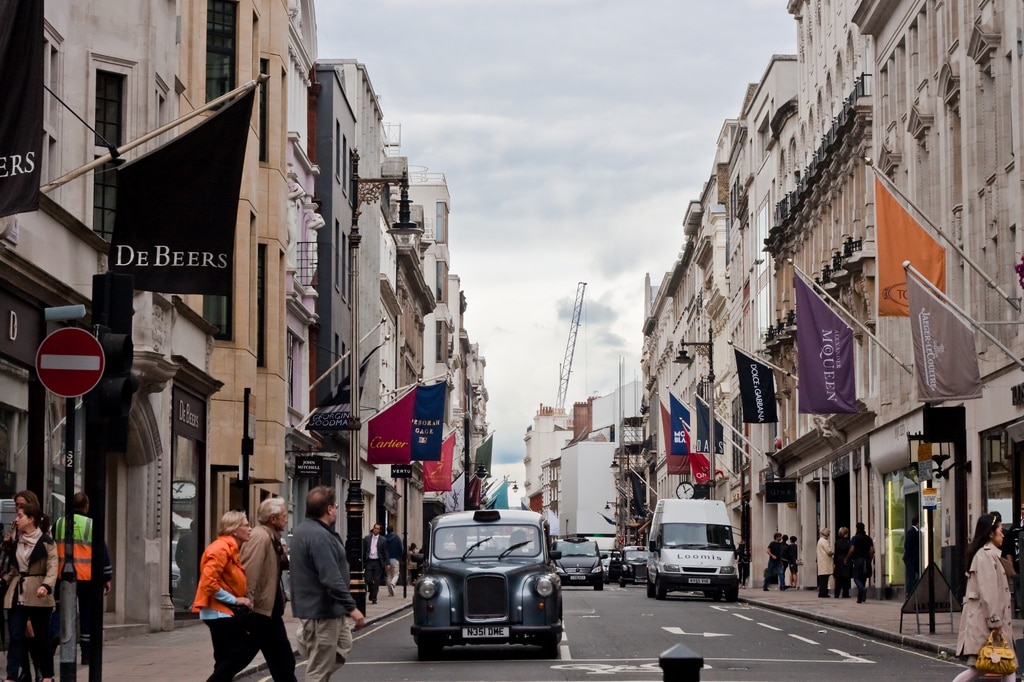 Shopping on the King's Road in West London comes with a serious vintage vibe. With an eclectic offering of trendy boutiques and high end brands, you are sure to find something that inspires you. This historic area was once King Charles II's private thoroughfare, but today stands as one of the best areas in London to browse everything from high end skincare items to elegant evening wear. The emergence of punk in the 1970's brought a lively local scene, and you can still find a good variety of pubs and cafes with an awesome throw back atmosphere. Check out the World's End (of King's Road) where Vivienne
Westwood still runs her very first store. There is plenty of opportunity to rub shoulders with the rich and famous here, as the diverse offerings appeal to a wide range of tastes.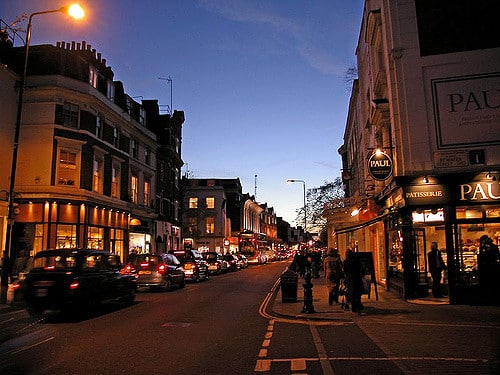 Check out Oxford Street for a chance to conquer the mainstream with offerings like H&M, Zara, Top Shop and more. No doubt one of the busiest areas in all of London, it comes as no surprise that 200 million visitors flock here every year to shop for affordable designer fashion. If flagship superstores are not your thing, you can escape the hustle and bustle of the dominant brands and treat yourself to some retail therapy in one of London's famous, yet somehow less intimidating department stores. From bargain hunting to high street fashion, the mile and a half long Oxford Street offers the best variety of choice for every budget.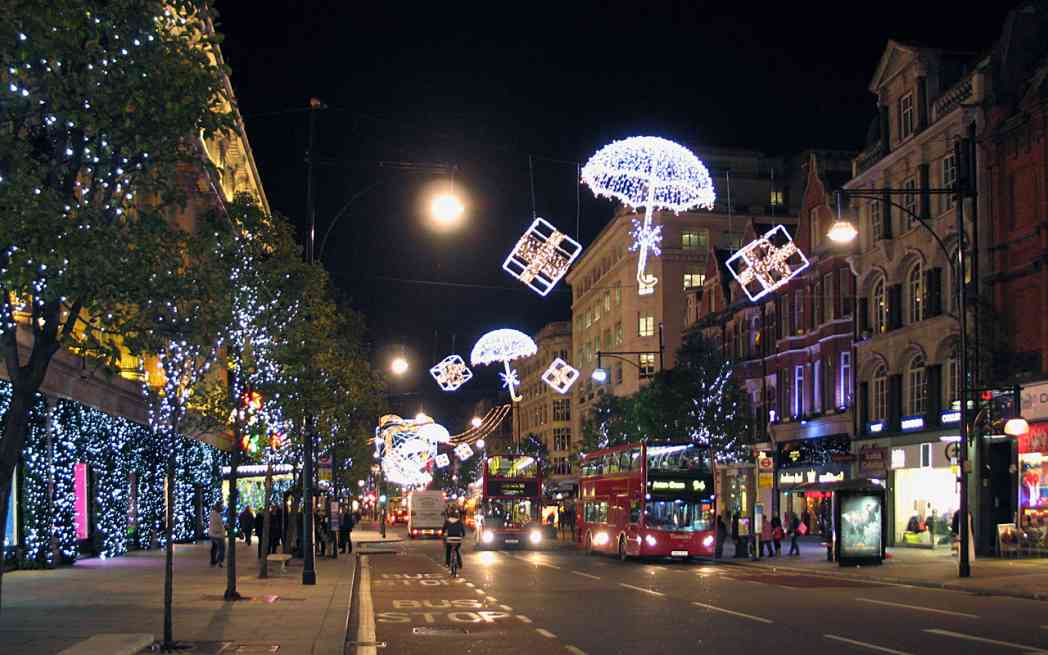 Surely you have seen the iconic arched entrance to Carnaby Street, but in reality, there are 13 unique streets in the area that offer an eclectic blend of well known brands and independent retailers. This vibrant area is filled with fashionable boutiques, outdoor cafes, and plenty of British influence. It is not uncommon to find live music to entertain you in the background, especially if there is a pop up shop or fashion event taking place. This stylish area appeals to everyone, with a good mixture of trendy street wear, vintage items and fine fashion too. Check out Kingly court, a destination in itself, and take a break to enjoy everything from morning coffee to late night cocktails in this ultra cool three story courtyard.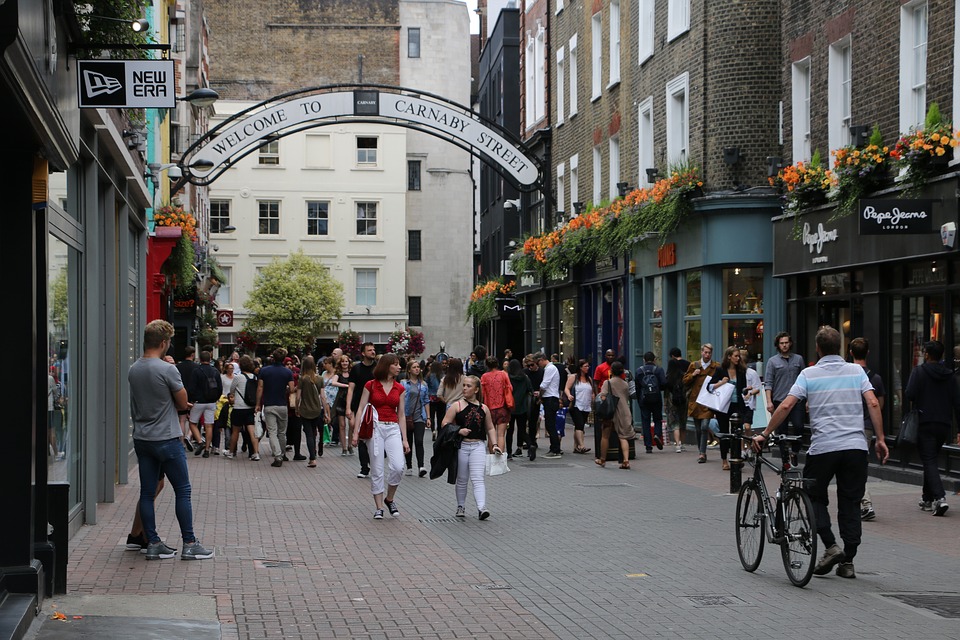 Shopping in London is unlike shopping anywhere else. When creativity meets fashion, everybody wins, which is why so many love to browse and buy here. London style is a refreshing step away from the buttoned up looks of Paris. While traditional designers still hail in the high end shopping districts, it is certainly possible to be both trendy and fashionable in London without breaking the bank.