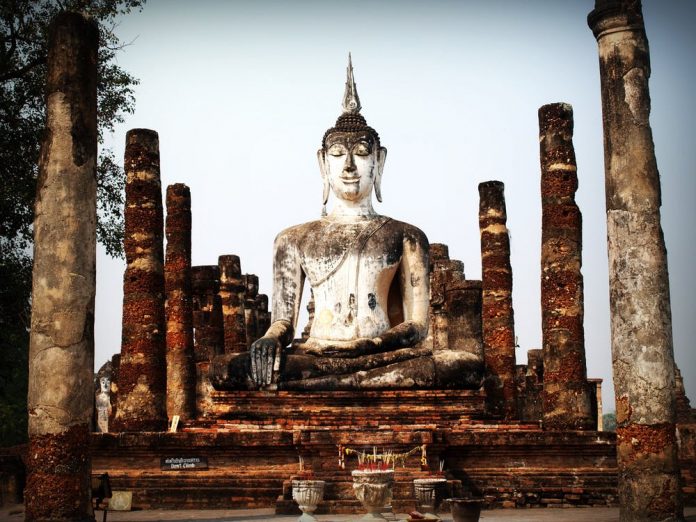 It's not uncommon to hear of people quitting their jobs, selling everything they own, and buying a one-way ticket to a different country. If this is a story you've never heard before, then you've never been to South East Asia. This region is overflowing with backpackers who quit their day jobs and left everything they knew behind for a new, exciting way of life.
It's also quite normal for travelers to extend their trip past the original planned length once they've gotten a feel for the backpacker life. Experiencing the freedom of exploring a new country is exhilarating and addicting. A taste is never enough.
I am a perfect example of this phenomenon. I left America in 2012 when I accepted an English teaching job in Thailand with a one-year contract. It's almost the end of 2017, and I still haven't returned home. Since leaving the States, I have taught English in two different countries, worked as a Divemaster on three different islands, tried my hand at bartending, and become a travel blogger.
I am living proof that the jobs listed below can and do support a person while they follow their dreams and travel the world. Throughout my travels, I've seen and experienced many ways to earn a living. In my opinion, these are the 7 best ways to make money while traveling in South East Asia:
1) Work in a hostel in South East Asia
One of the most expensive aspects of traveling is paying for accommodation every night. Even if you stay in the cheapest of the cheap hostels, you're still dishing out money for food and water multiple times a day.
If you can score a gig in a backpacker hostel, you'll likely be compensated with free room and board. At first this may not seem like a fair trade, but if you want to hang out for a few weeks (or even months) in a certain city, this is definitely the way to go. With your room and food paid for, the rest of your travel money will stretch much further than originally budgeted. It's possible to find places that will pay you a small wage, too.
The great thing about South East Asia is that it's a backpacker's haven. This means it's littered with youth hostels and guesthouses that typically see a high staff turnover rate. If you're feeling the vibes of a place, there's no harm in asking the front desk if they're hiring. If you're not fussy about where you settle for a while, you'll surely find many establishments looking for help.
2) Become a digital nomad
Online blogging has skyrocketed to unimaginable heights in the last decade or so. Did you ever think you could realistically make a living off your travel tales? In this day and age where pretty much everyone is connected via the internet, it's perfectly reasonable to expect to make a living off a well-written blog. The more followers you get, the more attention your blog receives, and that's when the perks start rolling in. Advertise yourself as a blogger and hotels and restaurants will soon be falling at your feet in exchange for a good review on your site.
Can't be bothered with the upkeep of your own blog? No problem. Certain websites offer a platform where clients and freelancers meet and engage in legitimate and well-paid work. There are many people out there who don't have the time or desire to maintain their own blogs, and therefore seek talented writers to supply the content work for them. Snag a couple consistent clients who provide stable work and you've got yourself a steady paycheck.
Bonus: There are tons of digital nomads living in South East Asia because cost of living is so affordable. When you're just starting out in this realm, it may take some time before you see some real cash. Hanging out in countries where you can live for a couple hundred dollars a month is key. You'll also likely discover the local digital nomad community and meet a few others doing the same thing.
3) Teach English
This is a major money-maker for those native English speakers, especially those living in South East Asian countries. English teachers are always in demand, and if you're lucky enough to be American, Canadian, Australian, New Zealand, or British, you have an extremely high chance of scoring stable employment.
Pay in South East Asia is not always ideal, but if you find an international school or private academy with full-time work you could score big. Working part-time or as a freelance teacher will earn you money, but not nearly as much as a full-time job will net.
Once hired, you will typically enter a one-year contract, which covers two semesters in a school. South East Asia usually has plenty of holidays and most employers offer their teachers loads of time off. Sometimes it will even be paid. This is one of the best perks of the job, and many people use this time to travel to neighboring cities and countries.
Bonus: places like Thailand, Cambodia, and Vietnam, do not require you to have any experience or training as a teacher. If you have a degree from a four-year university, many schools will happily accept you. It will further help if you have some sort of Teaching English as a Foreign Language certificate (also known as a TEFL), which can easily be obtained online in just a few weeks.
4) Snag a laid-back gig in the entertainment industry
If you're into the social, nightlife, and party scene then working in a bar or club could be a great way for you to make some extra pocket money. Bars and clubs in South East Asia love to hire westerns to promote their business.
This comes in several forms. If you've got some bartending experience or a knack for mixing up killer cocktails, you'll likely score a spot behind the bar. You can also negotiate working your way up to this position by offering to bus tables or run drink orders. The bonus of working in a bar or club is you usually get free drinks, a free meal during your shift, and maybe even a free place to crash. If you're lucky, you may get paid a small wage (this depends on where you work), but it won't be much. The main compensation for this job comes as perks and free "stuff."
The same applies to club and bar promoters. These are the people you see handing out fliers on the street. They are probably receiving the same (or maybe even fewer) benefits than those actually working in the establishment. However, if you're looking for an easy job that allows you to stay in a place without spending much money, this is it.
TIP: Cambodia is a great place to find a job like this. Siem Reap, Phnom Penh, and Sihanoukville are crawling with foreigners working in entertainment.
 5) Become a yoga or scuba diving instructor
If you have the passion and the talent for yoga or scuba diving, then it's possible to turn your favorite hobby into your dream job. In South East Asia, this is not unheard of; in fact, it's almost common!
All it takes to become a yoga or dive instructor is training, practice, and desire. Do you dream of being able to practice yoga on a bamboo deck overlooking the glistening Andaman Sea in Thailand? Or perhaps you'd prefer to be surrounded by those azure Indonesian waters while you dive to depths you never thought imaginable.
Whatever your passion, it's much easier and cheaper to become an instructor in South East Asia. There are a plethora of places offering yoga training where you can get the necessary hours and certificates and look for work.
It's possible to become a scuba diving instructor even if you've never dived before. It's called "zero to hero" and – as the nickname suggests – you literally start at the bottom and work up. You can train to become a Divemaster (the first level of professional scuba diving) almost anywhere you find a dive shop. It's definitely possible to find work as a Divemaster, but there's better money in instructing. Instructor courses are not everywhere, but there's usually a couple happening a few times a year in whatever area you find yourself. Dive in!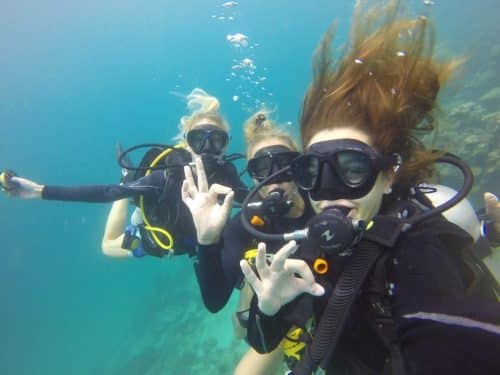 6) Working Holiday Visa
The working holiday visa is a great option for those who want to move to another country and settle for 6 months to a year. Sometimes it can be a bit of a process and wait to get the visa approved, but once it is you are admitted into the country and eligible for legal employment.
This type of visa is especially popular in places like Australia and New Zealand. Many people use the money they've saved in these places to travel for months on end in nearby countries like Indonesia, Malaysia, Thailand, Cambodia, and Vietnam. It's quite common to run into young backpackers who have just finished a year or two in in one of these countries and are enjoying the fruits of their labor!
7) Housesitting
This is an interesting gig that's really helpful to budget travelers who are looking for ways to trim costs. Housesitting provides free accommodation right off the bat, and while not all gigs are paid (you do get a free crash pad in exchange for your services), it is possible to find paying jobs.
How does this work? Usually, locals will advertise their need for a house-sitter online. You'll have to do a little research on what websites provide this service in your area, but Facebook is a good place to start. Search for local community groups, like Bangkok Locals or Bali Backpacker Community, for example. Introduce yourself, advertise as a house-sitter, ask the other members for advice, and monitor the site for responses and posts.
This is a great way to live comfortably and for free. Once you break into this community, it's likely that you'll find multiple clients and be able to hop from place to place.
TIP:  Housesitting gigs sometimes come with pet-sitting gigs as well. If this happens, use this to negotiate paid compensation or a higher rate!
***************************************
Once you start looking for ways to make money, the opportunities will start to pile up. There's a full spectrum of employment opportunities. Whether you're looking for a full-time, professional, well-paying job or a part-time, laid back gig with fewer responsibilities, you will find something in South East Asia that fits you perfectly!