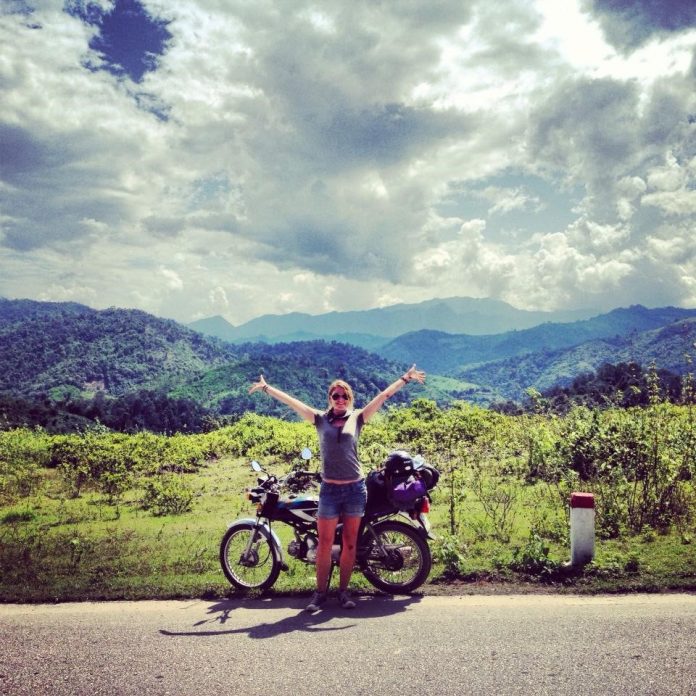 My greatest South East Asian adventure was easily the motorcycle tour through Vietnam. Backpacking through the SEA region, you will occasionally run into a few brave souls making their way around the region by motorcycle. However, I never knew that such a community of bikers existed until I visited Vietnam.
First of all, Vietnam is an amazing country. You will not be disappointed however you choose to explore it. The combination of natural beauty, blended culture, and dark and twisted history makes it a fascinating place to discover.
Hanoi
Arriving in the northern capital, I was immediately thrown into the chaos that Hanoi has become famous for. The first thing to capture my attention was the traffic. The constant river of motorbikes never broke, never paused to take a breath, and never faltered. It was captivating to sit and watch the flow of traffic.
The way the locals navigate the streets with polished expertise is an impressive skill; something a foreigner like me could never learn – or so I thought.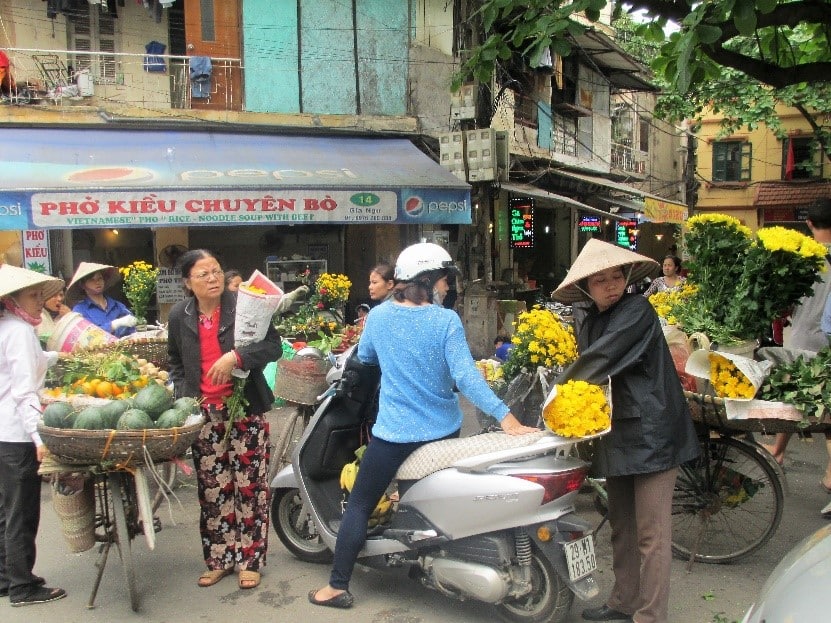 While in Hanoi, I had the opportunity to embark on several excursions. I visited Sapa Valley via the overnight train from Hanoi, trekked through the endless emerald rice paddies, and spent the night in a homestay somewhere in the middle of nowhere. It was beautiful.
I also took a 2-night trip through Halong Bay, which was one of the highlights of my time in Vietnam. The haunting beauty of the massive World Heritage Site is undeniable. Around each corner was a view lovelier than the last. I couldn't take enough pictures.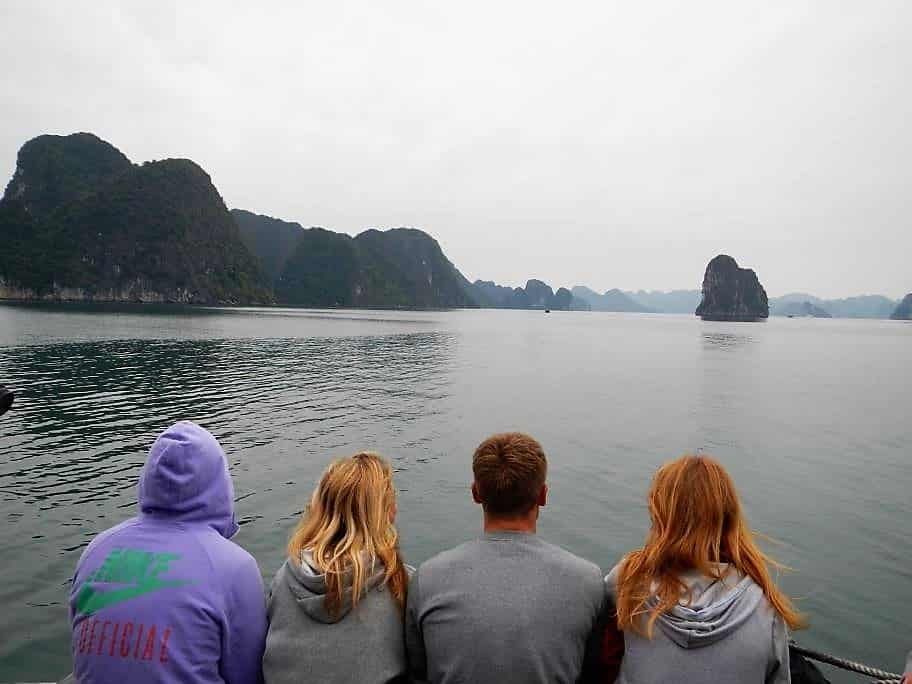 It was also on this trip that I met the two other travelers who would become my partners in my craziest Vietnamese adventure.
Buying a Motorcycle
After spending a few days together, my future-partners and I decided the best way to see Vietnam was by motorcycle. The decision was made quickly and as soon as we returned from Halong Bay, all three of us purchased out very own "vintage" Hondas.
It was surprisingly easy to find people selling old bikes. In less than twenty-four hours, we were sorted. This was when I first realized there were other people just as crazy as us.
Vietnam has a small, but prominent community of motorcyclists. Bikes are driven the length of the country, then sold to a fellow travel who intends to do the same. No license or registration required. Just a couple hundred dollars in cash.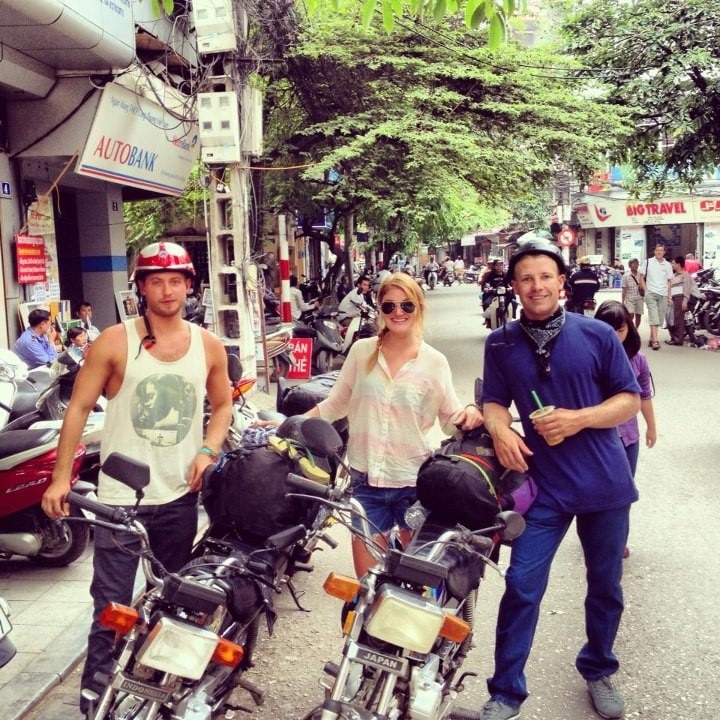 The Beginning
We left Hanoi the next morning, following Google Maps on an iPhone. It was on Day 1 that I discovered the dusty, 6-lane highways were far more terrifying than the hectic, congested streets of Hanoi.  All I could do was grit my teeth and try not to stall my motorbike. I had never driven a bike with a full clutch before. Needless to say, there was a learning curve.
The first few days we didn't make it too far. We stopped in random places, got lost, and had one minor incident during an "off the beaten track" shortcut through a flooded construction site.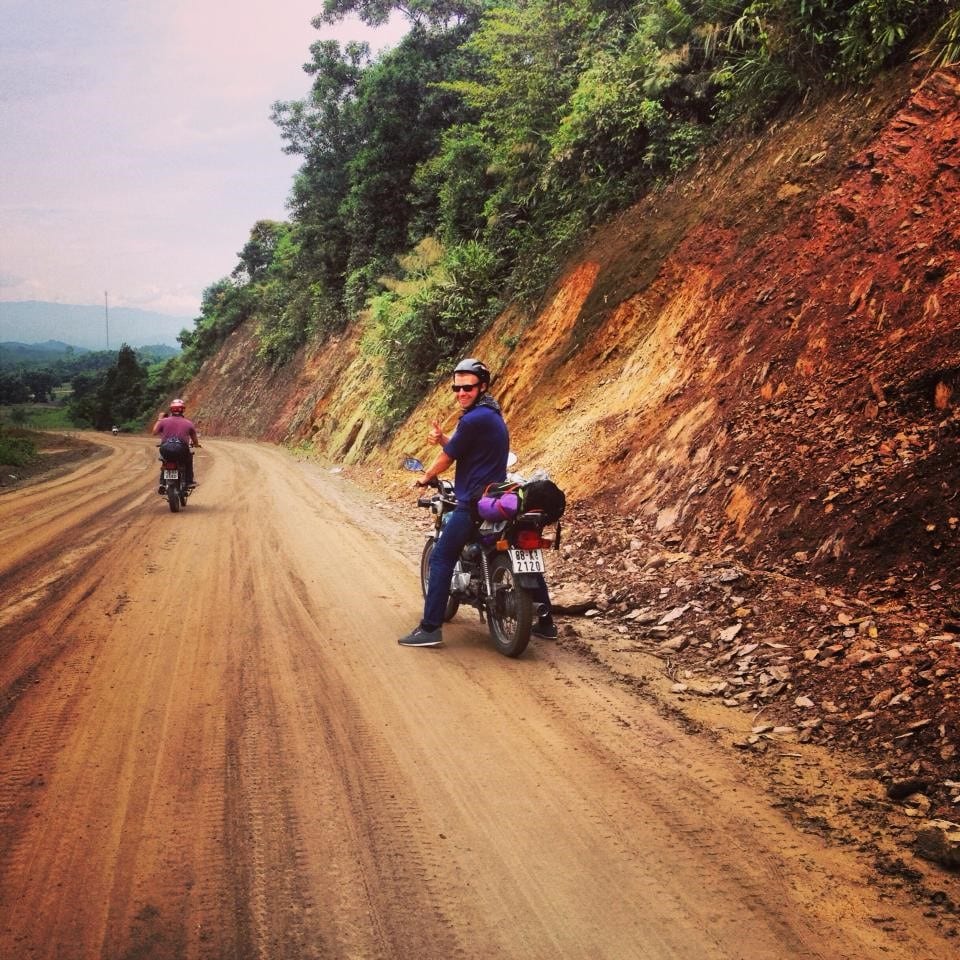 I fell off my bike swerving to avoid a man walking his cow (yes, really) on the muddy back road. Another sweet older man who had witnessed my fall came to my rescue. He took me by the arm, led me to his house and through the front door. He marched me inside, past his family sitting on the floor, and out into the backyard where he had a hose. He insisted I clean the mud and blood off my legs, and helped me bandage the cuts.
It was in these random moments that I fell in love with Vietnam.
Phong Nha Ke Bang National Park
After a few days on the road, arriving to the World Heritage Site was a relief. The windy, well-paved roads shrouded in trees leading to the entrance were a welcome change after the dusty and dirty highways.
The views of the rolling hills and mountains around each turn gave us an incredible feeling of freedom. I will never forget that section of the journey.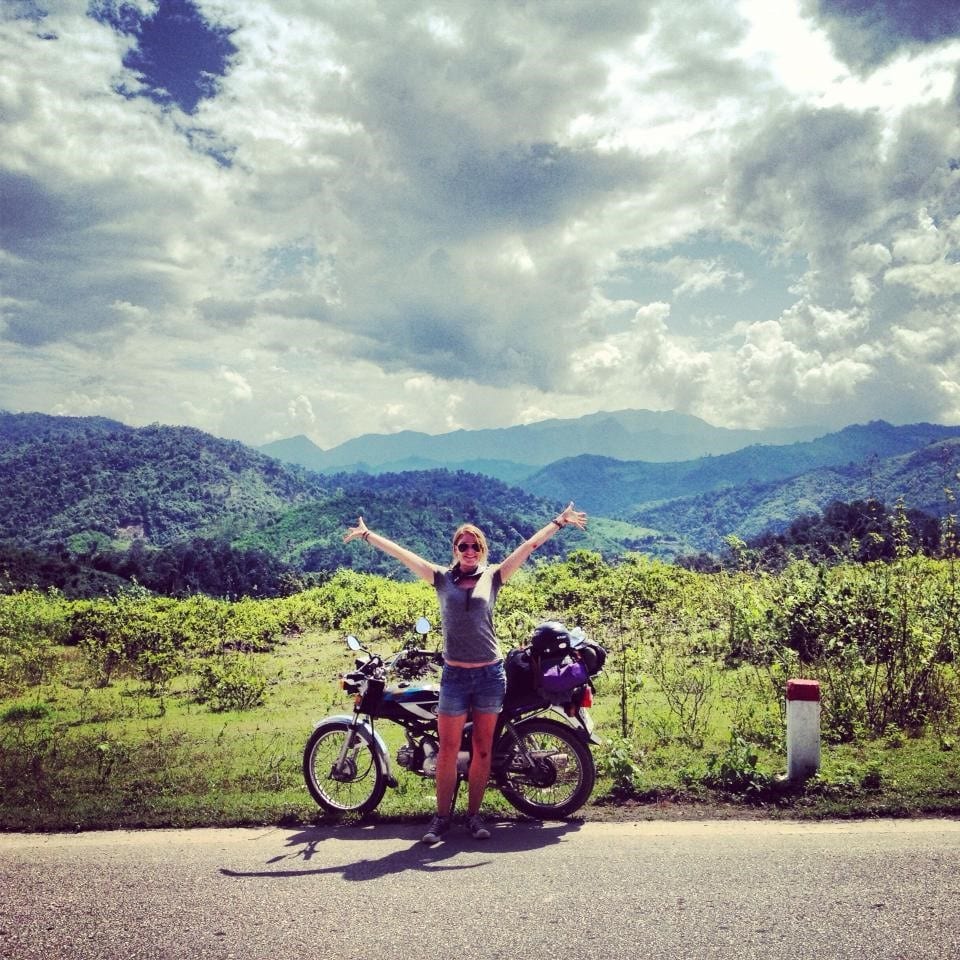 Phong Nha Ke Bang's claim to fame is having some of the largest caves in the world. Inside there are some very impressive stalagmites and stalactites. They can be explored on foot or via boat. It was nice to have a quiet and peaceful place to recoup after a couple of days on the road.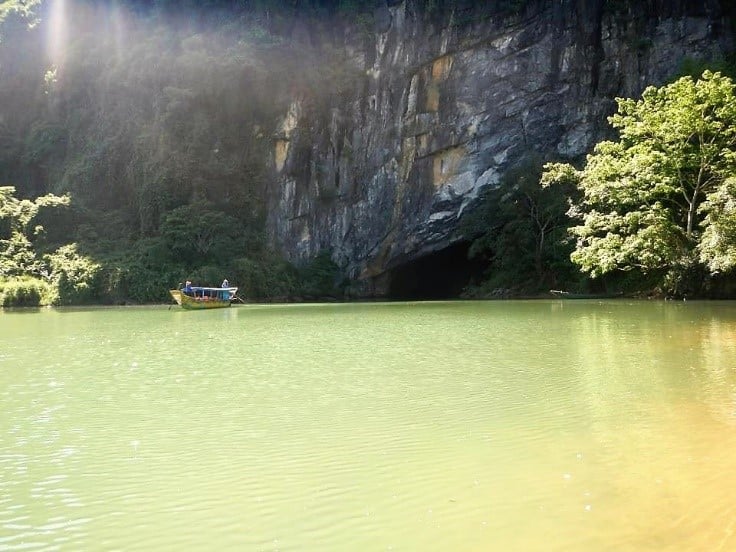 Hue
Our next stop was Hue, 200km south. Half way through our journey, we got caught in a torrential downpour. It was so heavy it became impossible to see more than a few feet in front of us. We decided to pull over and found shelter in an abandoned school on the side of the road.
After the rain, my friend's bike wouldn't start. There was no one around for miles, except for a family inside a little shack in front of our shelter. Even though he spoke no English, the man inside understood the dilemma. He started to work on bike and within 10 minutes he had fixed the problem.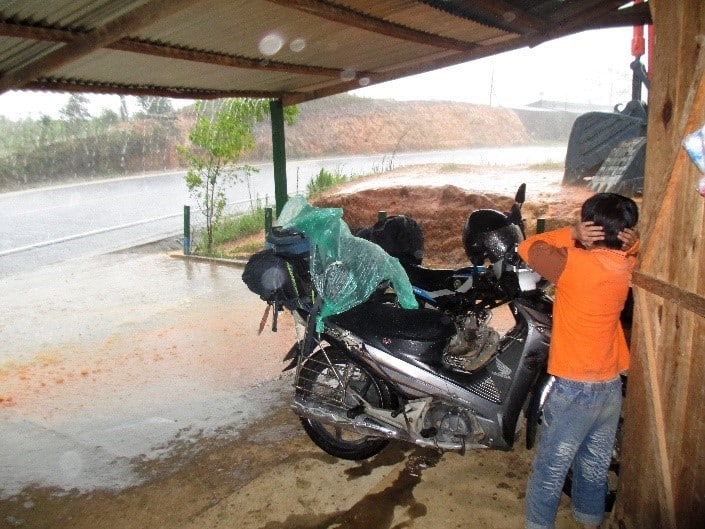 He didn't want any money. He continually turned it down when we offered. We finally insisted he take something and we settled on the trivial amount of $5.
This was another moment that pulled at my heart strings. I'll never forget how kind the people of Vietnam were to me and my friends.
We finally arrived in Hue and spent a few days cruising around the city and seeing the sights. Hue is the former capital of Vietnam. It's a very historically and culturally important city.  The main sites to see include the Imperial Palace and remnants of Nguyen Dynasty's royal tombs and pagodas.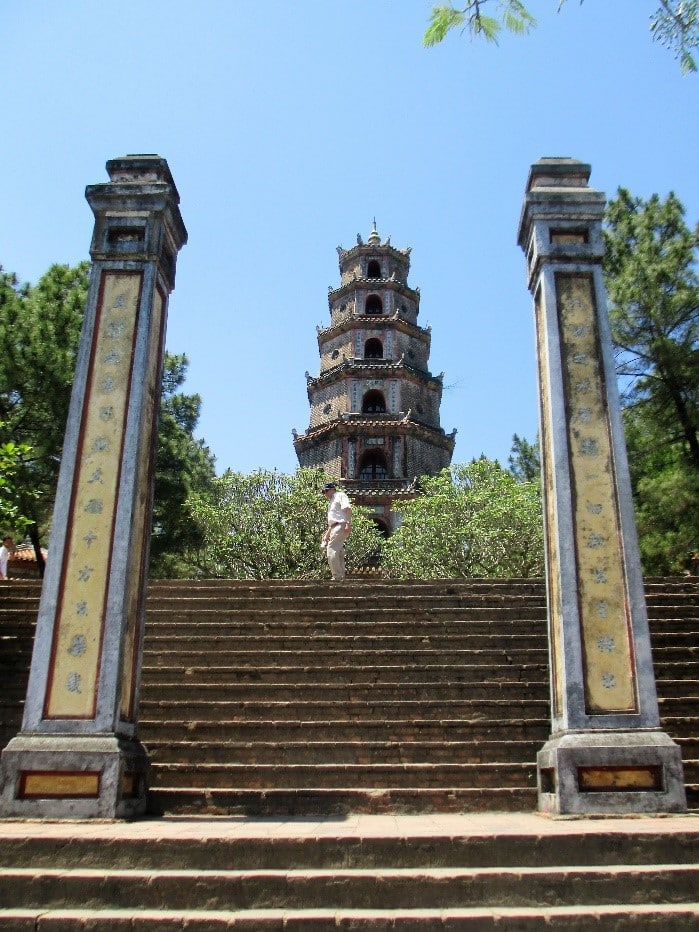 Hai Van Pass
After resting up in Hue, it was time to move on to Hoi An. The stretch of road between Hue and Hoi An is the most famous among travelers who are biking the country. The Hai Van Pass is a 21km road through the mountains, hence a very crooked, windy, and steep. So, while it can be relatively dangerous, it was worth it for the panoramic views!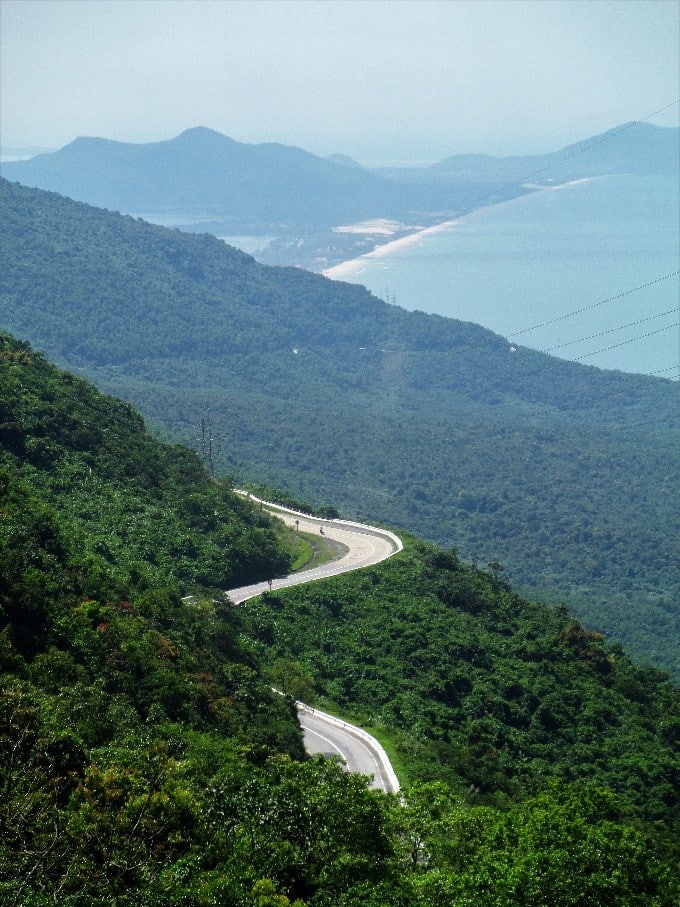 Hoi An
I knew Hoi An was a World Heritage Site, but I wasn't prepared for such a quaint and delightful town. Hoi An is a unique blend of Chinese and European influences and exudes charm. It's also the place in Vietnam to order tailor-made clothes. The price is unbelievable, the quality is very good, and the turnaround time is just a few days.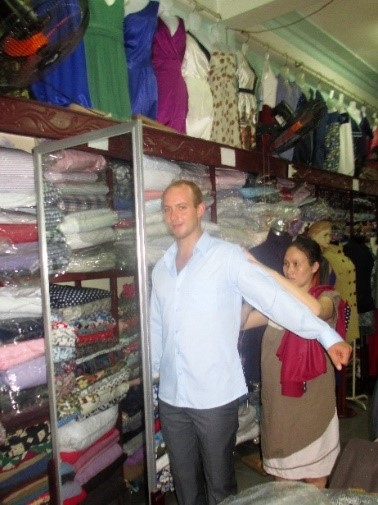 My favorite part of Hoi An was the nearly deserted beaches. White sand stretched for miles, palm trees swayed gently in the breeze, and the turquoise water beckoned. I found my serenity here.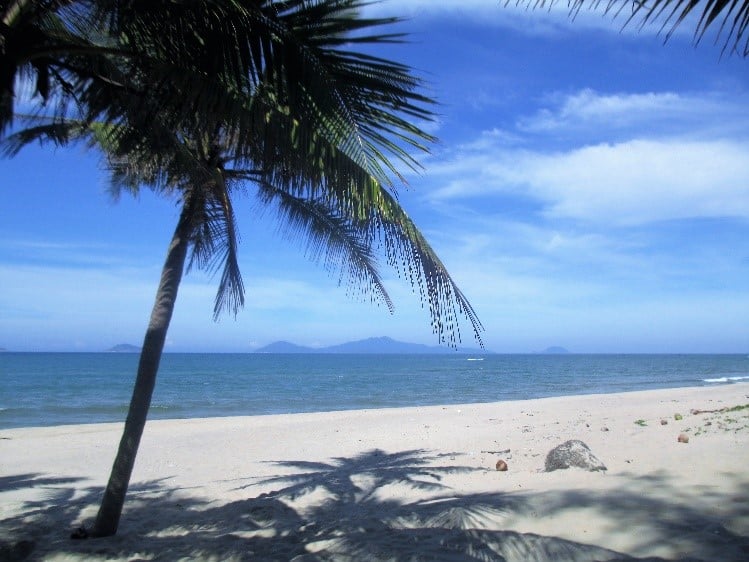 Nha Trang
After Hoi An, we headed further south to Nha Trang. This city is based on tourism and has a lively backpacker scene. If you're looking for a 24/7 party, Nha Trang is your place.
The city also has a very long, wide beach the sprawls the length of the city. There's also an interesting looking water park located on an island just off the beach.
Dalat
When we'd had enough of Nha Trang, we headed inland to the small mountainous town of Dalat. During the three days we stayed there, it rained at 2pm on the dot, every day. You could set your watch by it.
Other strange things about Dalat included the creepy resemblance our basement guesthouse bore to a morgue, and Dalat's main attraction, the Hang Nga Crazy House.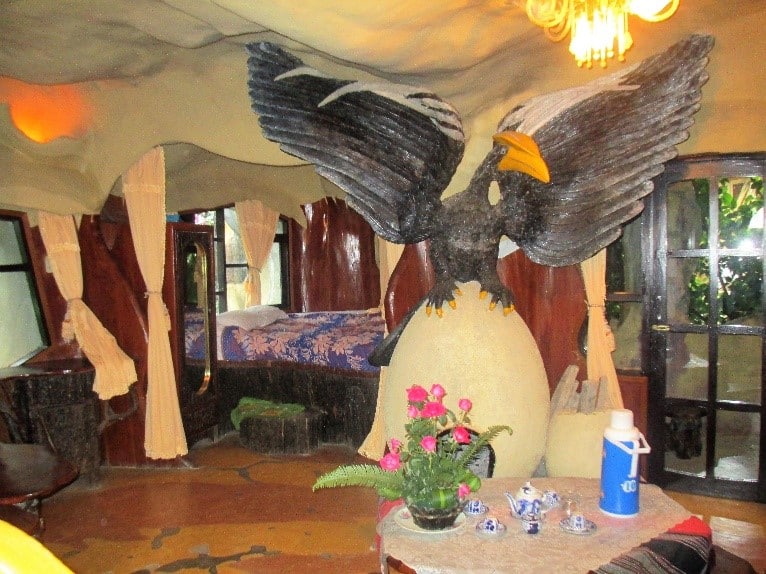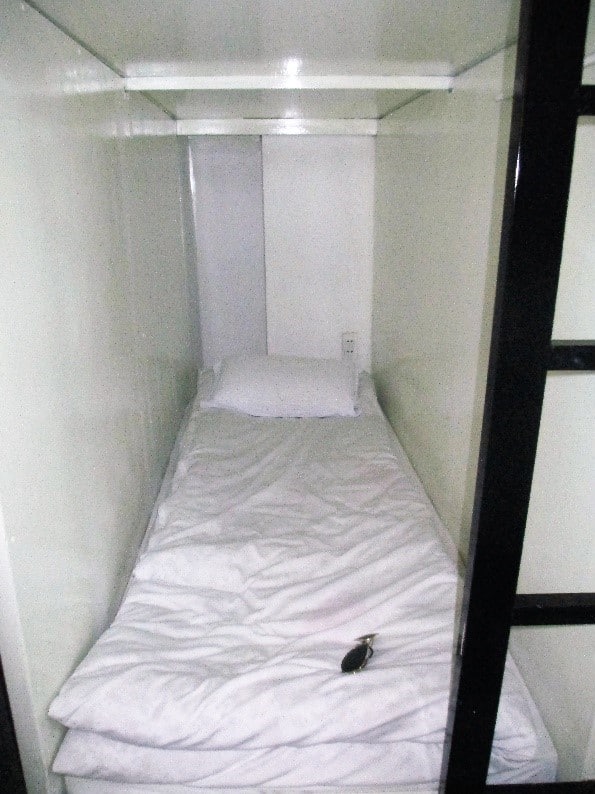 The guesthouse I have no explanation for; it was just weird.
The Crazy House is actually a really cool concept. It was designed by Ms. Dang Viet Nha, the daughter of Vietnam's second president, Truong Chinh. She received her PhD in architecture in Moscow. The attraction is definitely worth a visit. You can freely explore each abstract room and cross over the top of the building on tiny, narrow staircases. Pretty good panoramas of Dalat, too!
Dalat is also known for its many waterfalls. They sit outside of town, down obscure dirt-roads, with no signs indicating that you're on the right track. It took some tracking down, but we managed to find one that was pretty impressive.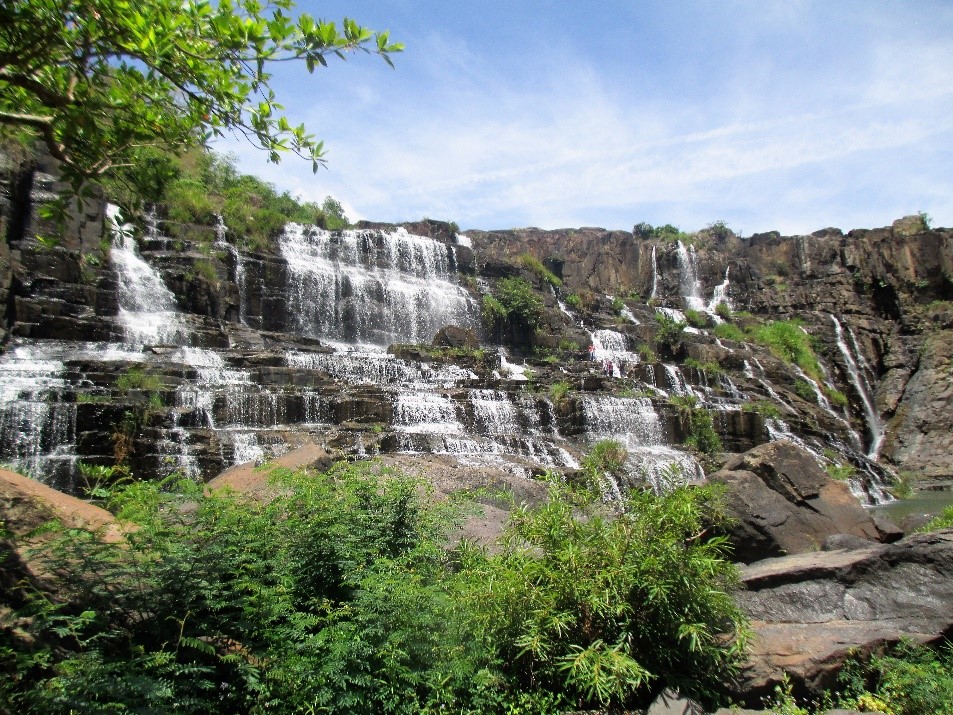 Mui Ne
It was onto Mui Ne after Dalat. The city's claim to fame are its sand dunes, which are an attraction in their own right. The locals capitalize on all this sand by renting 4-wheelers to tourists who comes to see the dunes. Touristy, yes, but I must admit it was fun.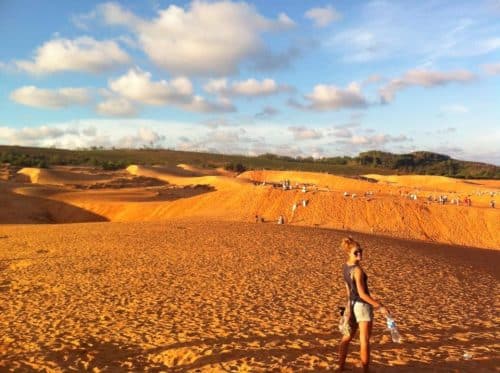 Mui Ne is also known for its breezy beaches, making it ideal for kite surfing. There are shops along the beach that will provide lessons, or equipment if you're already experienced.
Ho Chi Minh
With only two days left on my 30-day visa and a flight to catch to Thailand the next day, we set off on our final leg. After one more minor breakdown, we finally arrived in Ho Chi Minh, completing our cross-country journey.
The entire 23-day adventure was by far the best way to experience Vietnam. My friends and I saw and experienced things that most others don't.
I'll never forget the kindness we encountered from the locals along the way. Without their help and generosity, accomplishing our feat would have been nearly impossible. We witnessed a side of Vietnam people usually don't see, and I consider myself very fortunate to have experienced it.