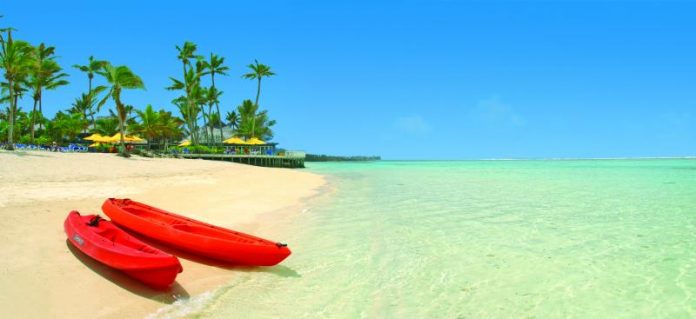 Many travellers want to get away from a hectic urban life. A lush, tropical island may be on your bucket list, but it can be difficult thinking up a location that isn't swarming with tourists, such as the Hawaiian islands, or the Caribbean Islands. If you're ready to spend a few extra hours in the air, Rarotonga Island is the perfect tropical vacation destination for you.
Many people haven't heard of Rarotonga Island, particularly if they're from North America. It's located in the central-southern portion of the Pacific Islands, among the Cook Islands. If you can imagine it in your head, it's a small island between Australia and South America. It's one of five of the major islands that make up the Cook Islands. There are also nine other smaller islands in this grouping.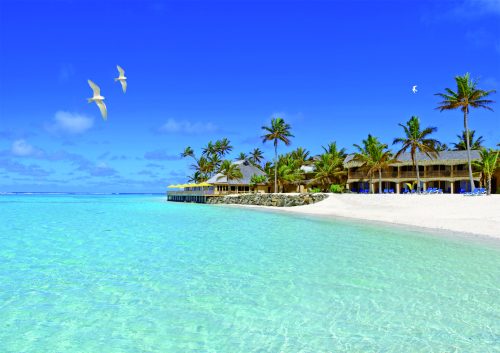 Rarotonga contains the largest population of these islands, with over 14,000 people. The land mass covers 67.39 km2  or 26.02 square miles. This island is in the same time zone that Hawaii is.
Even though this island is more commercialized than the other Cook Islands, it still retains much of its Polynesian charm. Here you'll find the locals friendly and helpful. When you get off your plane, you'll be welcomed with: "Kia orana," which means, "May you live long." You may even be greeted with a man playing banjo music, while you wait in the lineup to get your passport stamped.
There is much to interest the traveller on Rarotonga Island, whether you simply want to relax on a beach, or go out exploring. The island best suits single travellers, or couples wanting to have some couple time together.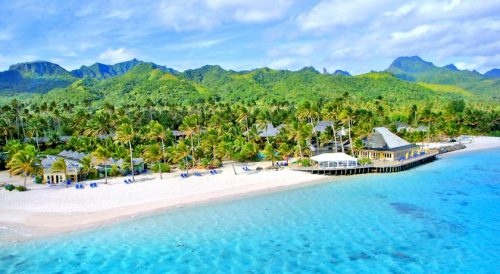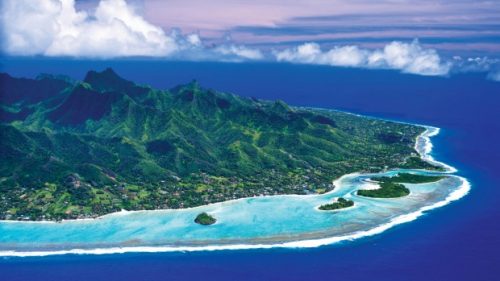 Beautiful Geographical Island Features
The capital of the island is the town of Avarua, located on the northern coast. Rarotonga Island is roughly in the shape of an oval, surrounded by a narrow strip of sapphire-blue lagoon that extends to a flame-orange reef. Beyond the reef, it drops sharply into deep water. Due to the lagoon and reef much of the island isn't suitable for swimming or water sports, but if you drive to Muri Beach, this portion has the widest and deepest part of the lagoon. Here you can enjoy swimming, boating, and snorkelling.
If you don't mind not having the opportunity for water sports, sparkling white beaches surround most of the island, so you can have a rest anywhere.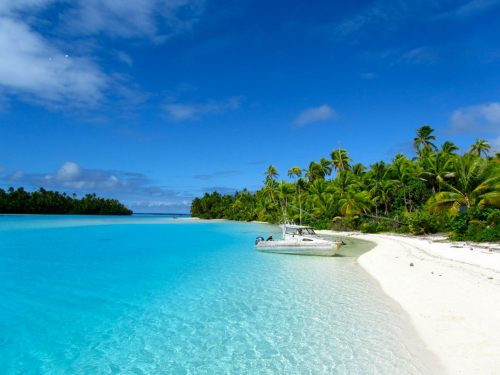 This is a volcanic island, and at the highest point, it stands at 4500 metres above sea level, or 14,750 feet. This region has agricultural terraces, with many flats and swamps around the central mountain region. The central portion of the island has volcanic peaks covered in dense vegetation.
The island is split up into three different tribes: Puaikura located in the west; Takitumu on the east and southern sides, and Te Au O Tonga in the north. The island has also been divided into five different districts.
Due to the structure of the island, there is no road that crosses the island, as they circle around the exterior instead, and are surrounded by many palm trees. To get around the island, you'll take one of the many paved or unpaved roads. Most of the island's modern infrastructure is around the exterior borders, as the terrain can be dense and different to traverse in the centre. The Ara Tapu is the main road that traces around the island. At certain points, you'll be able to see vast portions of the Pacific Ocean, so you may wish to pull over, or pay attention to your driving.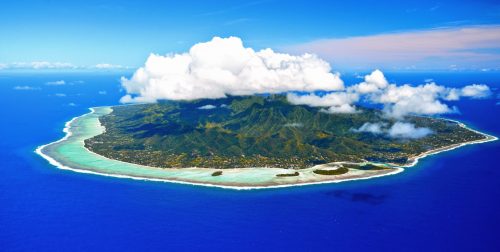 History of the Island
The first European explorer to find Rarotonga Island was Captain John Dibbs, from the Endeavour ship, in 1823. People on the island are called Rarotongans, even if they come from one of the other islands in the group.
In 1965, five sounding rockets were launched from the island to study the solar eclipse of the time.
The old Ara Metua road was built in the 11th century, and made with large stone slabs. This ancient road circles about 3/4s of the newer roads on this island.
The Arai Te Tonga is one of the most sacred shrines on the island. There are many ancient monuments on the island that were popular meeting spots for the ancient tribes.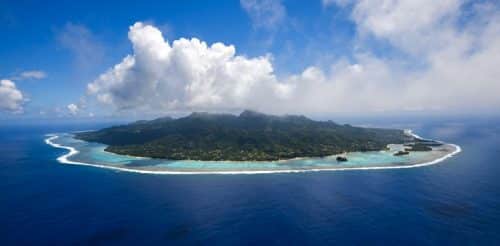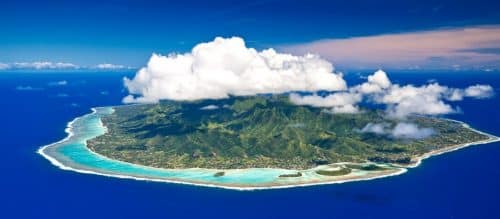 Island Amenities
Rarotonga Island has an international airport, making it simple to reach your vacation destination. Air New Zealand and Virgin Australia operate many regular flights to the island. You can travel from USA, New Zealand, or Australia. It's definitely worth adding Rarotonga Island to your trip if you are already visiting New Zealand or Australia. Besides the international flights coming in, you can also take a scenic flight to many of the major cities on the island.
There are many motels, hotels, boutique hotels, and resorts, for every travel budget level. There are plenty of restaurants to cover every taste and dietary restriction. There are also coffee shops where you can grab a quick drink on the go. But one thing you won't find here are any fast food chain restaurants.
Besides renting a car or taking a cab, you can rent a bicycle or moped to get around, or take the bus. If you wish to rent a moped, you must obtain a Cook Islands drivers' licence, however, it's simple to get one. You simply take a short course, pay a fee and take the written theory and driving skills test. If your vacation is going to be longer than a month, it's worth looking into.
The bus system is super easy to use. You either take it clockwise, or counterclockwise. Take note that if you ask the drivers, they will drop you off at any location or sight along the way, besides at the designated bus stops.
There is also the Rarotonga Steam Railway for railroad enthusiasts, with a working steam locomotive from Poland, dated 1951.
If your interest is shopping, there are many gift shops where you can purchase souvenirs, and convenience stores, if you forgot something from home. You won't find any of your usual chain grocery stores here either.  Galleries offer an opportunity for you to purchase some local artisan arts and crafts, such as paintings, wood carvings, and handmade jewelry.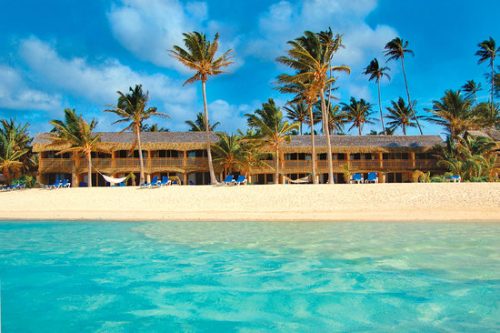 Sights and Attractions
Besides the white sandy beaches with palm trees, there is a lot to see and do here. Te Rua Manga is a notable needle-shaped rock that is viewable from the air.
The Takituma Conservation Area was set up to protect the native birds and plants of the region. One notable bird from this area is endangered, called the Rarotonga flycatcher.
If you wish to go on a stroll, a pathway crosses the island and connects Avatiu valley to the southern side of the island. You can also take a hike to the Raemaru, a flat-top type of mountain. Wigmore Falls, also known as Papua Falls, is a stop that you must see.
The Arai de Tonga is an ancient marae built of stone, and likely has religious significance.
Something unusual you may see in many people's front gardens and estates are large marble gravestones. Islanders are often buried on family lands, even if it's prominently in their front garden.
If you're curious about the lush jungle on the centre of the island, but worried about getting lost, you can book a tour with Raro Safari Tours. This is a popular way to explore the island's vivid and colourful rainforest.
During the months of June to August you can stand on the sea wall and watch the whales migrate to warmer waters.
Island Activities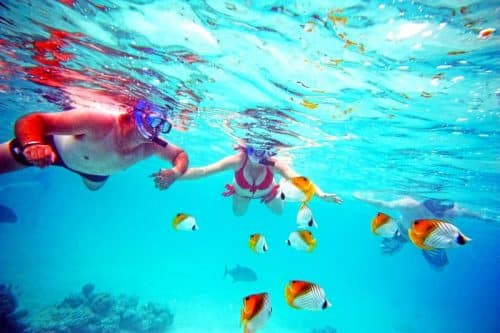 For visitors who enjoy water sports, there are many choices here. You can choose to take a boat tour, or go directly into the water. There are three harbours here, located in Avatiu, Avarua, and Avana. Large cruise ships do come to the island, but must anchor far offshore, and transport passengers on boats.
There is deep-sea fishing, snorkelling, kite surfing, and scuba diving.
If you prefer land-based activities, there is bike riding and mopeds, traditional island shows, and sports, such as squash or tennis. You can even sleep on the beach.
You won't miss your church services, as they're open to visitors, and you'll enjoy the singing here.
Plan a Wedding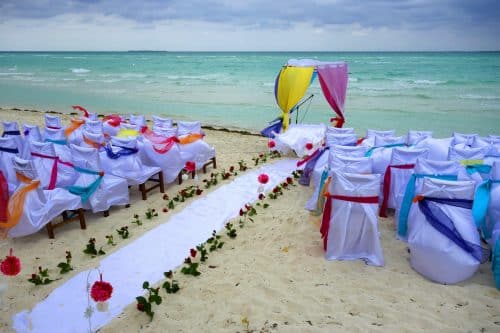 Not only can you plan your honeymoon on Rarotonga Island but you can also get married here too! Be sure to book in advance, and be aware of all the paperwork and licences you must get first.
You can have your wedding on one of the many beautiful beaches, or inside one of the many ballrooms at your favorite resort. Then when you're married, you can relax at the spa or in your room.
Plan Your Trip to Rarotonga Island Now!
Rarotonga Island has a lot to offer visitors who have a variety of interests. Simply stay at one of the many resorts and relax on the beach, or move around the island seeing all the attractions. Whatever you decide to do, your family and friends will be jealous that you had such a fabulous vacation!