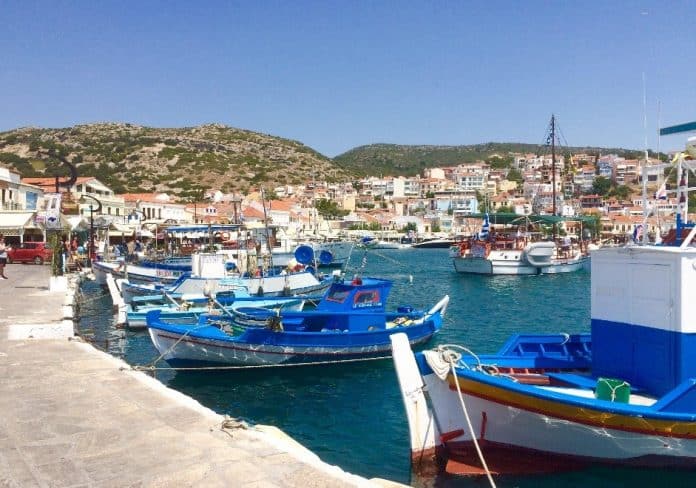 Greece is known for its spattering of islands throughout the Mediterranean, Ionian, and Aegean Sea. There are over 6,000 islands, several hundred of which are inhabited. With azure blue waters, iconic white-wash houses clinging to the side of ocean front cliffs, and delicious cuisine, it's no wonder these islands are a big part of what gives Greece its mass appeal.
The Greek islands are grouped into categories depending on their location. The Ionian group is off the northwest coast of the mainland, the Saronic group is mostly small islands just off the coast of Athens, the Cyclades are a big cluster of popular vacation islands in the central Aegean, the Sporades are a small cluster off Greece's northeast coast, the Dodecanese are the farthest south reaching islands along the Turkish coast, and the North Aegean are some of the largest islands that dot the Turkish coast above the Dodecanese.
SAMOS
Each group has a distinct style and every island has its unique charm. My sister and I were fortunate enough to experience all that Samos had to offer for a quick weekend getaway, and we were immediately smitten.
Samos is one of the North Aegean Islands just off the east coast of Turkey. The island is only a 1 hour and 20-minute ferry ride from the Turkish resort town of Kuşadası. The quick trip has made Samos a very popular destination for Turks during the summer months.
I was expecting a typical tourist trap island with jacked up prices, annoying hustle from street venders, and large resorts lining the beaches. I was very pleasantly surprised upon my arrival. Samos was nothing like what I had pictured.
PYTHAGORION
We boarded the ferry at the Turkish port of Kuşadası, cleared passport control, and found a seat on the ferry. After a short, easy ride we arrived at Pythagorion, one of the two port villages in Samos.
After waiting almost an hour to clear Greek customs, we were finally free to find our guesthouse and explore the island.
Pythagorion, for all its popularity, is adorable. A stone road frames the harbor with an unbreaking line of small restaurants, all serving authentic Greek food.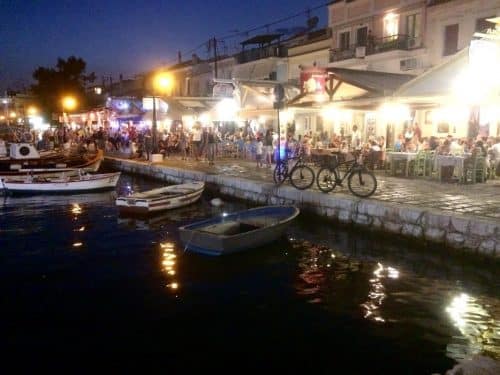 The main drag runs perpendicular to the harbor road and is home to souvenir shops, cafes, ice cream parlors, more restaurants, and convenience stores. On the other side of the arrival dock, there is a small, pebble beach with lounge chairs provided by a free standing outdoor restaurant.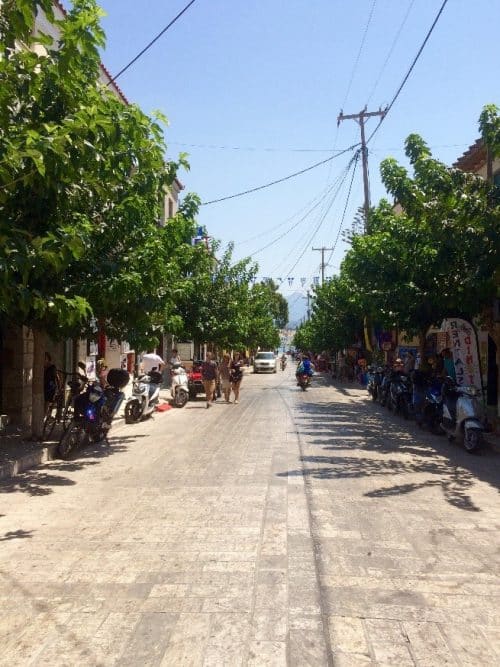 Drive or bike a few kilometers outside of town and you'll find two much longer beaches – Pythagorion Beach and Potokaki Beach – right next to each other.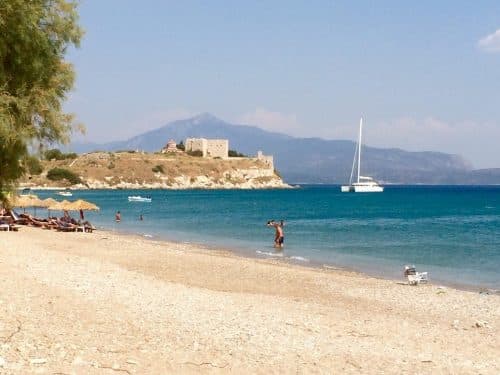 The guesthouse was a quick 400 meter walk from the port down a quaint little alley with neighboring restaurant. Studios Iris was one of the most budget-friendly options we could find at 44 Euros/night, but it was comfortable. The accommodation was basic, but the room was a decent size with two balconies, A/C, and kitchenette.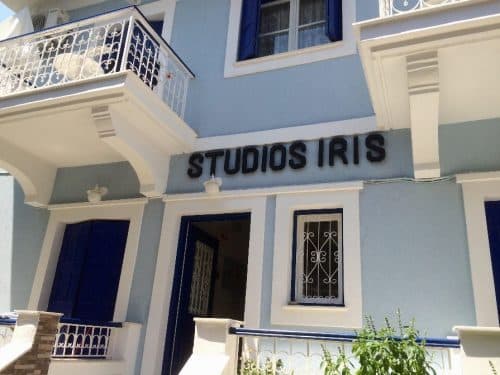 FOOD & DRINK
One of the main goals of the trip was to sample as much Greek food as possible and try some of the famous white wines for which Samos has become famous.
The food certainly did not disappoint, nor did the wine. For three days I lived on Greek Salads, Gyros, Souvlaki, grilled fish, and a refreshing (and potent!) local white wine.
At one restaurant, we ordered what we thought was one glass of wine each for 6 Euros. What was served was two 500ml bottles of 12.5% local brew! A great deal, but there was no way we could each finish one.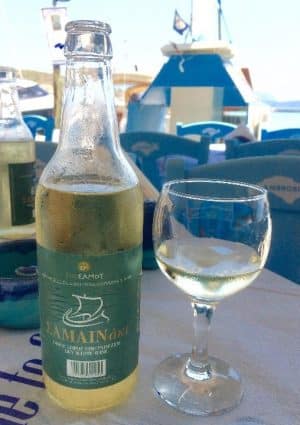 Not to worry – the cheerful waiter assured us it was so problem to take it away. This happened several more times throughout the visit where we left a restaurant toting an unfinished bottle of wine. Talk about great hospitality!
Another must try is Ouzo, the anise flavored, milky-white liquer. It can be drank straight or mixed with water. The taste takes some getting used to, but it's a traditional Greek drink. Do as the locals do!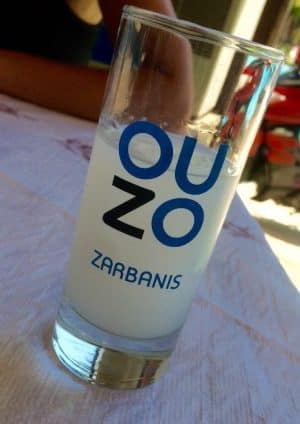 GETTING AROUND
Samos is one of the largest Greek islands, so it's necessary to rent a vehicle to get around. Our plan had been to rent motorbikes, but after asking around to several shops we were disappointed to learn that no one would rent us a bike without a motorcycle license. We later found out it's actually illegal for a shop to rent a motorbike to somone without a proper license, or for us to operate one. Samos strictly enforces this law.
We rented a car from the friendly staff at Enterprise instead. Our disappointment over the motorbikes soon faded when we discovered the amount of ground we had to cover to do and see what we wanted. Not to mention the windy, mountainous roads and extreme heat would have made the journey via motorbike more difficult. We were thankful for the car's sun protection and cooling A/C!
DRIVING IN SAMOS
One of the interesting things about Samos is that as soon as you leave the developed coastal villages, the true spirit of the island emerges. Just a few kilometers outside of Pythagorion we started climbing into the mountains, following the curvy roads through the many small villages. Most of the roads are paved, but there are certainly places where only gravel exists.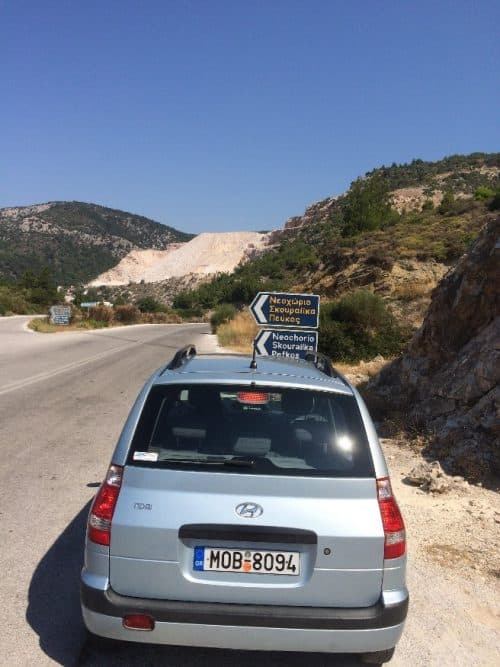 Driving slow is imperative. The roads are very narrow, and at times not even wide enough for two cars to pass. Much of the road travels along the cliffs and often without guardrails. While this makes for some stunning panaramic views, it could also be diasterous if the driver is not paying attention. I allowed my sister to carry that burden while I snapped some great pictures!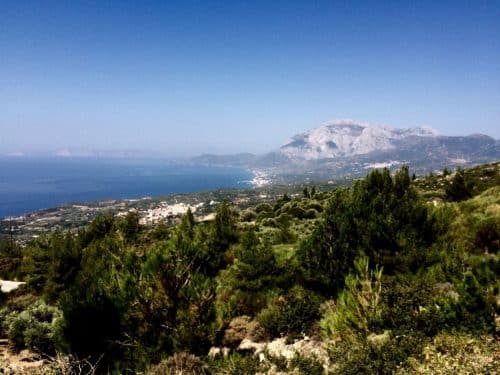 PYTHAGORAS CAVES
One of Samos' claims to fame are the caves where the great Greek mathmatician, Pythagoras, spent part of his life. He was accustomed to solidarity and prefered to hash out his thoughts and theories in isolation, thereby retreating to these caves.
They are roughly an hour and a half drive outside of Pythagorion along some undeveloped gravel roads. Between the few signs pointing the direction of the caves and Google Maps, we had no problem finding our destination.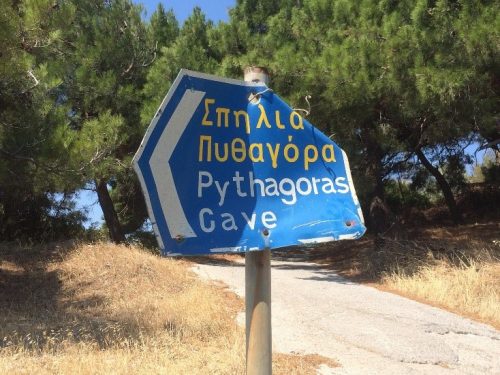 The only indication that we had actually reached the caves was a small yellow sign perched in front of a sole cafe at the bottom of a gravel road. A short history of the caves and Pythagoras is available inside the cafe. Parking and access is free.
To reach the caves we faced a 10-minute climb up some very steep steps. At the top there was a small, ancient chapel, and as promised, two caves right next to one another. The caves themselves are not overwhelming, however the fact that they are of great historical and cultural significance makes it worth a visit.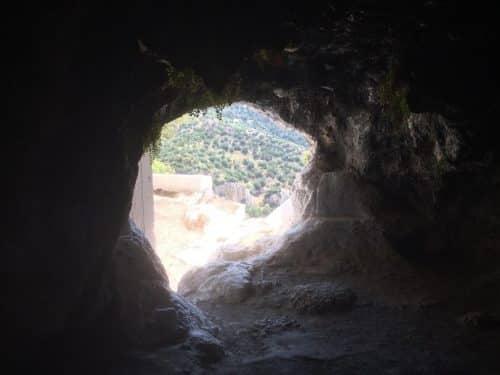 POTAMI WATERFALLS
From the caves, Potami Waterfalls are another hour to the northeast side of Samos. The way to the falls is clearly marked on the main road. Street parking is available and there's no charge to access the waterfalls.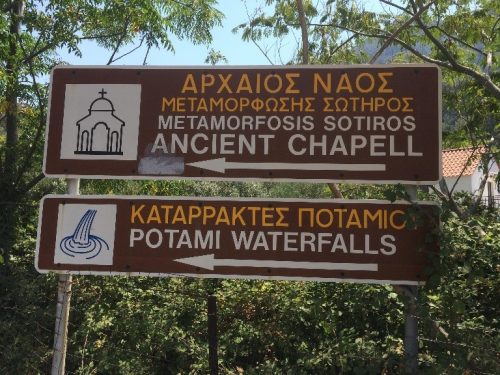 Leading to the falls is a very easy, flat, 1 kilometer dirt path through a dense forest.  At the end of the path there are two options to reach the falls. The first is to climb some very steep, ricketty stairs that disappear into the wilderness above. The second is to wade into a shallow pool of water that disappears around the corner of a big rock cluster.
Since we had our bags with us, we decided against getting wet and chose to take the stairs. Soon after our ascent, we reached a treehouse cafe nestled into the cliff side, overlooking the gorge. Carefully decending the otherside, we were again faced with a pool of water. After this point, the only way to reach the falls was to walk through the winding waterway.
We waded in and followed the lazy river in a small set of falls. We continued, scrambling up rocks and climbing rope ladders over small waterfalls in order to reach the bigger falls at the end. At one point we were holding our bags over our heads because the water level was up to our necks!
Now would be a good time to mention that it is best not to take a bag – or anything that can't get wet – on this trek. Because it will get wet.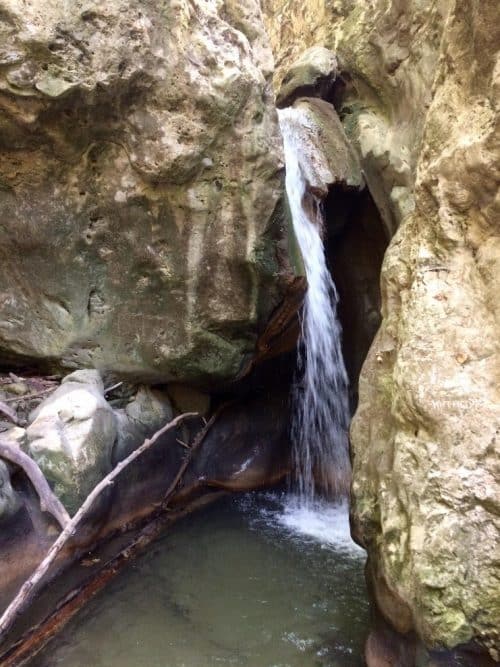 We finally reached the big falls, which is about 15 meters tall. What the waterfall lacks in size, it makes up for in the gorgeous natural setting. Not to mention the journey there (and back) was the best part!
KOKKARI BEACHES
After the waterfall adventure, it was time for some sun and relaxation at one of Kokkari's beautiful beaches. Driving northwest from Potami, we first reached Lemonakia Beach, a gorgeous, sheltered bay with pebble shores, crystal-clear water, and plenty of beach chairs and umbrellas. The scenery here is serene and the vibe is laid-back.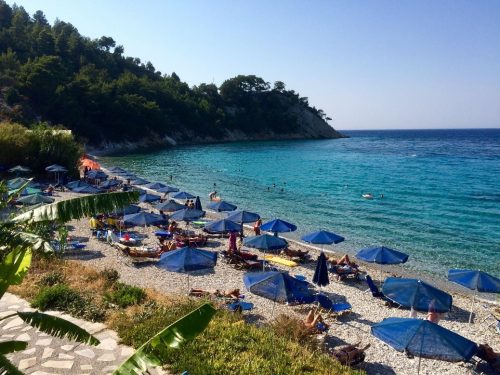 A few kilometers further, we arrived to Kokkari Beach, a much longer strip that runs along the length of the road. There are plenty of cafes and amenities here as well, however we prefered Lemonakia's more secluded environment.
ARCHEOLOGICAL MUSEUM
There are other ways to occupy yourself in Samos just in case you need a break from the lush greenery, seabreeze, and delicious food.
Just off the main drag in Pythagorion is the Pythagorion Archeological Museum. The entrance fee is 6 Euros and is well worth it.
The two-story museum has a comprehensive collection of ancient artifacts all of which have been discovered in Samos. There are gold coins from 700 B.C., jewelry from the Roman period, and pottery and figurines of the Archaic period dating back to the 6th and 7th century.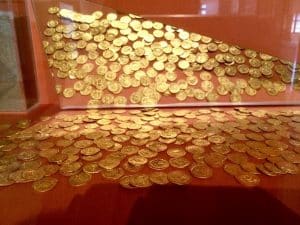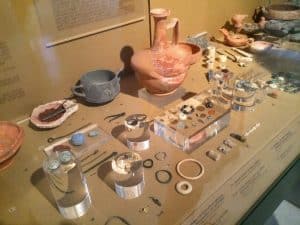 The second floor is almost entirely dedicted to a collection of very impressive statues. Displayed out in the open are busts, partial, and full body statues of Emperors, Princes, Gods, Goddesses, and the like. Fascinating and a little eerie!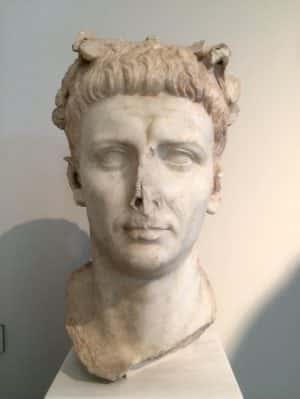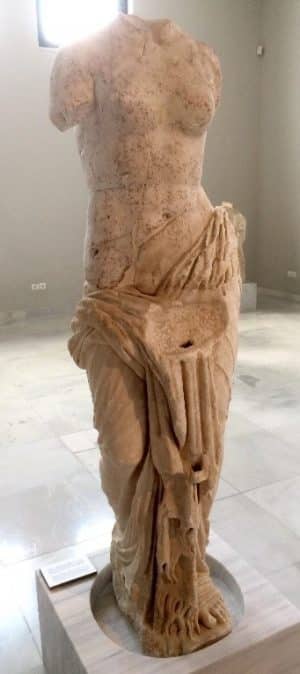 Samos far exceeded my expectations and left me wanting more. With so many islands to discover, I have no doubt I will find myself on Greek soil again in the future. No matter which Greek island you choose to visit, I'm certain you'll fall in love just like I did.