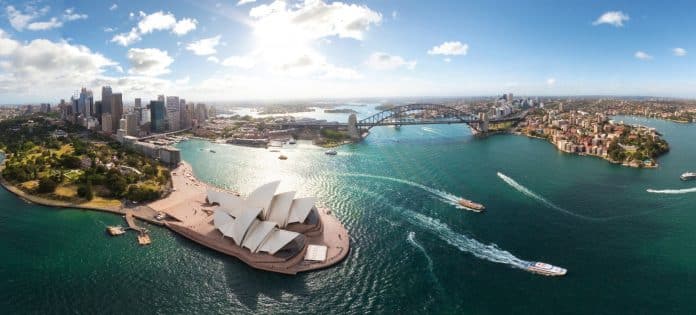 Sydney is not only the capital of New South Wales but it's also the largest city in Australia. Last year it was recorded that over five million people lived in the city. This city is located right on the east coast of the country, with some interesting history and attractions that bring millions of visitors from around the world each year to Australia.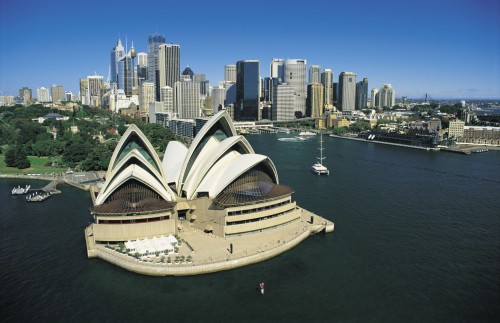 If you're planning your trip to Australia it could be your once-in-a-lifetime dream to experience what it's like to be an Aussie. When you're planning your tour of Sydney you want to ensure that you fit in as many sights and attractions as you can, as likely it will be some time before you're able to come back, because apparently, it's one of the most expensive cities in the world!
A Brief History of Sydney
The first people to live in Sydney have been the indigenous Australians. Most likely they first landed here around 30,000 years ago.
In 1770, James Cook first landed at Kurnell. In 1788, the First Fleet arrived carrying convicts from England. Sydney was declared a penal colony, and became the first European settlement in Australia. The city was named after Thomas Townshend, who was the first Viscount Sydney, and Home Secretary in 1788.
Convict transportation ended in the mid-19th century, and the city transformed into a major global center. Sydney was officially declared a city in 1842.
In 1851, gold was discovered, which brought travelers from all over the world seeking their riches. After WWII, Sydney became a multicultural city due to immigration. As of 2011, over 250 different languages have been spoken here, with about forty percent of the population speaking more than just English. Thirty-six percent of the population in Australia has not even been born in Australia. If you want to experience multiculturalism, Sydney is the place to see it!
Sydney hosted the 2000 Summer Olympics. Today, it's one of the most visited cities in the world.
How to Get to Sydney
Sydney has a large international airport with flights arriving from every major city around the world. This is called the Kingsford-Smith Airport, and was one of the world's first airports in operation.
You can also travel by rail to other regions in the city, and other towns by the city's rail network. Central Station is the main stop, and was initially built in 1906.
You'll find hundreds of hotels right in Sydney, and some close to the downtown harbor, so you'll never lack for a place to stay. Many tourists will check in at night and check out of hotels each morning, and select the next hotel close to their attractions, as they move around the city to experience them.
Understanding the Geography of the City
Sydney is made up of 658 suburbs, forty governmental areas, and fifteen regions. It can be daunting to figure out where to start your tour. If you look at a map of the country, Sydney is located on the lower southern coastline.
Sydney is a city with a large urban and suburban region. Most visitors will want to focus on the region surrounding its natural harbor. On the harbor are Sydney Opera House and Sydney Harbor Bridge.
One thing you should be aware of before your trip, is that Australia is located in the lower hemisphere, so their seasons are in reverse to North America, Europe, and Asia. But the good news is that weather is nice throughout the year, so even if you go during the summer, which is their winter, you'll have some pleasant warm weather, rather than hot. Though the Aussies will love complaining that they're too chilly!
The downtown port of Sydney is the big cultural hub of the city. It's also where the hotels are the most expensive, though it's good to only have a short walk back to your hotel at the end of a long day.
Your First Travel Stops
Begin your tour with the must-see attractions, then see how you feel about tackling some of the small sights, or even heading out to the burbs.
Sydney Tower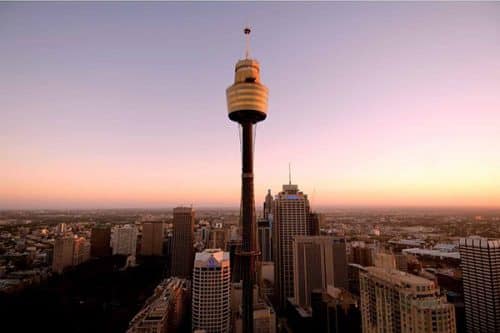 Sydney Tower is a tall observation and communications tower structure. It was started in 1970 and wasn't until 1981 that they felt it was complete. While this tower is used in industry, it's also open to tourists. The tower lights up at night so it can be seen for kilometers.
There are four different parts of the tower that you can visit. There are many restaurants and bars to visit, including Sydney Tower Dining, Studio, 360 Bar and dining, Sydney Tower Buffet, that are spread out in three parts. Here you can enjoy a bite to eat and experience the very slow movement of the tower, and view the amazing skyline, and take photographs. If you're planning a wedding, the Studio can accommodate up to 200 people for a reception.
Your pass to the Sydney Tower will also gain you access to Wild Life Sydney and the Sydney Aquarium.
Wild Life Sydney Zoo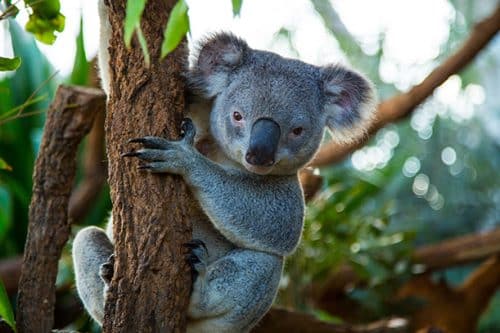 The Wild Life Sydney Zoo is located at Darling Harbor. It's unusual to see a zoo right within the center of the city. It opened in 2006, and is situated close to many other attractions so you won't have to travel too far. It was decided that the aquarium needed expansion, so the park expanded with a new building. The zoo is divided into ten different zones with exhibits.
Notable exhibits include the Butterfly Tropics, Gumtree Valley and Koala Encounters with koalas, and Devil's Den with Tasmanian Devils. After your visit you can take a rest at the Outback Adventurers' Cafe.
Sydney Aquarium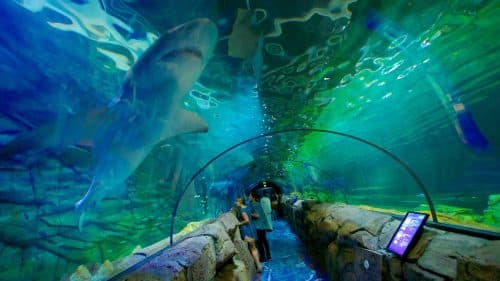 The Sydney Aquarium is right next door to the zoo. It hosts a large variety of Australian aquatic life, with over 700 species, and 13,000 individual fish and sea creatures. The aquarium is set up into themed zones. There are over two million liters of water filling each of the tanks here. Animals live in habitats that are similar to their natural habitats. Besides sharks, you can see stingrays, tropical fish, and dugongs.
You'll want to be sure to visit Discovery Rockpool, Jurassic Seas, and Shark Walk, if you only have a few hours here.
The Sydney Harbor Bridge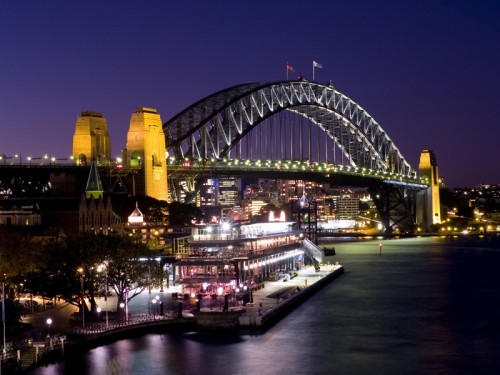 This is the bridge that you see in every photo of Sydney. It lights up nicely at night and spans the distance over the Sydney Harbor. It's nicknamed "the coat hanger" as it has a similar shape. The bridge was built in 1932, and is still the largest steel arch bridge in the world.
The bridge takes all types of traffic, including trains, and you can even ride your bike or walk across it to see some spectacular views.
If you go to the southeastern pylon, there is a tourist lookout where you can safely take some amazing photographs.
Sydney Opera House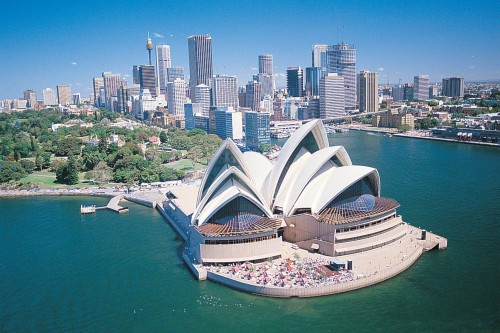 The Sydney Opera House is located on Bennelong Point, and is a performing arts center that has world class performers, plays, and concerts. It formally opened in 1973, and was the winner of an international design competition. The building is managed by the Sydney Opera House Trust.
Within the building are multiple stages, so there is always something happening every night. Some events are extremely popular, so if you want to get in a show, purchase your tickets in advance so you can avoid disappointment.
There are also four resident companies here, including Opera Australia, The Australian Ballet, Sydney Theatre Company, and Sydney Symphony Orchestra.
Even if you don't have tickets, you can take a guided tour of the building and see the amazing architecture inside. It's definitely worth a look, and you can stop and use the restroom facilities while you're there.
Madame Tussauds Sydney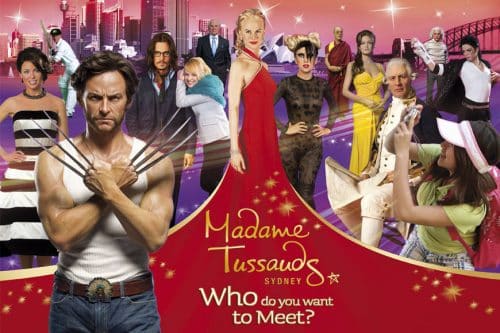 Madame Tussauds is always a busy museum where they have wax figures of famous people from history, and of celebrities. This museum is located on Aquarium Wharf, so you can drop in after your visit at the Aquarium or the Zoo.
Madame Tussauds opened up in 2012, and is the thirteenth Tussaud's in the world. It's also the only wax museum located in Australia.
Plan Your Tour of Sydney Now!
Some travelers like to wing it and experience sights as they unfold on their walking adventures. But there is so much to see and do in Sydney that you really need to spend several weeks here. But since most travelers don't have that amount of time, it's important to sit down prior to your trip and plan your itinerary carefully. Then, you can fit in the small sights you see along the way.
Sydney, Australia is a destination with enough to interest the entire family. Best of all, many attractions are side-by-side, so if some members in your group want to split up and pursue their own interests, they can do so.
Have fun planning your Sydney trip of a lifetime! Soon you'll be on your way to the wonderful land down under!