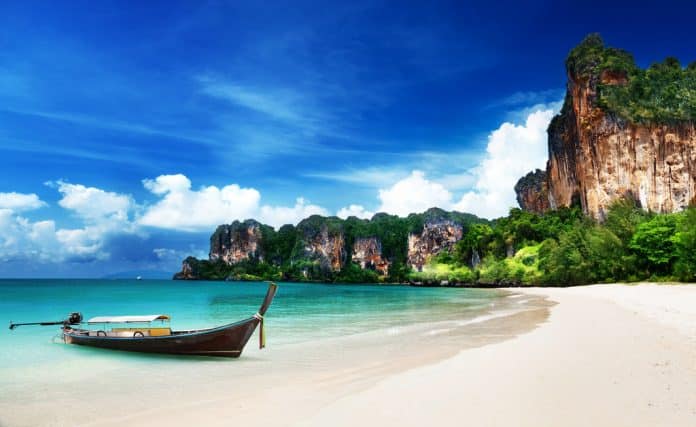 It's no secret that Thailand is world-famous for its tropical waters, white sand, and stunning scenery. Millions of tourists flock to Beaches in Thailand every year to relax on exotic islands and beautiful beaches. Of course, Thailand has a lot more to offer than just a fun-in-the-sun holiday, but there's no doubt about it – Thailand knows how to do beaches.
Due to Thailand's immense popularity as a travel destination, some well-known places such as Koh Tao, Koh Phangan, and Koh Samui have been overrun with foreigners. While nothing can take away from the beauty of these islands, it's still nice to feel like you've found your very own private piece of paradise, isn't it?
That's why this list is different. While there are some undeniably gorgeous beaches that deserve a mention regardless of their mass appeal, we've also chosen some beaches that are Thailand's best kept secrets.
Read on to discover our picks for the top six beaches in Thailand!
Sunrise Beach, Koh Lipe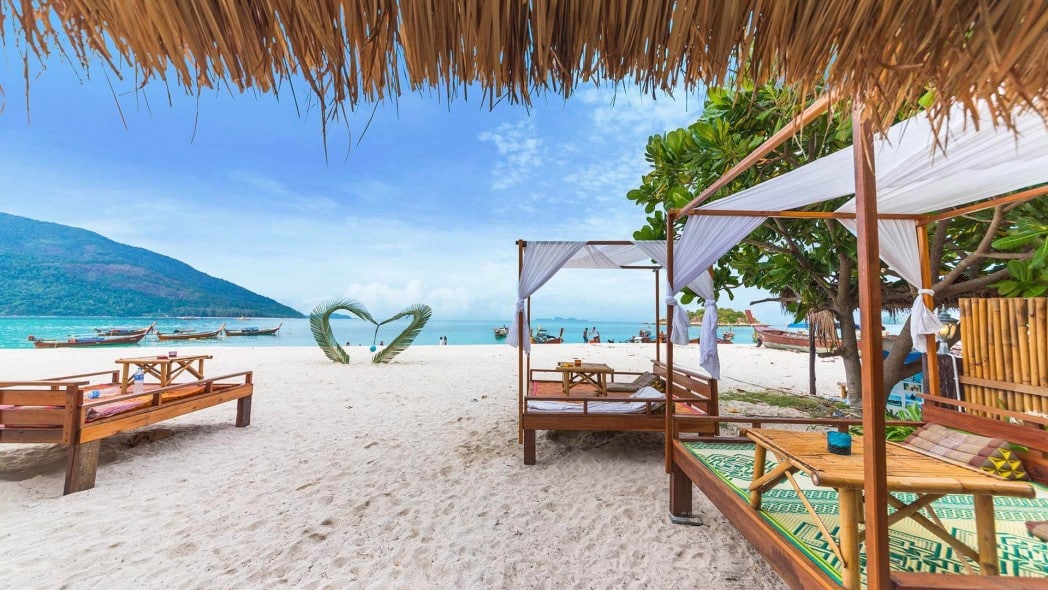 This beach deserves a spot of this list for its sheer picturesque perfection. True to its name, a beautiful sunrise can be witnessed from anywhere on its 2-kilometer long shores. The most peaceful way to start the day is watching nature work its magic. As the sun rises over the island-spotted horizon, you will feel an immediate connection with Koh Lipe, the most southern island on Thailand's west coast.
The beach is also excellent for snorkeling with the coral reef starting just a few meters off shore. There's no way anyone can resist a dip in the crystal-clear waters. Snorkel equipment is available to rent at a few of the resorts. If that's still not enough, there are several scuba diving shops on Sunrise Beach that will be more than happy to take your water explorations further.
As the day ends and the sun goes down, enjoy a cocktail right on the sand from one of the chilled-out beach bars or more up-scale resorts. Even though it's called Sunrise Beach, you can still witness an impressive display of colors at sunset, too!
Railay, Krabi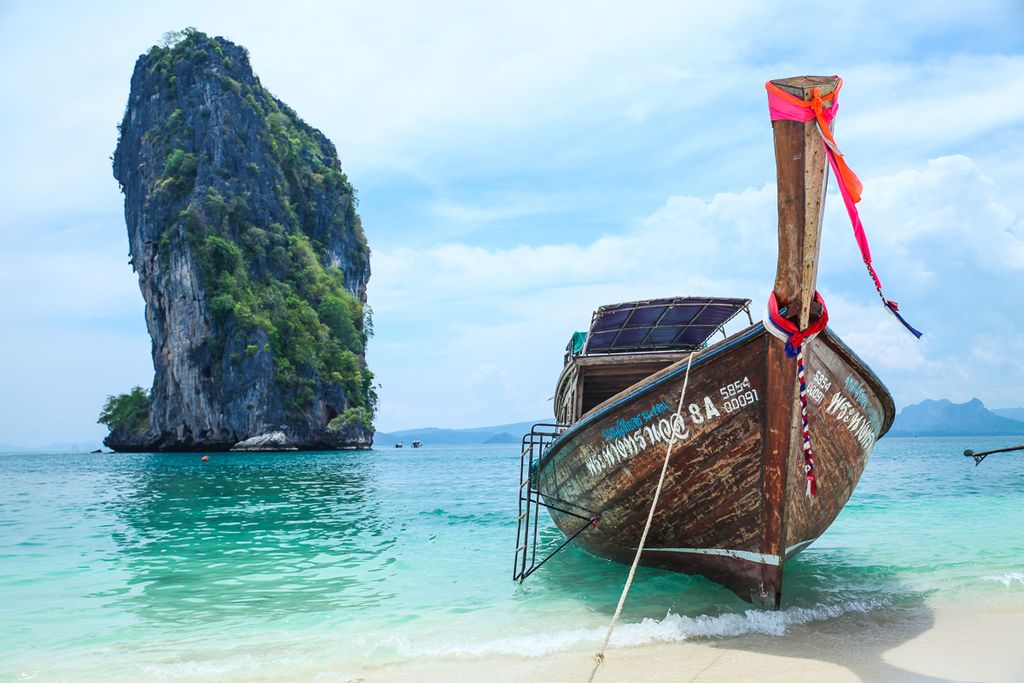 Just a 20-minute long tail boat ride off the mainland of much less attractive Krabi Town is a small peninsula known as Railay. Composed of three beaches, Railay is definitely popular, but for very, very good reason.
Railay is not an island, but it is only accessible by boat due to its thick jungle surroundings and stunning limestone cliffs. This gorgeous landscape can be appreciated from any of the three beaches; Railay East, Railay West, or Pra Nang Bay. All these beaches are within walking distance of one another. There are no real roads on the peninsula, giving it the feel of a real island.
West Railay and Pra Nang are the most beautiful of the three beaches. The limestone cliffs close slightly around the shores, creating lagoon-like environments. There are also striking limestone karsts (jagged rock formations) that rise on either side of the sand, as well as in the middle of the ocean. Picturesque is an understatement.
Railay Beach is now known as a big resort-style, family destination, but you can still find some basic bungalows for budget travelers along East Railay.
The rock formations in this area are ideal for rock climbers who flock here for the idyllic environment nature created for them. There are hundreds of climbing routes and this area has become world-famous for its conditions. Not to mention the view from the top is pretty spectacular!
Tonsai Beach, Krabi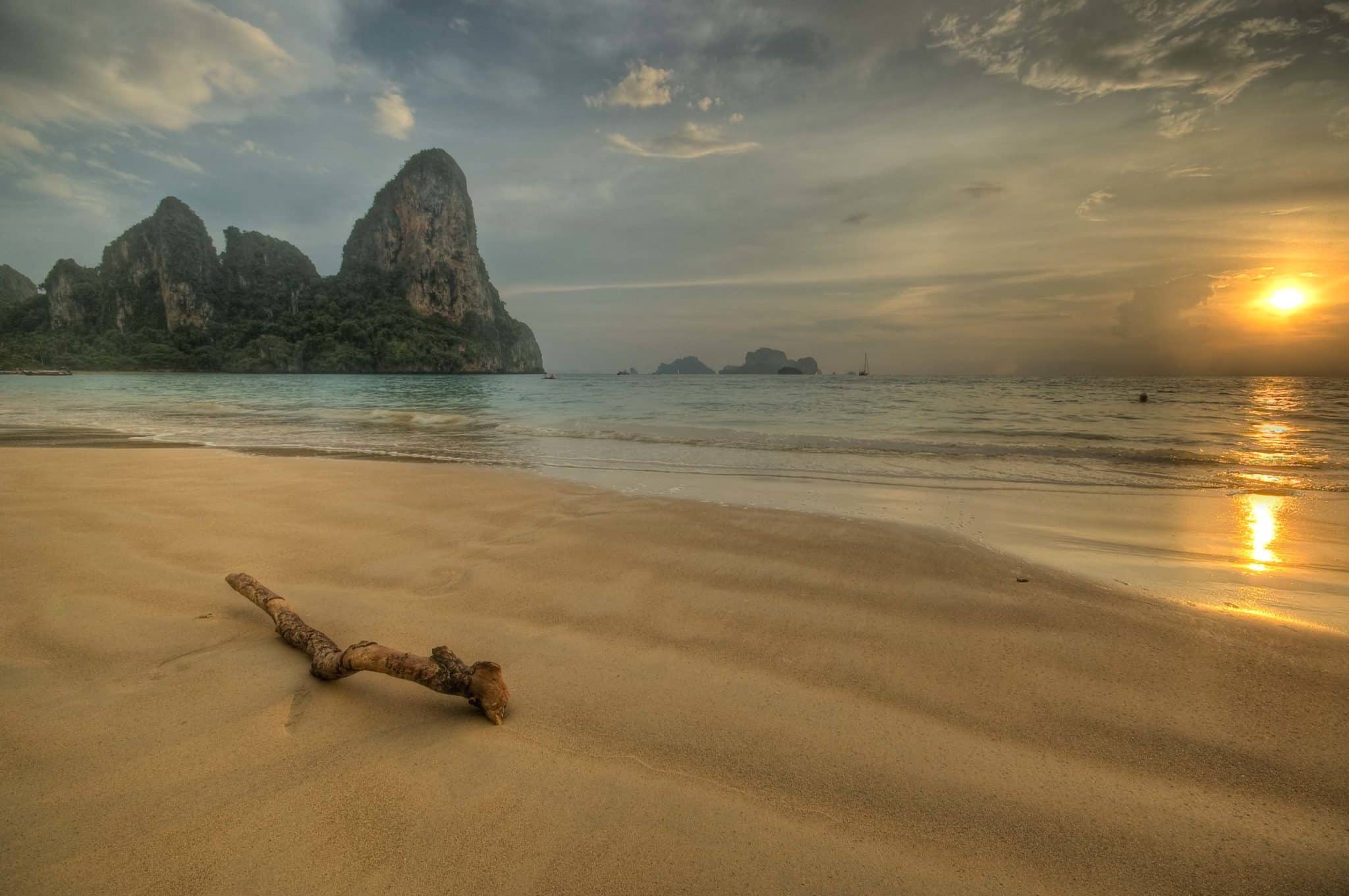 Literally just around the corner from Railay West lies a smaller, less developed piece of paradise. Tonsai Beach is separated from the Railay peninsula by a short 20-minute jungle trek. The benefits of Tonsai are the less expensive accommodation, and food. Overall Tonsai is more affordable than its ritzy Railay neighbor. Note that many accommodations on Tonsai cut the electricity during the day.
Tonsai is much more suited for backpackers or budget travelers who seek basic bungalow accommodation. Don't be fooled though, Tonsai is just as beautiful as Railay. The beach has a cozier feel due to its smaller size and denser jungle environment. The same striking limestone karsts rise on either side of the beach and the sunset views are sprawling and unobstructed.
Tonsai is just as good, if not a better place to rock climb than Railay. The clientele here is younger and has a more "hippie" vibe. There are several climbing shops where you can sign up for first-timer lessons.
Another fun activity that runs from Tonsai is Deep Water Solo Climbing. This entails a boat trip to some limestone cliffs. Begin the climb from the water with no ropes. When you let go, you fall right back into the water. A thrilling way to spend the hot days in Thailand.
Khanom Beach, NaKhon Si Thammarat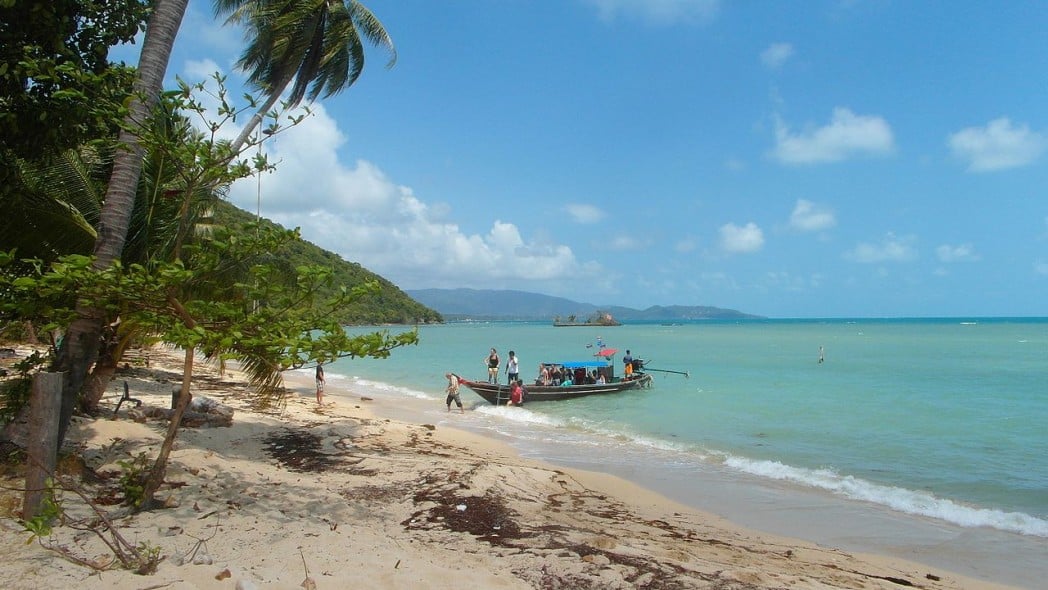 This perfectly preserved piece of sand is virtually unheard of to any tourist visiting Thailand. Khanom Beach is a place for Thai locals and the ever-growing ex-pat community, specifically English teachers. It is the best kept secret of all of Thailand's beaches.
Khanom is in the NaKhon Si Thammarat Province, which sits on the east coast of Thailand. However, the beach lies close to equidistant between the cities of Nakhon Si Thammarat and Surat Thani, the neighboring province. English teachers from both these cities gather at Khanom on the weekends to enjoy the extremely chilled-out beach.
The main draw of Khanom is the quiet, peaceful, atmosphere and the undeveloped tourist market. The rugged beauty of this area does not go unnoticed by any visitor. Serenity is the name of the game here.
There are several family-run accommodations along the beach; very basic and quiet bungalows, just a short distance from the sand. There are several more comfortable hotels to stay in as well.
Jam Bay, a locally run beach bar, provides cold beers and live local music into the early morning. You can even rent tents from the bar and camp right on the beach. Cee-Cee's resort, less than a kilometer down from Jam Bay, serves amazing breakfasts, and hosts a fun little bar in the evenings.
Memories Beach, Khao Lak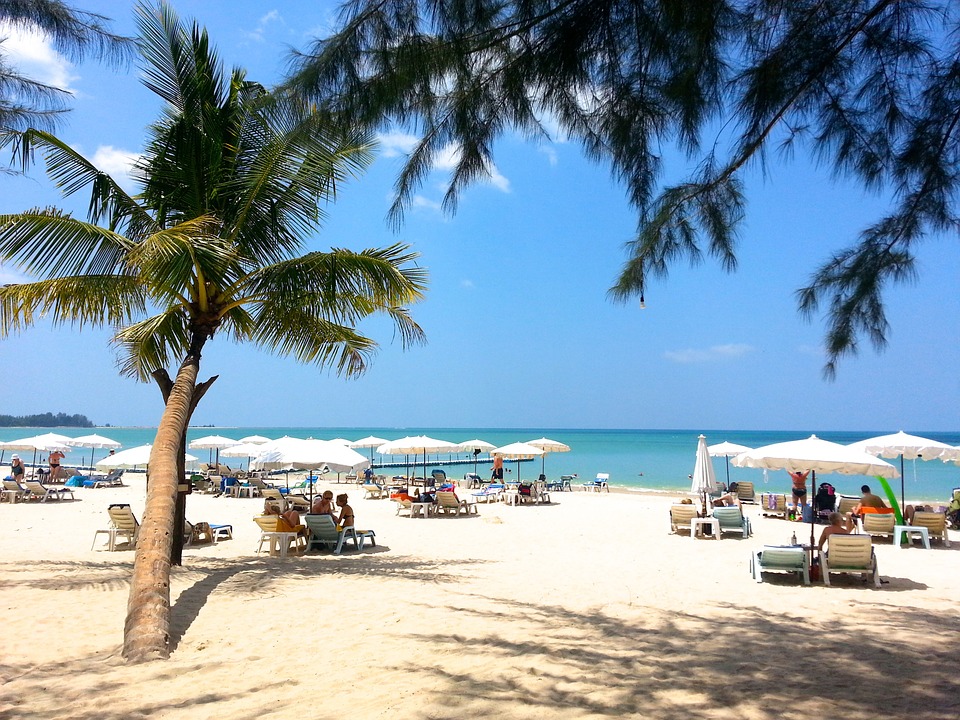 On the west coast of the country facing the Andaman Sea is the up-scale resort destination of Khao Lak. This area was severely damaged in the 2004 tsunami and has since been rebuilt. The bigger and stronger Khao Lak has lines of massive resorts on the 8-kilometer stretch of sand, but many of them are reminiscent of high-walled concrete fortresses. Safe and all-inclusive, there are plenty of clientele that prefer this style of Thailand.
HOWEVER, the best beach in Khao Lak is not located on this strip of sand. While all the beaches are lovely, there is one that differs from the rest.
Memories Beach is located a few kilometers away from the main strip and can be accessed via motorbike or tuk-tuk.  Memories Bar & Restaurant was created in 2009 by Ching. He chose this location because it's the same site as his family's restaurant, which was destroyed in the tsunami. The name of the beach, bar, and restaurant pays homage to those who lost their lives in the disaster.
Memories Beach is a far cry from the concrete jungle that has consumed most of Khao Lak. Here you will find simple bungalow accommodation, a tiki-style bar and restaurant on the sand, and basic bamboo cabanas and umbrellas dotting the shore. Memories Beach also has one of the only surf shops in town. That's right – this beach is one of the very few places in Thailand you can catch a wave. Surf board rentals and lessons are available at Pakarang Surf shop.
Khlong Kong Beach, Koh Lanta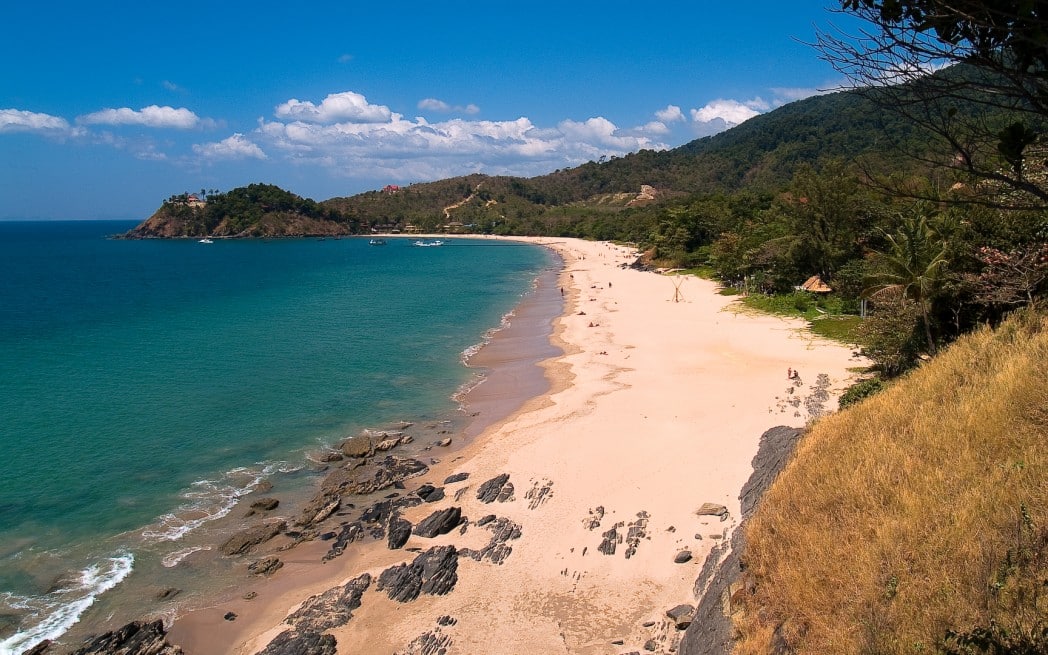 South of Khao Lak, also located in the Andaman Sea, is the island of Koh Lanta. A big, and well-developed island, Lanta is popular with a wide variety of tourists. There are plenty of budget accommodations for backpackers, as well as comfortable up-scale resorts for those who seek a little bit of luxury.
Starting in the north and running all the way to the southern tip, Lanta's west coast is lined with beaches. Each little subdivision of the island has its own stretch of sand.
The loveliest by far is Khlong Kong Beach, about mid-way down the island. Just south of the island's most popular Long Beach, Khlong Kong is more peaceful. The whole beach is lined with bamboo beach bars, oozing hippie vibes with reggae music and psychedelic-style signage. Post up at any one of these spots for the day and you'll be sure to lose all track of time.
There are also plenty of fresh seafood restaurants and traditional Thai food joints with awesome views of arguably the best sunsets in Thailand.
Greek Taverna is quite possibly the best non-Thai food restaurant on the island. Run by a Greek couple, this toes-in-the-sand establishment is famous for its traditional Greek/Mediterranean-style food. The Chicken Souvlaki is not to be missed. If you stop by, tell Spiro (the owner) that Fiona and Harun say "hello!"
**************************************
Thailand has an infinite number of gorgeous beaches. This is just the tip of the iceberg, so to speak. Spending time on any one of these tropical havens will undoubtedly leave you yearning for more. Explore Beaches in Thailand for yourself, and discover even more secret paradises, sandy shores, and secluded Utopia's than you ever thought possible.