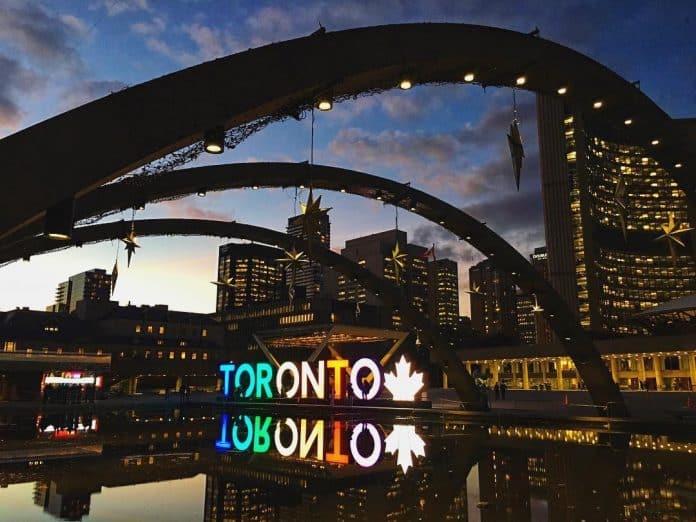 As a Canadian who travels the world, I have come to a strong conclusion that the majority of people don't know anything about Canada. They sometimes know about our 'overly polite' stereotypes or the mountains in British Columbia, yet whenever I talk about the amazing city of Toronto, people are always surprised. It is one of my favorite places in the world, and yes I am 100% biased when I say this, but once you visit Toronto you will understand why. It is a vibrant, fun, fast paced, and is an extremely multicultural city with millions of things to do.
Toronto is a hidden gem because the city is a lot more fun than people would assume, when visiting other countries around the world cities usually have one strong identity. In the case of Toronto there are thousands of identities that are mixed together. There is not a stereotypical look or style of a Torontonian, everyone who comes here feels welcomed. The friendly vibe of the city allows visitors to feel at home while exploring a new place.
The weather in Canada is extreme, winters are awful and I would strongly advise against visiting from December to March, and the summers are a lot warmer than expected from a Nordic country. Yet the four distinct seasons allow Toronto to have unique activities and events throughout the entire year.
In the winter there is free public skating in the downtown square, following this are the beautiful cherry blossom trees in High Park. The summer is filled with outdoors festivals like Caribana and the Toronto Island is visited frequently.
During the fall the orange and yellow leaves make for beautiful scenic strolls along the lake. Because there are so many things to do and visit such as beautiful gardens, attractions, museums, interesting stores, neighbourhoods bustling with personality and culture, and festivals that this is my list of places I think every tourist should explore.
The CN Tower
CN tower is the most iconic part of the city, it offers fantastic views of and at the top there is an area with a glass floor that allows people to look down at the ant like people walking on the street below. It is 553.3 meters tall, and it is possible to have an intimate dinner inside of the revolving 360 Restaurant.
It stands directly beside the Rogers Center, which is a place to visit for any baseball lover that wants to see a Blue jays game.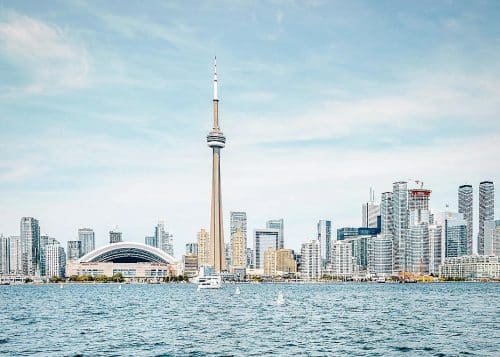 AGO – Art Gallery of Ontario
Not a lot of people think going to the Art Gallery of Ontario is a really fun activity, however I think this is an incredible museum to see and has an amazing array of art from different areas of the world and time periods.
There is a section on Canadian Art, Photography, Modern and Contemporary Art, Sculptures, and much more. On Wednesdays the public gets into the museum of free and I highly recommend going to check it out- even for a short period of time. The architecture of the building is extremely unique and it is worth exploring.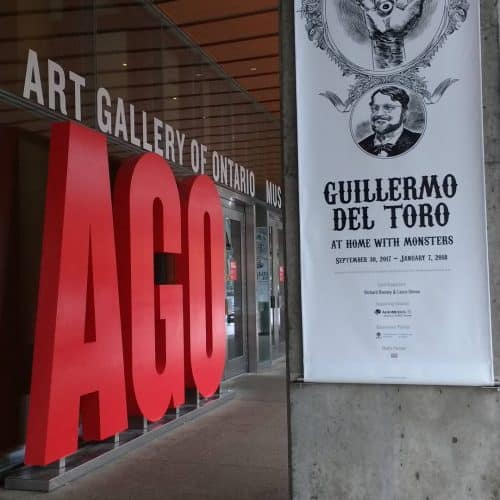 Queen Street
My favorite street in Toronto is Queen Street, because of the mile long shopping strip that is dotted with independent cafes, unique boutiques and some of the most random shops. There is so much character on this street, making it a really fun way to spend an afternoon.
Start at the massive Eaton Center and continue down Queen Street West to go window-shopping. Leave room to eat because there are so many little restaurants that serve cuisines around the world, making this a food lovers dream.
A popular place on Queen to visit is the Warehouse, this restaurant is known for its $5 menu and during the night it turns into a vibrant bar. Further down Queen, my absolute favorite place to grab drinks is at the Drake Hotel, the cocktails are unique and are filled with flavor, it is a relaxing place to go and hangout with friends. Right off of Queen there are the famous Kensington Market and China Town, which are both sections of the city that are filled with Charm and character.
The Drake Hotel's score at booking.com
Kensington Market
This part of Toronto is known for its colorful, whimsical, trendy, and urban vibe. It is the home of vintage and up scale thrift shopping, but has a variety of unique, bohemian shops and a lot of food places to try.
Every week there are Pedestrian Sundays, which allows walkers to rule to roads and there is always a variety of live music, performers, dancers, and vendors.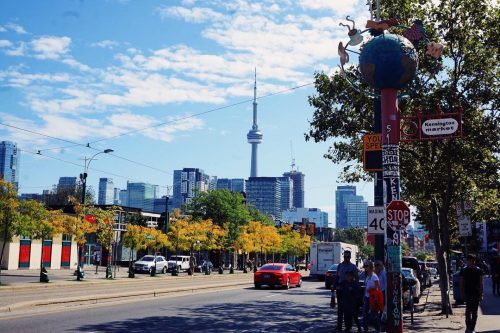 When it comes to eating, two of the best places to try are Seven Lives and Wanda's Pie in the Sky. Seven Lives is an authentic Mexican join that serves tacos to go, making it the perfect place to grab a tasty snack before exploring the neighborhood. Wanda's Pie in the Sky is a bakery styled restaurant that is a great place to go for coffee, perogies, and desserts, if you visit you need to try the Key Lime Pie.
After the sunsets, this area is a center for going out for drinks and dancing.
China Town in Toronto
This cultural hub allows visitors to feel as if they are in Asia for a moment before seeing the CN tower. The signs on the streets are in both English and Mandarin and food markets filled with fruits and vegetables are all along the sidewalks.
Some of the best dim sum is served in this area and there are so many authentic and traditional Asian food restaurants in China Town.
The Distillery District
This area is a bit further away from the center core, however it one of the best places to explore. With its rustic buildings from the Victorian-era and charm this district is home to fashion boutiques, cafes, bakeries, galleries, antique stores, trendy bars, and restaurants.
With beautiful cobble streets and intimate lights strung along the streets this is a wonderful area to visit. If you happen to find yourself in Canada during December, try going to the Christmas markets in the district to do some of your shopping.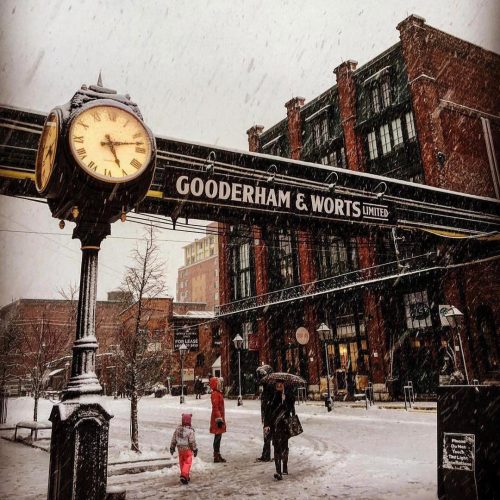 Lakeshore Boulevard
For a more scenic view of the city I would recommend strolling along Lakeshore Boulevard to see Lake Ontario. There is always something going on whether it is a music festival or a food truck frenzy.
Along the harbor front is where tickets for the ferry to Toronto Island can be purchased, which is a really fun experience. From the ferry you are able to see the beautiful skyline of Toronto, and the Island is a great way to get away from the fast pace of the city.
Nathan Philips Square
This is the center of Downtown, with an outdoor skating rink in the winter and a fountain in the summer this square is a hub of activity. The old city hall is beside the iconic Toronto sign that lights up in different colors.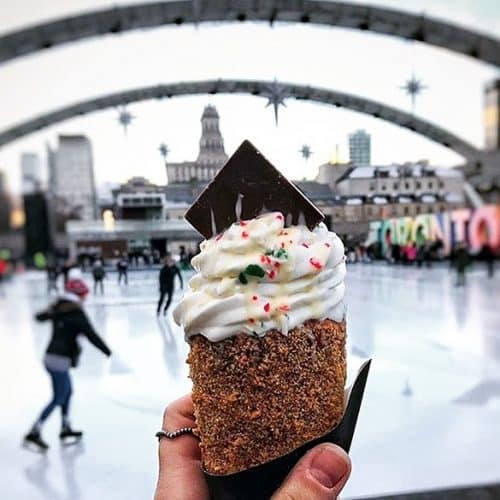 Near the downtown core is one of my favorite restaurants in all of Toronto, Suko Thai, for any pad thai lover this is a must visit. Another area to eat in the downtown core is the Richtree Market, designed as an upscale cafeteria there are endless options of food, such as a crepe station, it is a great place to sit down or grab something to go.
In general, the downtown core is a fun place to explore and it has a lot of character.
********************
During the day there are a lot of things to see in Toronto, because it is a great city for walking, but after dusk the streets come alive with nightlife.
There are so many bars and clubs in the urban jungle that are catered to people of different ages. Some of the best ones to visit are Union, Market Place, Cabana Pool Bar, and Ballroom Bowl and Bistro. Union is a classic, large club that has a variety of lights, sometimes-live music, and it plays R&B and pop music. Market Place falls into the category of a dive bar on the spectrum of clubs, with a variety of tapas style foods and a dance floor this trendy place is always a good time. Cabana Pool Bar is only open seasonally and is a place to enjoy a cocktail on a hot day. The Ballroom Bowl and Bistro is a combination between an entertainment center and a bar, it has bowling, ping-pong, pool, and a dance floor. Within the city there are hundreds of different types of bars and clubs to visit.
Toronto is a diverse and welcoming city and has a fantastic food scene, is tourist friendly, and is really safe. There is so much to discover and my list of favorite places only scratches the surface of areas of visit within the city.
Be sure to research different festivals that are happening throughout the year because they can be an incredible addition to a tourist's experience. There is a never-ending list of activities to do and you should check out Toronto if you love culture, architecture, museums, food, art, and nightlife, because it is a fantastic place to learn and discover.