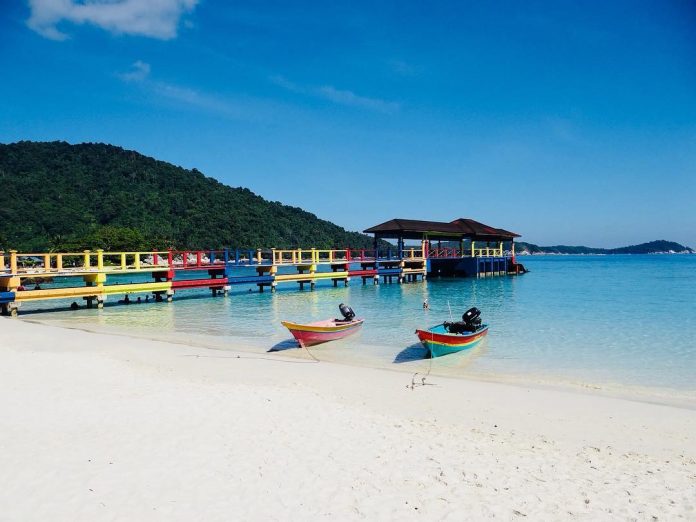 The best part about the Perhentian Islands is the simple style and lack of development. As other nearby islands in Thailand and Malaysia blow up into tourist hot-spots, these two gems have somehow managed to retain their rugged beauty and deserted island charm.
The Perhentians are made up of two islands; Pulau Besar and Pulau Kecil, meaning Big Island and Small Island in Bahasa Malay. Located on the east coast of Malaysia off the mainland of Kuala Besut, these islands are frequented by locals, ex-pats, and backpackers.
What's all the fuss about? First, the quick 30-minute speedboat ride from the mainland makes these islands easily assessible. The vibrant turquoise water, white-sand beaches, excellent and inexpensive diving, undeveloped jungle treks, and variety of accommodation are the reasons the Perhentians' popularity continues to increase.
The Perhentians are islands that people often return to once they've experienced their initial visit. Perhaps it's the feeling of having discovered your very own piece of paradise; the untamed jungle, bamboo bungalows, and make shift wooden bars and restaurants certainly provide a unique island feel. Whatever the reason, local Malays and globe-trotting travelers can't seem to get enough of these South China Sea jewels.
Getting to the Perhentian Islands
Most people start their journey to the Perhentian Islands from the Malaysian capital, Kuala Lumpur.  From KL, travelers must endure an 8-hour bus journey to the pier in Kuala Besut, a very small city in the northeast corner of the country.
You should know that really the only time to visit these islands is from March – October. This is high season, which has consistently great weather, calm seas, and plenty of boats running to and from the mainland. In the off-season, also known as Monsoon Season, there are usually torrential rains, very rough seas, and a massive decrease in boat transport. All scuba diving shops and most accommodations close during this time. There are a few restaurants open to serve the locals who live on the islands year-round, but the islands are essentially shut-down to outsiders.
*HINT: taking a night bus is the best way to make the trip from Kuala Lumpur to Kuala Besut more bearable. You'll depart Kuala Lumpur around 9:30pm and arrive at the pier in Kuala Besut between 5am – 6am; just in time to get the first boat to the islands at 8am.
PULAU KECIL (Small Island)
Don't let the name fool you – the Small Island's size doesn't mean it's any less special than neighboring Big Island. In fact, quite the contrary. Pulau Kecil is the island you want to stay at if you're looking for a younger crowd, more backpacker-friendly prices, and late-night beach parties. It also has the largest collection of dive shops, arguable one of the best beaches, and a killer view of the sunrise.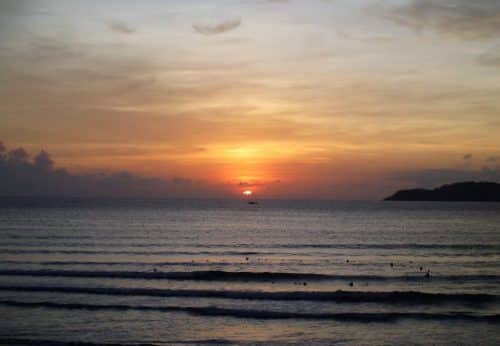 Shrouded in lush, thick jungle with two main beaches and a spattering of other secluded bits of sand, Kecil claims an untouched vibe despite the small-scale development. The parts of the island that have been developed have been done in way to preserve the naturally beautiful environment.
Long Beach
East-facing Long Beach is the 1-kilometer strip of sand known for blaring techno music into the wee hours and selling locally-brewed rum by the bottle. However, if you're picturing a Thai-style full moon party scene – don't. It's not like that in the Perhentian Islands. Long beach has 3-4 consistently functioning bars at any one time, and that's it. Don't expect mile after mile of copy-cat beach bars. Long Beach is original, small, and as laid-back as it comes.

By day, Long Beach is a super chill place for sunbathing, swimming warm shallows, or lunching on the sand. In March and September (the end and beginning of Monsoon Season, respectively) you can even rent a surfboard and catch some small waves.
Accommodation
Long Beach varies a lot in terms of accommodation. On the north end of the beach you'll find Bubu's, the highest quality resort on the island. It's pricey, but right on the sand, and serves some of the best food and drink on the island.
Bubu Resort's Score at Booking.com
On the other end of the spectrum, you'll find places like Symphony. These are basic (and we mean baaay-sic) bungalows right smack in the middle of Long Beach. You get what you pay for – a bed, mosquito net, and a fan.
Mid-range options are the best bet on Long Beach. Bungalow complexes like Rock Garden and Panorama offer decent deals. Ohh La La Guesthouse has mostly private room, two dorms, a chill vibe, and its' own (and in my opinion, the best) bar and restaurant on the island. This is the place to meet other young travelers and backpackers. Grab a pizza, a bottle of Monkey Juice (local rum), and chill out until closing time with the other travelers.
When Ohh La La closes, hop to the late-night Monkey Bar just next door. Wander a couple hundred meters down the beach and you'll find Beach Bar, a late-night spot for dancing, loud music, and lots of booze.
Things to do on Long Beach
Other than party include swimming, sunbathing, and lots of chilling. There's a cool little jungle trek that starts behind Bubu's Resort. The trek climbs up to an old wind turbine at the top of Kecil. The hike takes only 20-30 minutes and provides an excellent panorama of the bay and surrounding islands.

You can also carry on this path and eventually you will reach D'Lagoon, a small beach, resort, and dive operation on its own private little plot of sand.
Coral Bay
West-facing Coral Bay is only a 20-minute walk across the heart of the island, but it might as well be a world away. Known for its' laid-back atmosphere and calming vibes, Coral Bay is a stark contrast to Long Beach.
There are no beach bars or raucous parties on this side. Just plastic tables-and-chairs-in-the-sand shacks called restaurants, and few accommodation options ranging from comfortable to budget. If you're looking for reasonable prices, but prefer to steer clear of the night life, then Coral Bay is for you.
Accommodation in Coral bay isn't plentiful. The nicest option is Shari-la Island Resort, perched up on the rocky western point of the beach. Other than that, there are mostly low-range options like Butterfly and Senja.
The best part about Coral Bay are the amazing sunsets and the tasty beach side BBQ joint.
PULAU BESAR (Big Island)
The Big Island is indeed larger in area than Kecil and is overall more family friendly than its' party-hardy cousin. Pulau Besar is similar to Kecil with its dense green jungle and white-sand beaches, however the vibes couldn't be more different.
Besar is quiet and peaceful. Days are spent lazily lounging on the sand and nights come to an early close when the restaurants close around 10pm. You can find alcohol on the Big Island, but not every establishment serves it; the locals running the Big Island are an older, more conservative generation. Therefore, Besar is best suited for couples who want their private time, or families who don't want to worry about any loud music or drunken neighbors.
The Big Island is known for having high quality accommodation and being a little more expensive than the Small Island.
Accommodation
There are several decent options for accommodation on the west side of the island. Mama's Chalets offers waterfront bungalows and is the most budget-friendly. Coral View's rooms are a step above Mama's and the location is slightly better, built right on a nice strip of sand. Around the corner, Perhentian Islands Resort (PIR) boasts the nicest rooms, built on 800-meters of beach. This side of the island is probably the quietest. Restaurants close early and only one or two places serves alcohol.
Tuna Bay Resort, which is only a 10-minute jungle trek from Mama's Chalets, is also a west facing section of Besar with a little more spunk. Not much more, but a little.
Tuna Bay Resort's Score at Booking.com
In the Tuna Bay area, there are more accommodation options ranging from resort style to basic. There are more local stores, stalls, and restaurant/bar combinations than Mama's area. Many people walk over from Mama's to have a drink at either Tuna Bay Resort or Coco Hut. Both places have excellent sunset views, yummy local dishes, and creative cocktails. If Mama's sounds a little TOO quiet, Tuna Bay is the next best spot on the Big Island.
Flora Bay is a sprawling beach on the south side of the island, accessible via a 30-minute jungle trek from Mama's Chalets. The only option for accommodation here are more up-scale resorts like Flora Bay Resort and Awana Resort. Families and couples on short holidays are the usual patrons.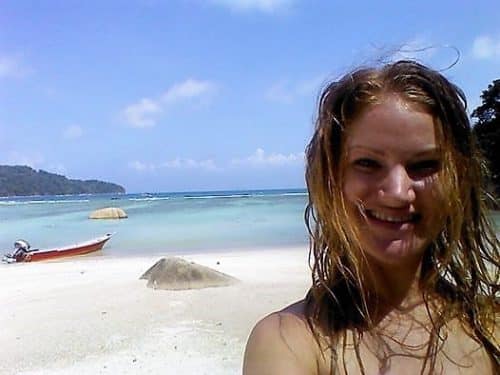 Serene and never over-crowded, the beach here is considered one of the best on the Big Island.
SCUBA DIVING
The Perhentian Islands are very recognized throughout Malaysia for Scuba Diving. While it's overshadowed by world-renowned dive destination Pulau Sipadan in Sabah's Borneo, the Perhentians are still a great dive locale in their own right.
All of the same dive sites are accessible regardless of whether you stay on Besar or Kecil. The above mentioned beaches and accommodations have nearby or even attached dive shops. Long Beach has the most options in terms of dive shops, but don't waste too much time shopping around; you'll find the prices for dive course and fun dives are relatively the same across the board.
Open water courses can be completed here in 3 days. After this course you'll be a fully-fledged licensed scuba diver with the certification and training that allows you to dive anywhere in the world. The Perhentian Islands offer this course for around $250 USD, one of the cheapest prices in the world! The easy conditions, proximity of dives sites, and variety of marine life makes these islands a super place for first-time divers.
Fun dives can be booked if you're already a certified diver. Beginner to experienced divers will all find something to enjoy about the diving here. The Perhentian Islands boasts four wreck dives, coral reef and pinnacle dives, and a few muck dives and drift dives. Many of the sites are shallow, but there are more than a handful of sites that plunge down below 18-meters. Prices for fun dives range between $18 – $23 USD – equipment included.
The most famous sites include Sugar Wreck, a 90-meter long cargo ship, Temple of the Sea, a mighty pinnacle rising up from 26-meters in the middle of the sea, Vietnamese Wreck, a U.S. aircraft landing vessel that's been sunk since the '70s, and Terumbu Tiga (T3) a massive site composed of huge boulders and swim-throughs.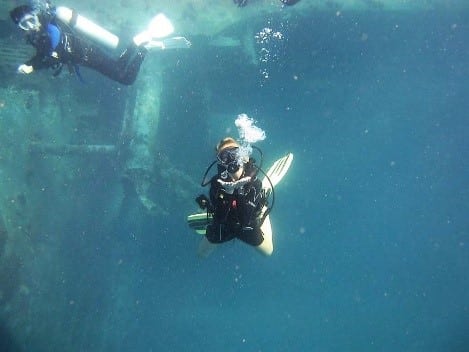 Marine life around these islands include boxfish, angelfish, snappers, trevally, green and hawk bill turtles, reef sharks, hump head parrot fish, scorpionfish, lionfish, moray eels, puffer fish, stonefish, shrimps, nudibranchs and much more. There's usually always a whale shark spotting near the end of the season in September, too!
********************************************
In my opinion, the Perhentian Islands are the most unique islands left in Malaysia. For all their popularity, the development still remains low-key (however that will likely change in the next 5-10 years) and on par with the islands' natural beauty.
The few concrete hotels that have been built here look out of place next to the simple wooden and bamboo bungalows. Retaining the islands' allure is clearly one of the locals' priorities.
My biggest fear for these islands is the looming transformation into party-haven Koh Phi Phi or ex-pat overrun Koh Tao (both in Thailand). Somehow, the Perhentians have been able to stave off overdevelopment and consumerism. My hope is that Besar and Kecil will stand strong in the face of tourism and capitalism by refusing to allow itself to become yet another tropical paradise lost.
I'm rooting for you, Perhentian Islands!