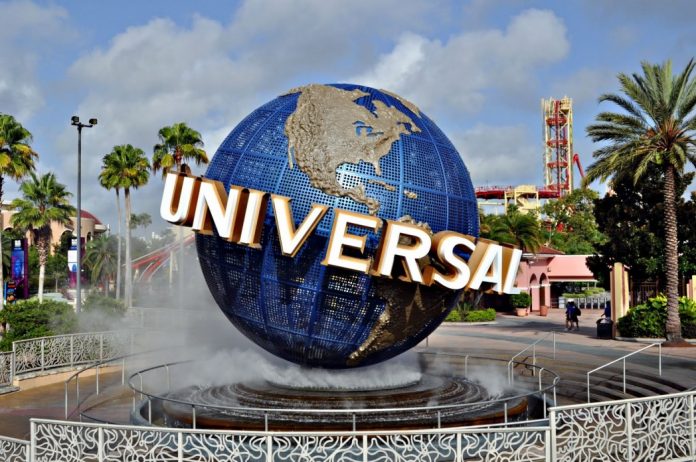 Universal Studios Japan, having opened in March 2001, was the first theme park within Universal Studios to be built in Asia. Besides for being the second most visited theme park in Japan, Universal Studios Japan entertains its many visitors with eight remarkable world's: Hollywood, New York, San Francisco, Jurassic Park, Waterworld, Amity Village, Universal Wonderland and The Wizarding World of Harry Potter.
The magical lands of Universal Studios Japan thrill visitors with their attractions such as exhilarating coasters, child-friendly carousels and interactive movie-themed simulators.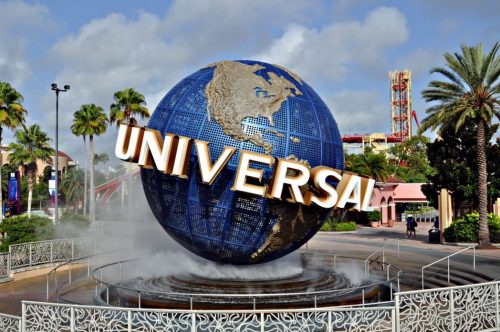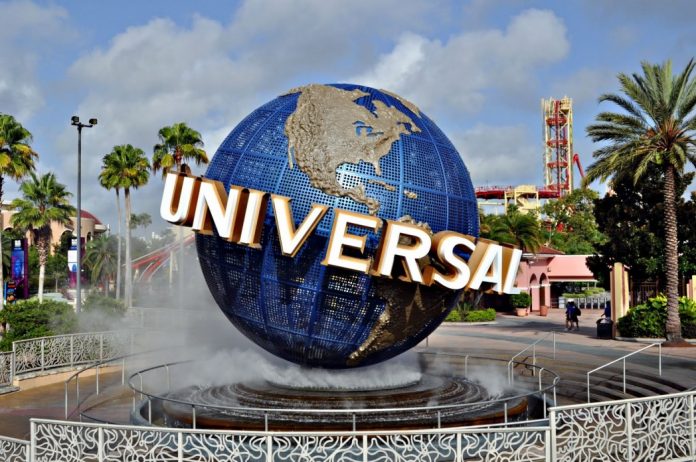 Universal Studio, Top Rated Attractions
The Flying Dinosaur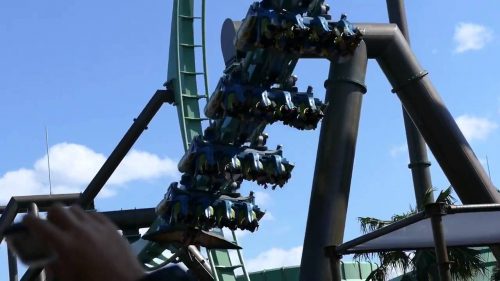 Located in Jurassic Park, this ride is one of the newest attractions in Universal Studios Japan. The Flying Dinosaur, holding the record as the world's longest flying roller coaster, harnesses its passengers face down in the air as a Pteranodon dinosaur clutches them and soars into the sky. The effect has passengers feeling as if they are truly gliding through the skies of the Prehistoric Ages.
Harry Potter and the Forbidden Journey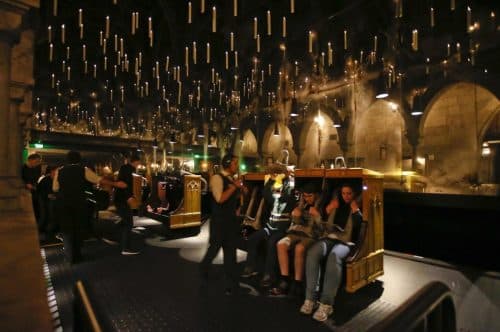 Placed within The Wizarding World of Harry Potter, this ride has held the record for the Best Dark Ride for five consecutive years. By using amazing and the new 3D technology, Harry Potter takes his passengers on a journey through darkness and a world of magic. Each passenger will truly feel as if they have woken up in a dreamland of wizards, gremlins, fantasy creatures, and magic.
The Amazing Adventures of Spiderman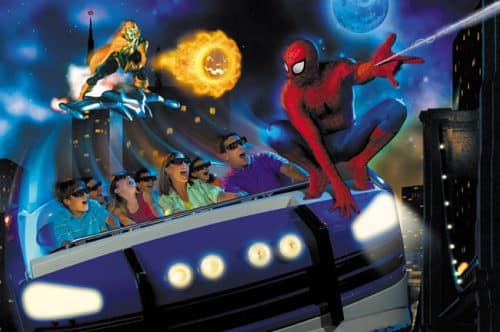 Travelers will find Spiderman's 3D simulated ride in the world of New York. The ride won The World's Best Attraction and was first to win World's Best Ride award for 7 consecutive years. Like Harry Potter, the ride uses the newest 4K3D technology to morph reality and imagination together to create an unbelievable experience of action.
Hollywood Dream – The Ride – Backdrop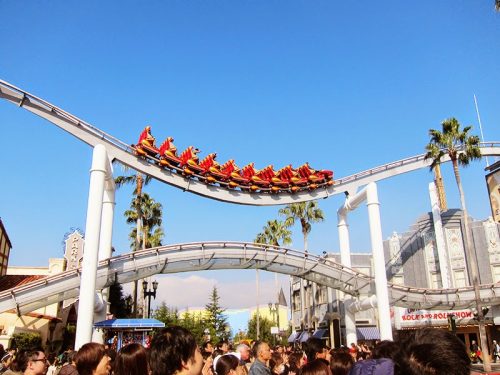 The ultimate ride for the travelers seeking an exhilarating thrill. Located in Hollywood, Hollywood Dream uses the magnificent technology of the world's leading roller coaster manufacturer to present riders with a 43 meter tall coaster that runs backwards. Passengers are pulled to tremendous heights, with their backs to the ground, and then are plunged back down.
Jaws Universal Studios Japan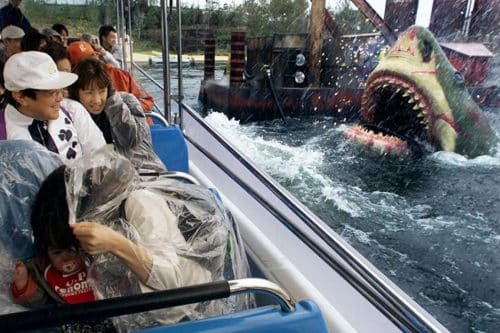 Starting out as a peaceful boat tour in Amity Village, passengers enjoy the friendly atmosphere before the chaos of a man-eating shark attack stunt their more mellow moods. A shark, with massive jaws and teeth sharper than razors, appears out of the depths of the ride's water and has riders in a frenzy scare.
Where to Eat
Within all of the extraordinary lands of Universal Studios Japan, there are many themed restaurants nearby too, not only fill the empty stomachs of Universal's visitors, but also entertain. Whether the family is craving an All-American meal, like the restaurant 'Mel's Drive-in' serves, or a more exotic cuisine, like 'Lost World Restaurant' serves, there will be many options for satisfaction. Options range from themed restaurants to Japanese-inspired dishes.
Some of the Top Rated:
Saido
Located in the land of New York, Saido is a Japanese-style restaurant that provides table service for it's guests.
Three Broomsticks
A tavern located in The Wizarding World of Harry Potter, this restaurant is known for its specials of Butterbeer and a traditional British meal of Fish and Chips and Shepherd's Pie.
Boardwalk Snacks
In case of rushing times, Universal also has many fast food and quick snack options. Located in Amity Village, this small town boardwalk stand offers many menu options for on-the-go food.
Other Attractions
Universal Citywalk Osaka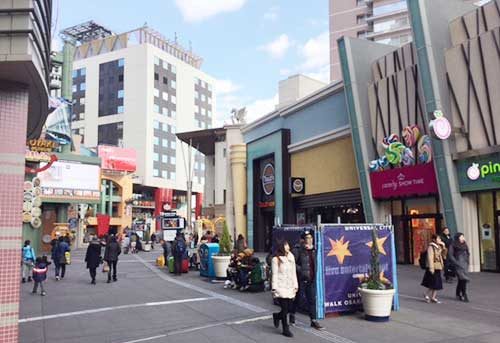 Just outside of the Park's gate is a shopping mall with numerous Universal hotels and even more restaurants and stores. The mall's shops sell everything from Universal Studios merchandise to brand name clothing.
Osaka Takoyaki Museum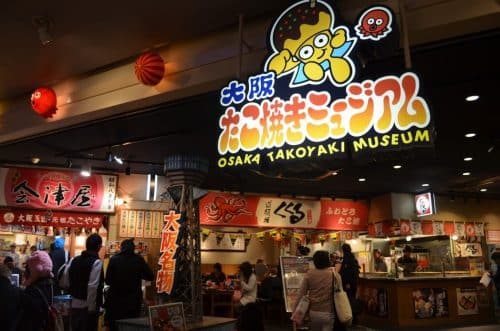 As if the Universal Citywalk Osaka Mall doesn't offer enough attractions, located on the fourth floor is a museum. Essentially, the attraction is a handful of traditional and popular local dishes held together in the same building.
Getting There and Getting Around
By train
Universal Studios Japan is about a five minute walk from the Universal City Station, which is located on the JR Yumesaki Line. From there, there are a handful of direct trains that take travelers directly to the Park.
By bus
Conveniently, Universal Studios Japan is accessible by bus from the Kansai Airport (1550 Yen/hour by bus) and the Itami Airport (930 Yen/hour by bus).
Express Passes
Like the FastPass in the Disney Worlds, Express Passes are offered to visitors in order to skip lines for certain selected rides. Passes can be bought with the option to skip lines for four rides (4,500-8,100 Yen) or seven rides (6,900-13,200 Yen)