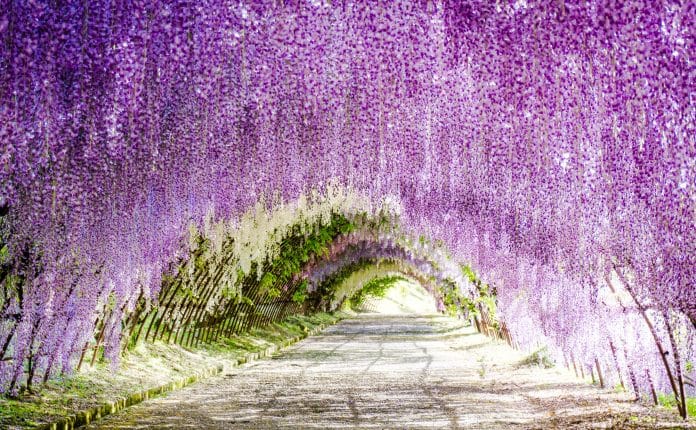 No matter which country you visit in the world today, there are often hidden places where you can get away from the crowded tourist sights. When visiting Japan you'll want to find the beautiful Wisteria Flower Tunnels.
Wisteria is a hanging plant with tiny purple petals. The flowers grow in small clusters that hang down from the tips of its long vines. It's in the legume family of Fabaceae that includes ten different species of woody climbing vines. It's more commonly found in the eastern USA, China, Korea, and Japan.
The vines naturally climb clockwise or counterclockwise around whatever human-made available supports are present. These plants can grow to heights of as much as 20 meters from the ground. They can also spread out over spaces of 10 meters. When you put them all together, you can have vast amounts of beautiful and fragrant acreage.
It's mainly considered an ornamental plant, and is not to be mixed up with the aquatic water wisteria plant which is completely unrelated.
The flowers gently move and swing with the breeze. This plant has fascinated the Japaneses for many centuries. It's no surprise that someone decided to create two tunnels for travelers to visit.
Exciting Information About the Wisteria Tunnels
The Wisteria Tunnel is located at 2-2-48 Kawachi, Yahata-Higashi-ku, Kawachi Fujien in Kitakyushu City, Fukuoka Prefecture, in southern Japan, close to the western coastline.
It's a privately-owned garden, but for a modest admission fee you can go and visit. The gardens became popular around 2012, when the first photos were shared online.
Plan your visit for around late April or the beginning of May. The best time of year to visit is during the spring, and in fact, it's the only time that the tunnels are actually open. This is when the flowers have fully opened up. The other time you're allowed to visit is during the autumn where you can see the leaves change to beautiful colors.
Did you know that if you visited any other time of year that the gardens would be a twisted mess of dead flowers, leaves, and vines? That's why it's so wonderful that the owners of the Wisteria Tunnels are so dedicated to their upkeep, especially since they only gather revenue for a few months each year.
On site are about 150 different trees that comprise 22 different types of wisteria. The garden flows over 10,000 square meters of area.
There are actually two different wisteria tunnels in this garden. One has wisteria growing along an eighty meter long tunnel, while the second tunnel is much larger, with wisteria growing over 220 meters long.
At the ends of each of the tunnels are large wisteria trellises. There are also wisteria trees individually on site. Some of these are over 100 years old.
Today, the Wisteria Tunnels are a popular tourist attraction that attracts visitors from around the world. You can bring a picnic lunch or purchase on site. Eat and enjoy a relaxing afternoon under these beautiful wisteria trellises.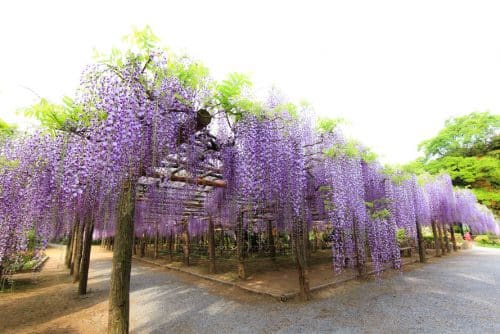 How You Can Picture This Fantastical World
The tunnels are along a long unpaved soil and stone pathway. There is a tall black wrought iron metal structure, much like a half-tubing, that covers the tunnel. This is what the wisteria grows over. It loves to clutch the frame as it grows, until much of the tunnel is covered in fragrant flowers.
The tunnel has wisteria of varying colors, from white, to mauve to dark purple. You'll also be overwhelmed with the lovely fragrant and fresh scent.
Being inside the tunnel will not only shut out the busy sounds of the world, but also make you feel peaceful and relaxed inside.
It's no surprise that wisteria is the flower symbol that Buddhists use to represent prayer.
Many people may visit the gardens and find themselves imagining magical or mystical worlds full of fairies, elves, gnomes, and dragons. Many creative folks may even travel to the wisteria gardens for inspiration for their latest book, play, or painting.
Healing Aspects of the Wisteria Flower Tunnels
Many people are recovering from injuries, disease, or mental illness. Being outdoors is one of the number one cures for people who are in recovery mode. Not only does it calm and soothe the mind, but the fresh air generated by the wisteria plants can make you feel good too. And it's also been proven that the pleasant scent from the wisteria flowers can give you a boost in mood too.
If you have any family members who seem to be taking a bit too long to recover from their illnesses or accidents, suggest bringing them on your trip to Japan. Here they can rest and relax, while the more adventurous members of your family go running around Tokyo or the rest of Japan.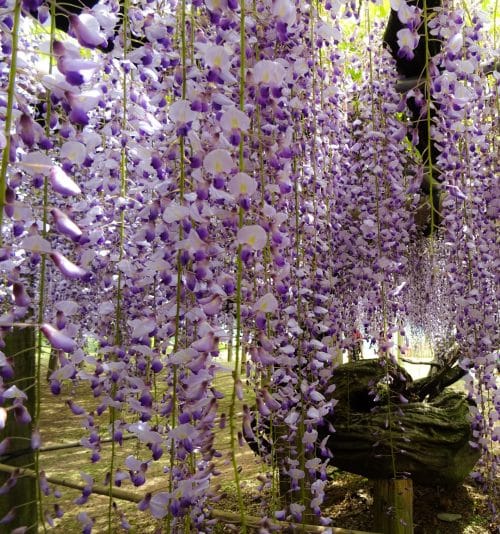 What Do I Need to Know to Plan My Visit?
The gardens are open in spring and fall from 9:00 am to 6:00 pm on these days. You will have to pay an entrance fee of 300 yen to 1,000 yen. The fee changes depending on how far along the flowers are in the season. You may not see as much in the fall, so you pay less, but still get to enjoy the outdoors, and the changing colors of the leaves.
You should be aware that the gardens are located in the mountains and are not that easy to access. This is likely part of their hidden charm, and that they won't be swarming with tourists when you go.
If you're driving from Tokyo, it's about a four hour trip. You can also fly to Fukuoka from Tokyo airport.
If you're travelling to Fukuoka, from the airport you can hop on the subway, then take a JR train to JR Yahata Station. This only takes about an hour. From this station you'll need to hop on a bus to the Kawachi Shogakko-Mae bus stop, which is about 20 minutes. From here, you walk to the garden for a 15 minute walk.
Alternatively, if you're a senior or have kids, you may wish to rent a car or hire a taxi cab to drive you in from the station or bus stop.
You should plan on spending at least two or three hours in the gardens. If you bring a meal, or purchase one in the gardens, you can add some extra time to your visit. Note that they only sell Japanese foods in the garden. But they do have this delicious wisteria-flavored ice cream that you must try! But do note that once you arrive here, it can be tempting to stay all day long.
If you plan on doing photography, you may wish to add an extra hour or two to your travel itinerary, as there is a lot of distance to walk and sights to photograph.
If you want a tip, arrive at about 8:30 am to get in the lineup. Then you can take all your amazing photographs before the crowds arrive. But don't worry, as the garden is quite vast, so even though there could be hundreds of people there, they will be spread out over the acres, and you'll still get to enjoy the vast peace and quiet of the park.
The Annual Wisteria Festival
If you're excited about visiting the Wisteria Flower Tunnels in Japan but open to travel dates, you may also be excited to hear that there is an annual Wisteria Festival too! In Japanese, the festival is called "Fuji Matsuri".
This festival occurs around April 27th to 29th each year, at the end of "Golden Week". Be sure to check online before planning your trip. While it will be busier during these times, many events are planned, and you can share your love of these purple flowers with other people from around the world.
********************
Plan Your Wisteria Flower Tunnels Vacation Now!
It's no surprise that many people plan their trips to Japan around the Wisteria Flower Tunnels. And if you view just some of the beautiful wisteria photos, we're sure that you'll be ready to buy your plane tickets right now!
Remember to check the dates on any special events or festivals in advance, and to also check hours and opening dates. Takes about six hours from Tokyo to get to the Wisteria Flower Tunnels, so you can certainly plan for a day trip away from the big city.
After you visit the Wisteria Flower Tunnels, you'll feel recharged and energized, and ready to tackle the rest of your travel itinerary in Japan. But don't be surprised if you find yourself back at the Wisteria Tunnels in Japan again. The pretty cool purple of the flowers, the fragrant smells, and soothing atmosphere, make many people to be drawn back to the Wisteria Tunnels.