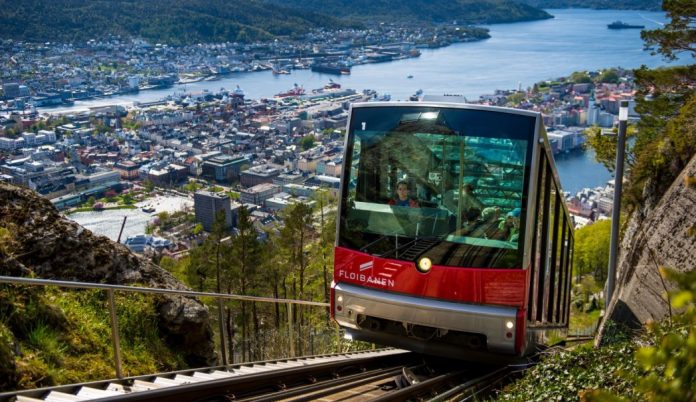 Bergen is known to be the gateway to the Fjords in Kingdom of Norway. This city made its entry in the list of cities having the honor of UNESCO World Heritage. It acts as a perfect combination of amazing culture and breathtaking views of nature. The city is in between Hard-anger fjord and Sognefjord. This city acts as a city of international standard for Norway enriched with rich culture and history. Tourists visiting this destination will get the chance to explore different museums and institutions conducting exhibitions near to Bergen and artistic performances all through the year.
What to see in Bergen:
Exploring the local traditions and the secrets of the city will make the Bergen experience for a tourist quite memorable. Popular attractions of the city are:
• Bryggen: The typical parallel rowed buildings, having gables which are seaward-facing represent the look of a building which dates back 900 years. Because these old buildings made of wood it made this place in the list of UNESCO World Heritage sites.
• Fløibanen Funicular: Avail Fløibanen funicular railway for Mount Fløyen and get the chance to explore whole Bergen in less than 8 minutes. Mount Fløyen is located at a height of 320 meters from sea level. This Funicular operates daily from early morning till 11 PM.
• Bergen Aquarium: Bergen Aquarium offers you the scope to meet the sea lions, crocodiles and snakes. This Aquarium has been operating since 1960.
• Alvøen Country Manor – City Museum of Bergen: This is a mansion which is a part of the main building owned by the paper factory of Alvøen, since 1797. Here you will find a huge collection of old furniture, items made of silver and also porcelain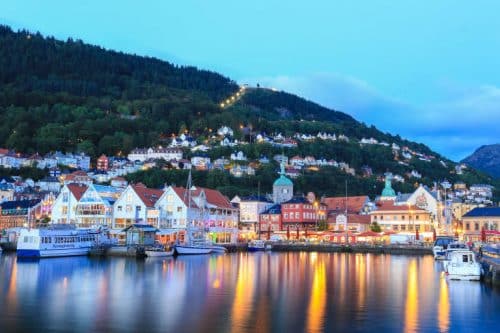 Get around in Bergen:
To reach Bergen you need to drop down at Bergen Airport Flesland by any of the leading airlines. From the Airport you can take Bus to reach the city center. Private taxis are also available but that will cost you bit hefty. From Oslo you can reach the city via train. You can also opt for boat service right from Stavanger. You can explore the city on foot, bus and even a cruise. Tourist information offices are there to help the tourists.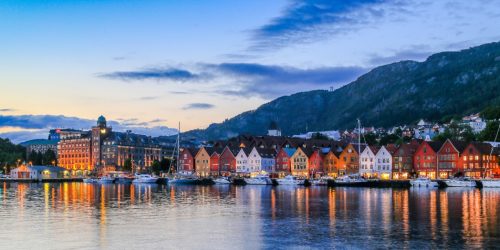 When to visit:
Winter is the best season to take a close view of the beauty of the city. Snow covered mountains will give you the scope to enjoy sledging, skiing and hiking. If you are here to enjoy the local events of the city, then the month of May is just perfect.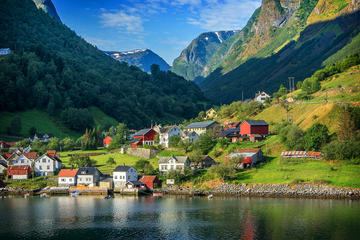 What to eat in Bergen:
You can try exotic Norwegian fish soup along with other specially cooked traditional fish cuisines of Norway to get the authentic taste of food in this country. Reindeer fillet along with goat's cheese is must to taste.
You can enjoy authentic Norwegian food and drinks at:
• Lysverket
• Colonialen Restaurant
• Colonialen Litteraturhuset
• Pingvinen
• Royal Gourmetburger
• Cornelius Sjømat Restaurant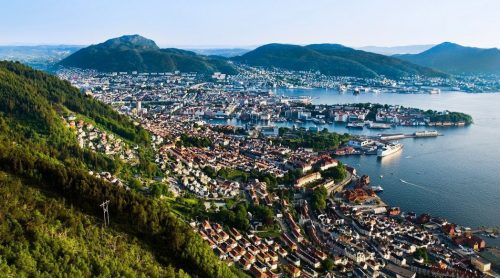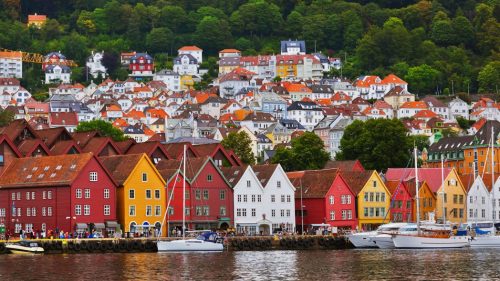 Where to stay in Bergen:
Enjoy comfortable stay in below hotels:
• Alver Hotel: It's a hotel with beautiful surroundings and is one of the best place to stay for exploring the beauty of Fjord Norway. It's a 4 star hotel with comfortable rooms and all basic facilities.
• Augustin Hotel: Oldest and family run hotel offering a perfect combination of traditional and modern style of living.
• Best Western Sandviken Brygge Hotel: A budget friendly hotel where you can get the feel of being at home.