About Santorini Beaches: Santorini is known to be one of those Cyclades islands which are located in the Aegean Sea. It was during the 16th Century period there was a highly devastating eruption of Volcano, which resulted in making of the Santorini Islands. Cubiform houses which were whitewashed and belonged to the towns of Fira and Oia are now located above a crater which is under water.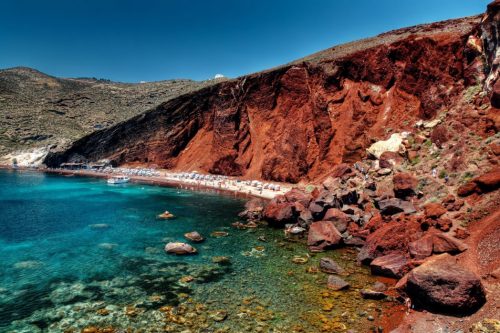 This island is located at a distance of 200 Kms from the center of mainland Greece. Here you can find a giant and centrally placed, lagoon in the shape of a rectangle, measuring few kms and is completely surrounded by steep cliffs on four out of three sides which is 300 m high. Fira is the capital town of this Island. Santorini is well known for its beautiful yet different beaches, grapes, wines and last but not the least is cherry tomatoes.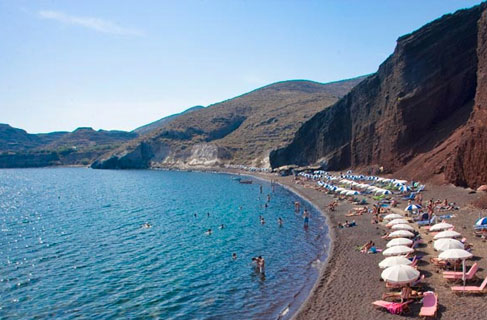 What to see in Santorini Beaches: The beaches of this island are the major attraction for which people from different corners of the globe visit here. Dark blue waters of the Lagoon with sands in colors of red, white and black, The amazing vertical cliffs; the stunning red and black pebbles of volcanic eruptions with spectacular formations of rock will surely take your breathe. The major beach which is must for any tourist to visit includes:
• Red Beach: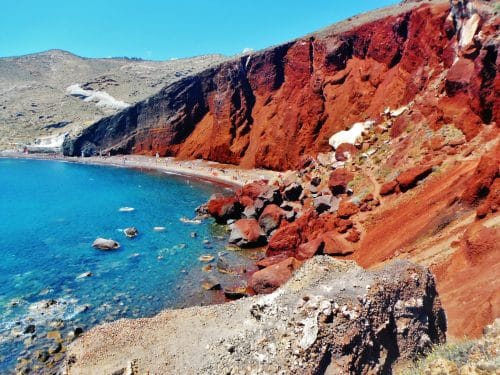 volcanic red rocks of lava, pebbles along with red sand makes this beach a place worth visiting
• Perissa / Perivolos: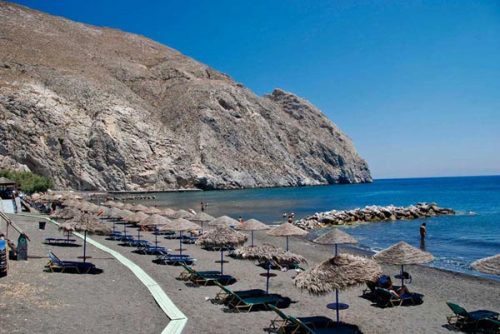 One of the most organized beaches of this island is this beach. Crystal clear sea waters, surrounded by black pebbles, and an amazing atmosphere made this beach a destination to explore the beauty of the island.
• Vlychada: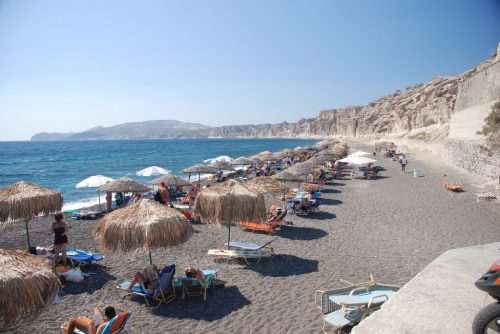 The white rocks of the beach give a stunning and unique look to the surrounding. This beach is calm and free from any noise.
• Kamari: this is one of the prettiest beaches of the island which is located at close vicinity of the airport and must to visit.
Getting around Santorini Beaches:
You need to take a flight from Athens "ELEFTHERIOS VENIZELOS" airport to reach Santorini Airport, located at a distance of 3 Km from Fira. Bus and taxi are available from Airport to reach the destination of Santorini. Ferries are also running from Athens from port Pireaus and Rafina for Santorini. Public buses, rental cars and ATV's are available to explore the different locations of Santorini.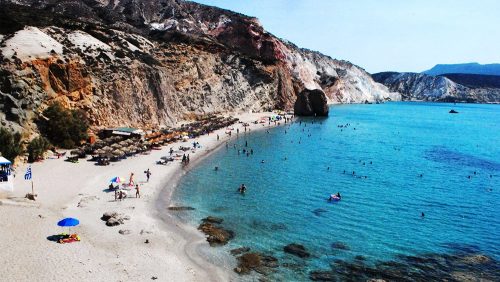 When to visit:
If you want to swim tin, hen June to September will be ideal for you. If you are here for sightseeing then April, May, October and beginning of November will be ideal for you. If you are a budget friendly tourist then go in the low season from December to March and November to April. The peak season to visit Santorini Beaches is late June till beginning of September.
Some Good restaurant near with Santorini Beaches:
Some of the top and authentic food of Santorini Beaches, which is must for you to taste includes Tomato Gefthedes, Fava me Koukia, Saganaki, Greek Salad and many more are there on the list. The top restaurants which you can visit here are:
• Naoussa – Fira
• Argo – Fira
• Karma – Oia
• Nikolas Taverna – Fira
• Remvi – Firostefani
• Avocado – Imerovigli
• Mezzo – Imerovigli
Where to stay to get easy access to th beaches in Santorini:
There are many hotels and resorts in and around Santorini Beaches of various budgets. You can enjoy a comfortable stay at:
• Astarte Suites
• Villa Kalimera
• Boat House Hotel
• Hotel Eather
• Ellinon Thea Hotel
• Vadema Resort