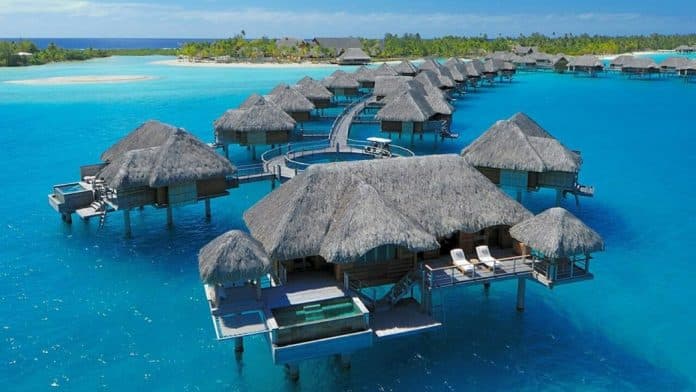 Honeymooning or not, a trip to Bora Bora Island is like a dream.
Bora Bora Island in French Polynesia has become a popular honeymoon destination for not just the rich and famous, but for everyone!  The beautiful island with its stunning turquoise waters, friendly locals, and endless activities will make you never want to leave.
Things To Do
Some have claimed that Bora Bora Island is boring, but maybe they just never left their room, because the island offers countless activities and things to do!  The most popular activities include:
Snorkeling & Scuba Diving
Explore the colorful coral reefs and sea life anywhere around the island.  "The Aquarium" is one of the more popular snorkeling and diving spots, because of the massive amount of tropical fish that hang out there.
Jet skiing, Sailing, Paddleboarding, Kayaking
Do you like to spend your days out on the blue waters?  Ask your resort about renting a jet ski or sailboat and the other equipment such as paddleboards, kayaks, and canoes are usually complimentary!
Swim with sharks
This is known to be one of the most exhilarating and memorable activities Bora Bora Island has to offer.  You can take a dip in the deep clear waters with the black tip reef sharks and lemon sharks.  It is a complete rush as you watch the sharks majestically glide by you.  Don't worry, if it was dangerous the locals wouldn't be pushing this kind of excursion.  This is a must-do!
Visit the Turtle Sanctuary
The Turtle Sanctuary aims to protect and help the turtles of French Polynesia.  They do not keep the turtle captive, rather the turtles stay just until they are recovered from their injury and able to survive independently.  At the protection center, there is a museum, interactive pool, underwater observatory, aquariums, and laboratory.  It is definitely a fun and educational visit!
The turtle sanctuary is located at the Le Meridien resort in their private lagoon.  You do not have to be a guest at the Le Meridien in order to visit the sanctuary, but you will have to find your own transportation there and pay an entrance fee. Call Le Meridien to help with planning logistics if this is something you want to do!
Hiking
Follow the Valley of the Kings trail to directly experience the ancient history of Bora Bora.  It leads you through the paths of the Polynesian kings and to ruins of old Polynesian villages.  You can also hire a guide to take you up to Mount Pahia or Mount Otemanu, where you will have a beautiful view of the lush island and blue waters below.  Mount Otemanu also has an ancient cave that you can explore!
Go to a Spa
Take a day and pamper yourself.  There are incredible spas all over the island.  You can get a massage while observing the ocean's fish through a clear glass floor. How relaxing!  Get a facial, body wrap, or take an aroma therapy bath, these spas have the best treatments that will make you feel like a million bucks.
Cultural Activities
At the resorts, there are usually daily cultural activities such as classes on traditional basket weaving.  Ask your resort for the schedule so you can learn a bit about the French Polynesian culture!
Must-see Places
Matira Beach
Matira Beach is known as one of the most, if not the most, beautiful beach in the world.  It has white sands and amazingly clear turquoise waters.  Lounge on the beach, sunbathe, swim, walk along the shores, and sip a refreshing coconut while you are there.  You can't beat it!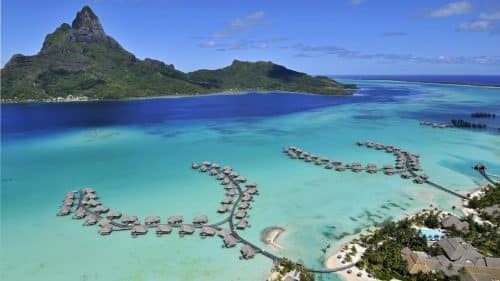 Vaitape Town
Go into town for some shopping!  There are beautiful high-end boutiques as well as a fun local market where you can get great souvenirs.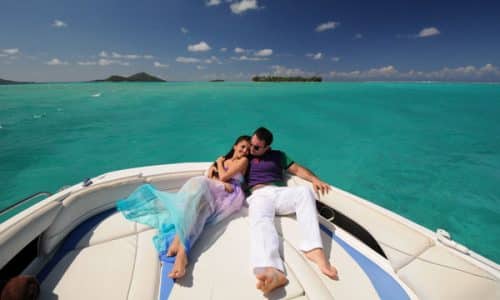 Bora Bora Yacht Club
The Yacht Club is a historical landmark, as it originally was the only place where ships and yachts could dock to visit the island.  It is a fun and casual place to hang out, eat fresh and delicious food, swim with rays, and watch the sunset.
These are just some of the places and activities available on the Bora Bora Island.  Go with your love, friends, or family and have an awesome unforgettable island adventure!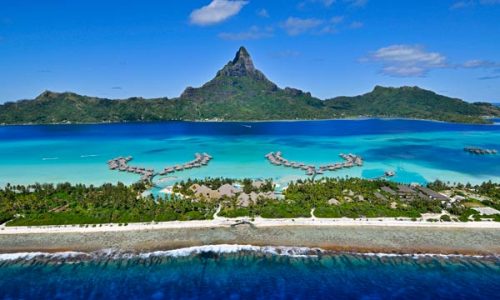 Save